Will Trump Resign? Calls for President to Step Down Grow Following Sexual Misconduct Allegations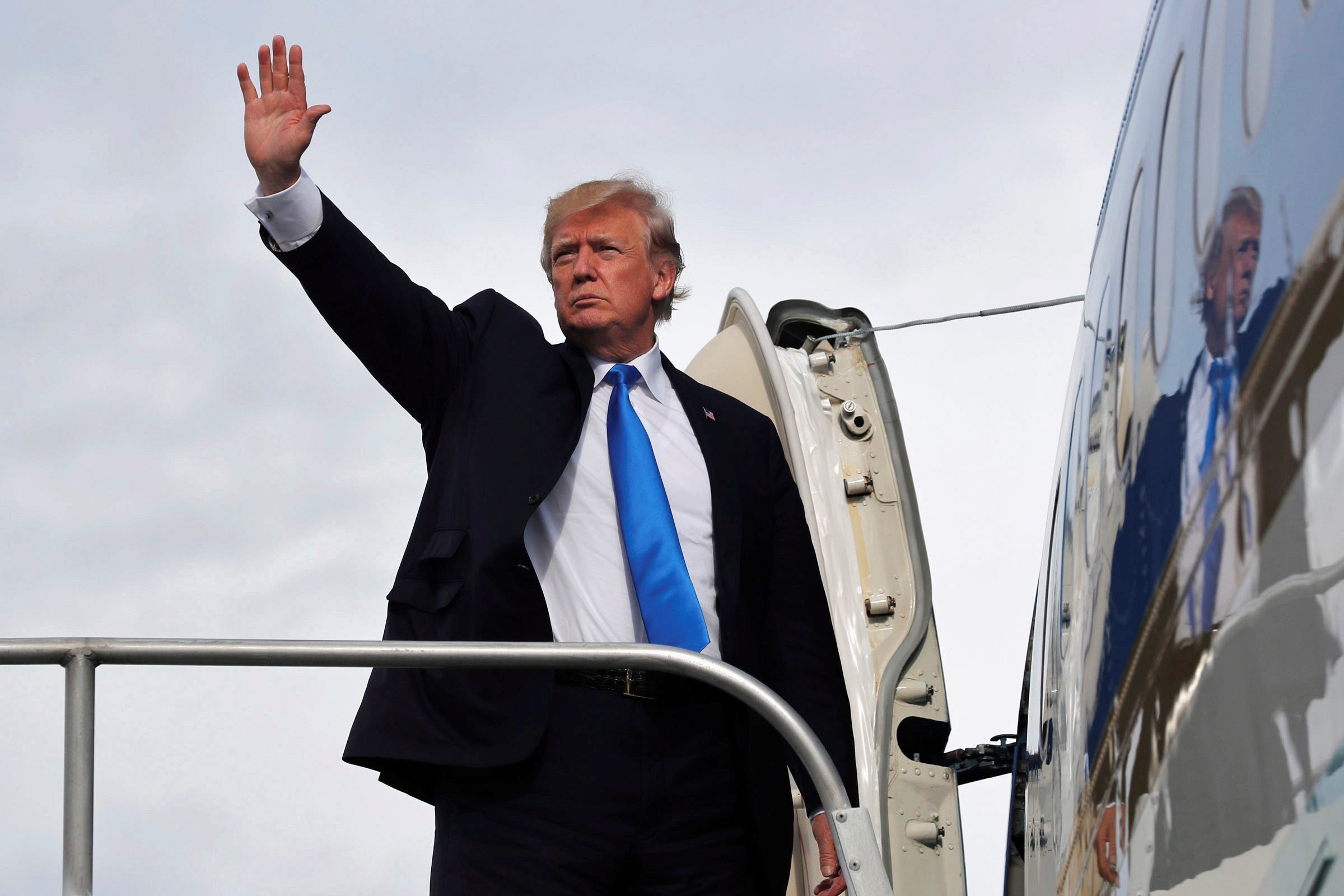 Updated | Three of President Donald Trump's more than a dozen accusers have come forward to share their stories anew in hopes that the president might finally face the consequences of his alleged misdeeds.
Monday morning, Jessica Leeds, Rachel Crooks and Samantha Holvey appeared on NBC's Megyn Kelly Today to accuse Trump of harassment, groping and forcible kissing.
Leeds was among the first women to bring public accusations against Trump, telling TheNew York Times in October 2016 that the then-Republican nominee had grabbed her breasts and attempted to reach up her skirt when they sat next to each other on a flight in 1978. In the same Times story, Crooks, who had been a receptionist for a company in Trump Tower at the time, said Trump kissed her on the cheeks and mouth without her consent in 2005. Holvey, a former Miss USA contestant, came forward with her own allegations against Trump just days later, telling CNN that Trump would personally inspect each pageant contestant from "head to toe" like they were "meat."
These accounts hadn't been enough to stop Trump from getting elected last year, but with the #MeToo movement in full force, they think there's a chance the public might take them seriously now.
"We are private citizens and for us to put ourselves out there, to try to show America who this man is, and especially how he views women, for them to say, 'meh' we don't care, it hurt," Holvey said. "And so, now it's just like, alright let's try round two, the environment is different, let's try again."
Still, the three women are skeptical that Trump will resign or be made to step down, which is why they have their sights set on a goal much bigger than Trump: tackling a culture that tolerates sexual abuse.
"Unfortunately I feel the sexual aggression issue is kind of low on the list of issues wrong with Trump, but it's important enough to me to bring this up and hope we can get some sort of change in our culture that will improve the situation going forward," Leeds said during a Monday press conference.
Holvey similarly stated she doesn't think Trump "ever will" resign, but added, "It's the public that needs to be aware this is the type of person he is."
Trump's accusers are no longer the only ones calling for Trump to be held accountable for the allegations against him.
On Sunday, U.S. Ambassador to the United Nations Nikki Haley spoke out in support of the president's alleged victims, stating that Americans should be "willing" to listen to their stories.
"Well, I mean, you know, the same thing, is women who accuse anyone should be heard," Haley said when asked directly about Trump. "They should be heard and they should be dealt with. And I think we heard from them prior to the election. And I think any woman who has felt violated or felt mistreated in any way, they have every right to speak up."
Senators Cory Booker (D-N.J.), Jeff Merkley (D-Ore.) and Kirsten Gillibrand (D-NY) have called for Trump's resignation, stating that the president should be held to the same standard as the members of Congress who put in their resignations last week and were facing far fewer sexual misconduct allegations.
"I just watched Senator Al Franken do the honorable thing and resign from his office," Booker told Vice. "My question is, why isn't Donald Trump doing the same thing—who has more serious allegations against him, with more women who have come forward."
Merkley put it as plainly as possible: "I want to be absolutely clear," he said. "Donald Trump should resign the presidency."
But it will likely be up to Congress to initiate an investigation into the allegations against the president, being that the White House continues to deny his accusers' accounts.
The White House issued a statement on Monday calling Leeds, Crooks and Holvey's stories "false claims" and questioning the timing of the allegations.
"These false claims, totally disputed most cases by eyewitness accounts, were addressed at length during last year's campaign, and the American people voiced their judgment by delivering a decisive victory," the statement reads. "The timing and absurdity of these false claims speaks volumes and the publicity tour that has begun only further confirms the political motives behind them."
Leeds isn't deterred from continuing to share her account with anyone who will hear it. And in doing so, she's discovered almost every woman has an experience like hers, about a powerful man who they say violated them.
"My story is so old, but... I've talked to businesswomen, I've talked to friends, I've talked to the ladies at the Y, everybody, and I've discovered that everybody has a story," Leeds said.
This story has been updated to reflect that Senator Kirsten Gillibrand (D-N.Y.) joined Senators Cory Booker (D-N.J.) and Jeff Merkley (D-Ore.) in calls for President Donald Trump to resign.