Trump Should Start Calling McCain And McConnell 'Fake Republicans,' Says Falwell Jr.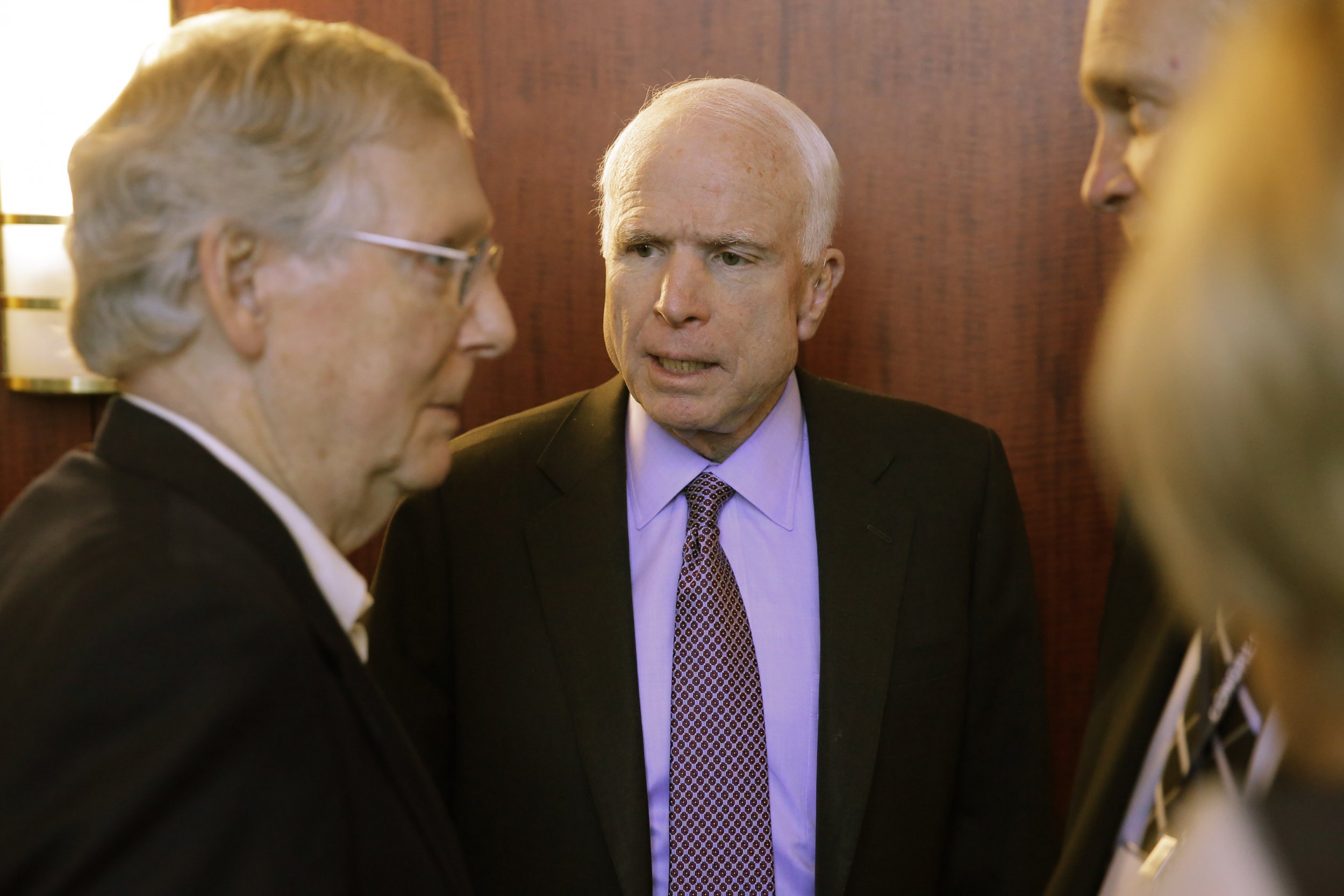 President Donald Trump could begin referring to the detractors within his own party as "fake Republicans" if he acts on the advice of Jerry Falwell Jr.
Speaking in an interview with Fox News' Sean Hannity, Falwell Jr. said he had advised the president to step up his attacks on those members of the GOP who did not support his agenda.
"I spoke to the president last week and I told him he needs to coin a new term: Fake Republicans," Falwell Jr. told Hannity in the Friday interview.
"Because that's what those people you just named are," he added in reference to Senator John McCain and Senate Majority Leader Mitch McConnell after Hannity asked him about the politicians.
McCain prompted ire from Trump after failing to back his attempt to repeal and replace Obamacare, with McConnell's attempt to get a "skinny" version of the bill through the Senate failing and adding to the existing rift between the pair that has seen McConnell suggest Trump doesn't understand the Senate, and Trump stating he is "very disappointed with Mitch."
Indeed, Trump has previously lashed out at McCain over the healthcare bill, stating in an Alabama radio interview in September: "Now, when it matters because you have a president who is actually going to sign it, they don't do it. And they pander, and they grandstand. You look at McCain—what McCain has done is a tremendous slap in the face to the Republican Party. Tremendous. He was good to go all the way up until 1 or 2 o'clock in the morning when he voted... Without John McCain, we already have the health care."
In addition, Trump has reportedly taken to impersonating McCain and McConnell while he is in private. Trump is said to imitate Senate Majority Leader Mitch McConnell's "slumped shoulders and lethargic body language," according to Axios, and to re-create Senator John McCain's famous thumbs-down gesture that signaled the death of the Republicans' health care overhaul in July.
Falwell Jr. added in the interview with Hannity: "They're not really Republicans. We don't really have a majority in the Senate, and I think that would be a good term for him to start using."
Trump is no stranger to dubbing entities that fail to support him as "fake," frequently referring to members of the media, negative stories about him, and entire news networks as "fake" when he encounters news he feels paints him in an unfavorable light.