Who is Wilton Gregory? Archbishop Who Has Spoken Out Against Racial Injustice Becomes First African American Cardinal
Washington, D.C. Archbishop Wilton Gregory was named a cardinal by Pope Francis on Sunday, and will be the first African American to be hold the position.
The 72-year-old was one of 13 men who will be elevated to the cardinal's rank, Francis said in a surprise announcement from his window above St. Peter's Square. They will be installed in a ceremony on November 28.
In a statement to the Catholic Standard following the announcement, Archbishop Gregory said: "With a very grateful and humble heart, I thank Pope Francis for this appointment which will allow me to work more closely with him in caring for Christ's Church."
In recent months, Archbishop Gregory has spoken out against racial injustice, saying the nation was at a "pivotal juncture" in the fight against it.
As protests against racism and police brutality erupted over the summer, triggered by the death of George Floyd, he said that it revealed "the virus of racism among us once again even as we continue to cope with the coronavirus pandemic."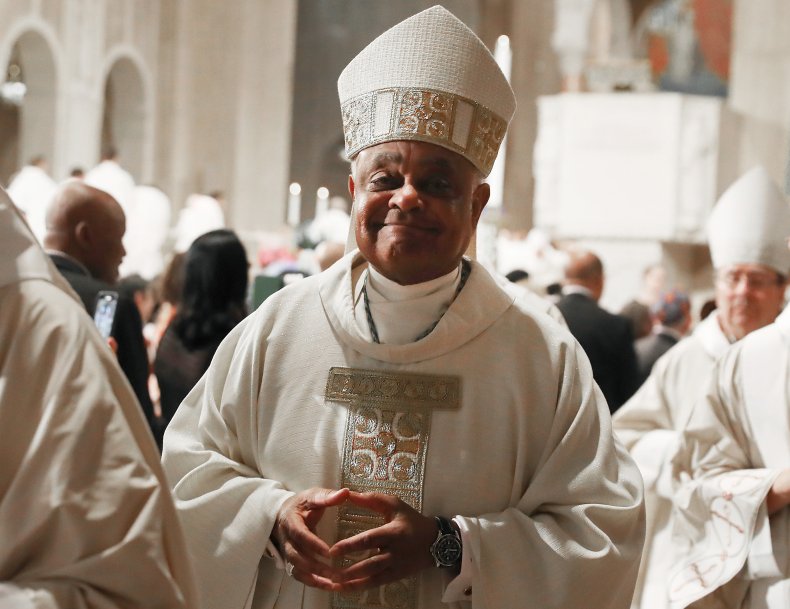 He also urged church leaders to work to improve race relations.
"Ours is the task and the privilege of advancing the goals that were so eloquently expressed 57 years ago by such distinguished voices on that day," he said during a Mass commemorating the 57th anniversary of the March on Washington in August. "Men and women, young and old, people of every racial and ethnic background are needed in this effort."
He added: "We are at a pivotal juncture in our country's struggle for racial justice and national harmony."
Last year, he made headlines after he condemned President Donald Trump's remarks about minority members of Congress and the city of Baltimore.
"I fear that recent public comments by our President and others and the responses they have generated, have deepened divisions and diminished our national life," he told the Catholic Standard.
"Our faith teaches us that respect for people of every race, religion, gender, ethnicity and background are requirements of fundamental human dignity and basic decency. This include newcomers to our country, people who have differing political views and people who may be different from us."
Archbishop Gregory also led the Catholic Church's response to its sexual abuse crisis in the U.S. He was the president of the United States Conference of Catholic Bishops in 2002, when the crisis first erupted in Boston.
According to The New York Times, he pushed for the passing of the "Charter for the Protection of Children and Young People", also known as the "Dallas Charter," which outlined reporting, training and prevention policies on sexual abuse.
"From this day forward, no one known to have sexually abused a child will work in the Catholic Church in the United States," Archbishop Gregory, then the bishop of Belleville, Illinois, said at the time. "We bishops apologize to anyone harmed by one of our priests, and for our tragically slow response in recognizing the horror of sexual abuse."
The Chicago native was the archbishop of Atlanta from 2005 until Francis picked him to lead the diocese in the U.S. capital last year. It was formerly led by Theodore McCarrick and Donald Wuerl, who were both marred by the sexual abuse crisis.