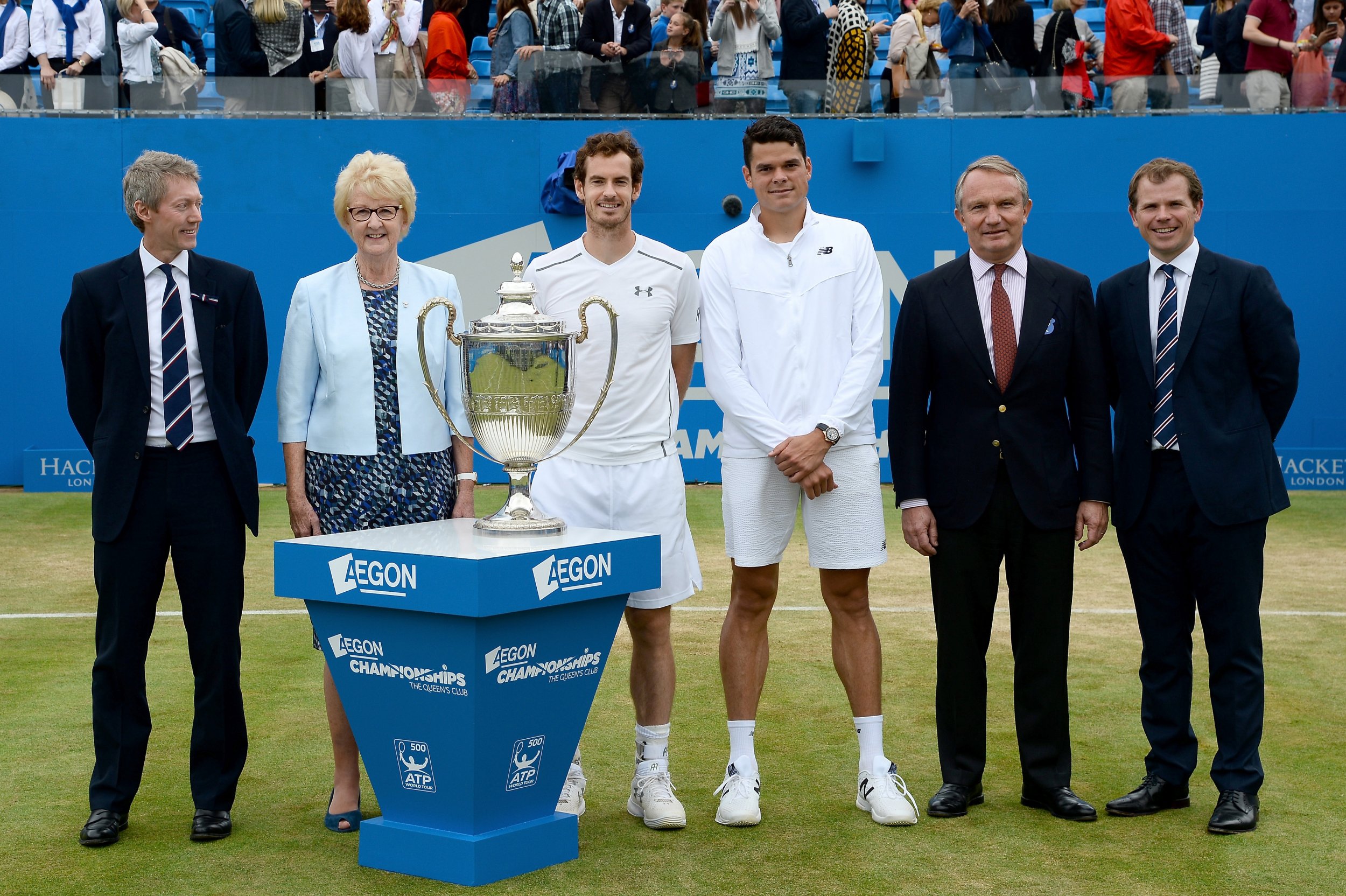 Will Britain be celebrating a two-time Wimbledon winner by Sunday evening?
Andy Murray , the world number two, has been the de facto favorite for the tournament since Novak Djokovic lost, shockingly, to Sam Querrey in the third round last week.
Murray's path to a second title at the All England Club became even clearer on Friday, when seven-times champion Roger Federer bowed out.
Can Murray finish the job off against Canadian Milos Raonic? Newsweek examines where the final will be won and lost.
Serve vs Return
It is Canadian Raonic's biggest weapon — the booming serve out wide or down the middle, and it wins him many of his points quickly, without the need to get into long rallies.
Fortunately for Murray, and to Raonic's potential detriment, the Scot is probably the second-best returner in the world, and even the best at this present moment, with Novak Djokovic off-color.
If Murray can use his curiously unpretty yet effective deep block returns to get into rallies, he can move Raonic around the court and force break points. Become too passive, though, or if Raonic really starts hammering aces down, then Murray could be in trouble.
Centre Court Pressure
No worries for Murray, who has been here in a men's final twice, in 2012 when he lost to Roger Federer and in 2013, most famously when he defeated Novak Djokovic to become Britain's first male Wimbledon winner since Fred Perry in 1936.
Murray knows what it's like to win and lose a final on Centre Court, which for all its politesse and well-scrubbed airs and graces can be one of world sport's most imposing arenas.
If Raonic goes down early on, and the crowd gets solidly behind Murray as is expected —only Federer's presence could possibly split their opinion—then Raonic has no experience to fall back on.
The Canadian has the weight of a nation on his shoulders —remember Eugenie Bouchard failed at this stage two years ago to become the first singles Grand Slam champion from that country. How Raonic stands the heat will determine just how far he can push Murray.
Fatigue
Murray played his semifinal after Raonic on Friday. But while the 29-year-old could hardly have had a smoother route through against Tomas Berdych, Raonic had to scrap and pull several irons out of the fire in his own semifinal against Federer.
Now, it stands to reason but Raonic is not a road-runner like Djokovic or an iteration of Rafael Nadal from two or three seasons past. Murray is, and he has the benefit of being the fresher of the two.
Murray has had one onerous match on his route to the final, against Jo-Wilfried Tsonga in the quarters. He will have zip in his legs, and that spells danger for Raonic.
Battle of the Coaches
John McEnroe's new role as one of Raonic's coaches has been somewhat unfairly questioned at points through the tournament, mainly due to his dual job as a BBC analyst.
McEnroe only joined Team Raonic at the start of this grass-court season, so his effect so far must be up for debate. His charge has been implementing volleys more, which is a vital component on grass.
This is more intriguing, though, for the proxy battle playing out in the stands between two rivals from the 1980s and two of the greatest players of all time, McEnroe and Ivan Lendl.
Lendl and Murray appears to be one of those partnerships that just clicks. Raonic and McEnroe is in its infancy. But bragging rights are available off the court as well as on.
Head-To-Head
Here, Raonic must block out the bad memories —losing to Murray on all three surfaces this year—and draw on the positives, which include three career victories over the two-times Grand Slam winner.
Murray was pushed to somewhere near his limits by Raonic in this year's Australian Open semifinal, though Murray's superior court savvy eventually told.
Still, it's the small victories that Raonic must keep in mind, especially if Murray bolts out of the starting gate. Stick to what has worked in small measures before, and he could yet run out a surprise winner.
Uncommon Knowledge
Newsweek is committed to challenging conventional wisdom and finding connections in the search for common ground.
Newsweek is committed to challenging conventional wisdom and finding connections in the search for common ground.
About the writer
Sportswriter at Newsweek.