Windows 11 Update: All the New Features and System Requirements
Windows 11 is now available for consumers and brings a number of design changes and exciting new features to the user experience.
Microsoft is rolling out the improved operating system in phases, the first of which has commenced today (October 5). While not all eligible PCs will be offered the upgrade straightaway, the plan is to fully complete this staggered deployment by mid-2022.
That being said, not every machine that is capable of running Windows 10 will meet the system requirements for Windows 11. For the latter, you will need 64GB of storage, 4GB of RAM, a 1GHz processor with 2 cores, a graphics card that is compatible with Direct X 12, and Trusted Platform Module (TPM) 2.0 support.
The update from Windows 10 to Windows 11 is completely free. To help you decide if you want to install it or not, Newsweek has broken down all the best features below.
Redesigned Interface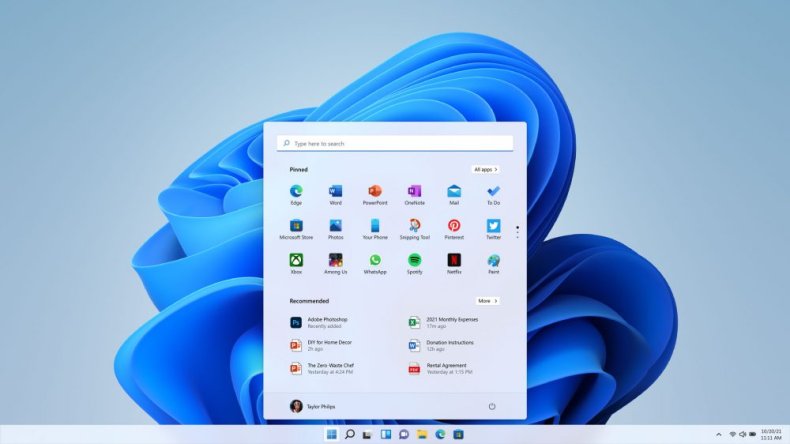 The first thing you are likely to notice after installing Windows 11 is that the start bar (including the Windows button itself) has been relocated to the middle of your display. If you do not like this new placement, you are able to tweak your settings and return it to where it was previously.
Various aspects of the interface have been overhauled as well. For instance, you will notice that windows have more rounded edges, pastel colors are more prominent, and certain icons have been totally redesigned.
By clicking on the start button, you will now be taken to a menu that resembles the Android app launcher. From here, you can scroll through all your applications in alphabetical order, browse recommended programs and documents, and access the power menu.
Snap Layouts
By hovering over a window's maximize button (or by pressing Win + Z) you can access the new Snap Layouts feature. This enables you to better arrange your screen space— via a number of presets—so that you can fit multiple windows onto your display at once.
For instance, you could have the Edge browser snapped to the far left of the screen, while the Microsoft Store and Teams apps can share the right-hand side.
What's more, your Snap Layouts preferences are remembered if you connect to an external monitor, such as a surface laptop, so you will not need to reset them every time you plug in a new device.
Microsoft Store Update and Android Apps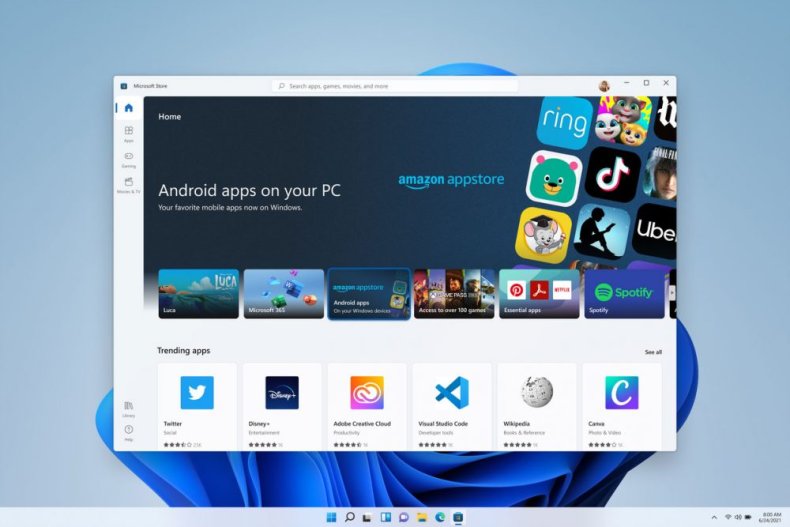 The Microsoft Store has been updated and now allows third-party apps to sell inside it.
This means that both the Epic Games Store and the Amazon Store are featured on the marketplace for the first time. The latter will even enable you to download and run Android apps (like TikTok) on your PC device, which is another big change.
Of course, all of your usual apps will still be available in Windows 11.
Microsoft Teams
Microsoft Teams is fully integrated with the Windows 11 taskbar and comes installed on the operating system.
This means that Skype is no longer the default video calling service for Windows PCs.
Multiple Virtual Desktops
Another useful feature for multitaskers is the ability to customize different workspaces for different needs.
For instance, you can have separate virtual desktops for work, gaming and personal use. You can easily toggle between each of them as well, much you like you can between different windows on Google Chrome.
To set up your various workspaces, hover over the virtual desktop icon, (which is just next to the magnifying glass on your toolbar) and then click on the "New Desktop" button.
New PC Gaming Features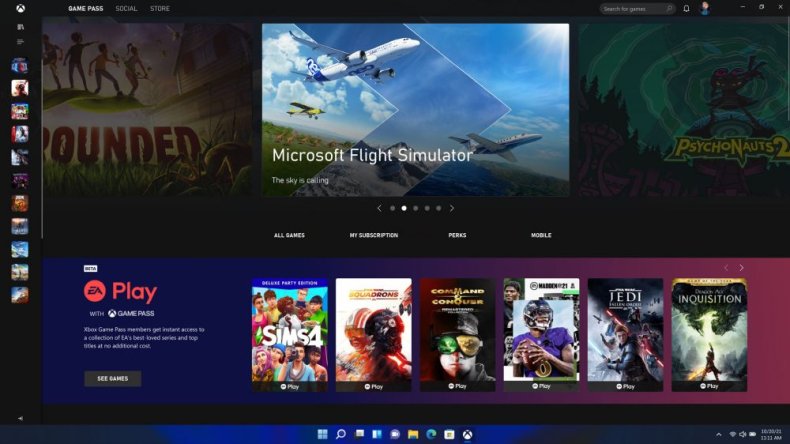 PC gamers stand to benefit most from Windows 11, thanks to a few new additions.
For a start, the operating system has Auto HDR capabilities. This means that it will be able to recognize which of your games run in Standard Dynamic Range (SDR) and which of them can run in High Dynamic Range (HDR). It will then display them accordingly, so that you are always playing with the optimal settings.
Windows 11 also utilizes DirectStorage (much like the Xbox Series X), which can result in dramatically reduced loading times when gaming.
Finally, Windows 11 also has the Xbox app built-in, meaning that you will have convenient access to the Xbox Game Pass service and all of its associated perks.