Jalapeño Rosé Is The Latest TikTok Trend—Here's Our Verdict
From frozen honey, to watermelon with mustard and pasta chips, recent years have seen their fair share of bizarre food trends circulating online.
And the latest viral fad seems just as unusual as its predecessors. Spicy rosé is simply a glass of rosé wine infused with sliced jalapeño and as strange as the trend may seem, the drink has had rave reviews online.
The craze was started by Allyssa Marshall, who has racked up nearly 400,000 followers on her 'Allyssa in the Kitchen' TikTok and Instagram accounts combined, when she was dared by a follower to drop a pepper into her wine.
Since then, the impromptu cocktail has blown up on social media, with the hashtag #jalepenorosé racking up a whopping 69,8000 views on TikTok.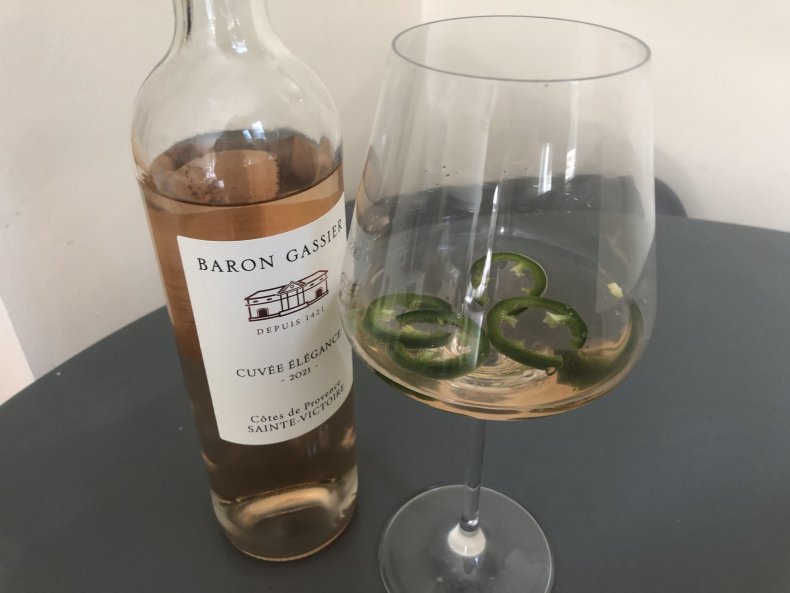 Allyssa told Newsweek: "I have always been a home cook and loved being in the kitchen. Cooking dinner with a glass of wine and good tunes will always be my happy place. I began posting my recipes on TikTok in 2021 and have never looked back!
"So, where did the jalapeño rosé come from? The idea came from my love for spicy margaritas, and a running joke amongst my followers that I am obsessed with jalapeño and add them to everything.
"I was on a live stream one night drinking rosé and a follower dared me to add some jalapeño slices to my glass, and the rest is history...What started as a fun and random idea has now turned into the only way myself, and anyone who tries it, can drink rosé.
"My reaction to this going viral? Honestly not too surprising because as soon as I took my first sip I knew it was a slam dunk and others would love it too. I love seeing this idea grow and reach so many people! If my rosé isn't spicy, then I don't want it!"
Despite hearing Allyssa's high praise for the drink, I have to admit I was dubious to try out this trend. As someone who has definitely fallen into TikTok traps before, and been bitterly disappointed, I really wasn't expecting too much.
Using the French Baron Gassier Provence St V Rose, I decided to use about half of the jalapeño and waited for around thirty minutes so the flavors could infuse slightly before I gave the drink a try. After a little while, the smell of the wine changed totally and I was very worried the wine would be massively overpowered by the pepper.
I wasn't sure what I thought about the combo on my first taste, it definitely wasn't what I expected and wasn't spicy, as I assumed it would be. It actually has quite an earthy taste and the heat of the pepper really balances out the sharp citrusy tones of the rosé.
As I drank more I could feel a bit more heat, though it definitely wasn't spicy and almost had a bit of a smoky flavor. After a few sips, I really started to enjoy the taste and would definitely consider doing this on a regular basis.
I think this is a great summer drink which reminds me of a spicy margarita, and will definitely be an addition to any future BBQs this year.
Newsweek may earn a commission from links on this page, but we only recommend products we back. We participate in various affiliate marketing programs, which means we may get paid commissions on editorially chosen products purchased through our links to retailer sites.