Wisconsin Bishop Slams Biden for Reversing Abortion Stance
A bishop in Wisconsin criticized Joe Biden Friday, after the president said he doesn't believe that life begins at the moment of conception, which seems to contradict previous statements he has made on the issue.
"People always claimed that President Biden was personally opposed to abortion," Bishop Donald Hying, of Madison, tweeted.
"Today, he said, 'I respect those who believe life begins at the moment of conception and all, I respect that-don't agree, but I respect that.' Today, we've all learned the painful and disturbing truth," Hying added.
Biden's comments on Friday came after the U.S. Supreme Court upheld a Texas law that severely restricts abortion access. It prohibits abortions after around six weeks of pregnancy and gives citizens the ability to sue doctors and others who assist women in getting abortions. Anyone who sues successfully can receive up to $10,000.
The president, a Catholic, sharply criticized the Supreme Court's decision, calling it "an unprecedented assault on constitutional rights under Roe v. Wade," referring to the court's 1973 landmark abortion case.
Asked Friday about what his administration will do to protect abortion rights at the federal level, Biden said that "the most pernicious thing about the Texas law" is that it "sort of creates a vigilante system."
"And it just seems, I know this sounds ridiculous, almost un-American," Biden said.
"I respect people who don't support Roe v. Wade, I respect their views. I respect those who believe life begins at the moment of conception and all, I respect that, don't agree, but I accept that. Not going to impose that on people" the president added.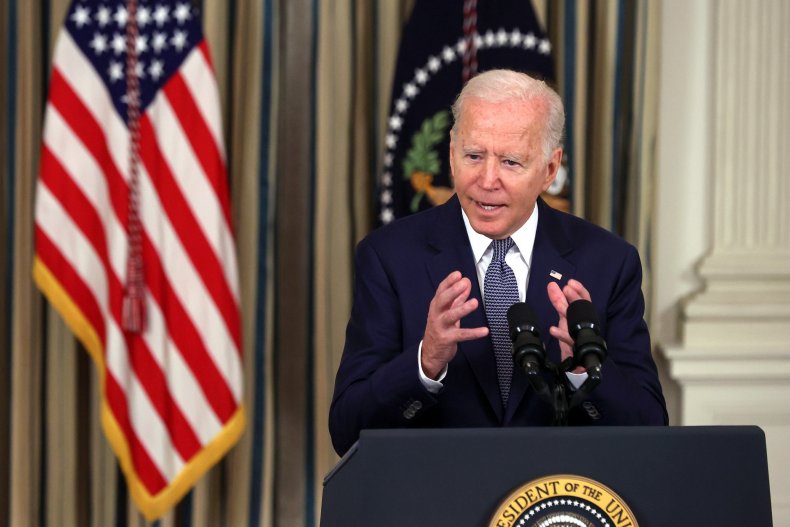 Biden's statement on Friday seemingly conflicts with prior comments on his Catholic beliefs. In an interview in 2015 with the Catholic magazine America, Biden said "he was prepared to accept that the moment of conception is a human life and being."
"But I'm not prepared to say that to other God-fearing, non-God-fearing people that have a different view," he said.
The president has made clear that he didn't support imposing his beliefs on others, however.
In a vice-presidential debate with then-GOP Representative Paul Ryan in 2012, Biden said that he accepted his church's position on abortion as a "de fide doctrine."
"Life begins at conception, that's the church's judgement, I accept in my personal life. But I refuse to impose it on equally devout Christians and Muslims and Jews. I just refuse to impose that on others, unlike my friend here, the congressman," Biden said.
The White House did not immediately respond to Newsweek's request for comment on Saturday.