'Woke' Prosecutor Under Fire After Bond Violator Runs Over Teen Girl
A St. Louis, Missouri, prosecutor is facing calls to resign after a repeat offender who was released from jail despite multiple bond violations allegedly ran over a teenage girl with a car, causing critical injuries.
St. Louis Circuit Attorney Kim Gardner, a Democrat who has been derisively referred to as "woke" by her critics and political opponents, refused the resignation calls on Thursday. Janae Edmonson, a 16-year-old volleyball player from Tennessee, was struck by a vehicle driven by 21-year-old Daniel Riley in downtown St. Louis last Saturday, causing injuries that required the amputation of both her legs.
Riley, who was out on bond for a 2020 robbery charge despite over 50 bond condition violations, was allegedly speeding through an intersection before slamming into pedestrian Edmondson and pinning her between his vehicle and a parked car, according to the St. Louis Post-Dispatch. Gardner is facing calls to resign because her office is responsible for monitoring and reviewing bond conditions.
Republican Missouri Attorney General Andrew Bailey gave Gardner a 24-hour ultimatum to resign or be fired on Wednesday, saying in a statement that "instead of protecting victims, Circuit Attorney Gardner is creating them."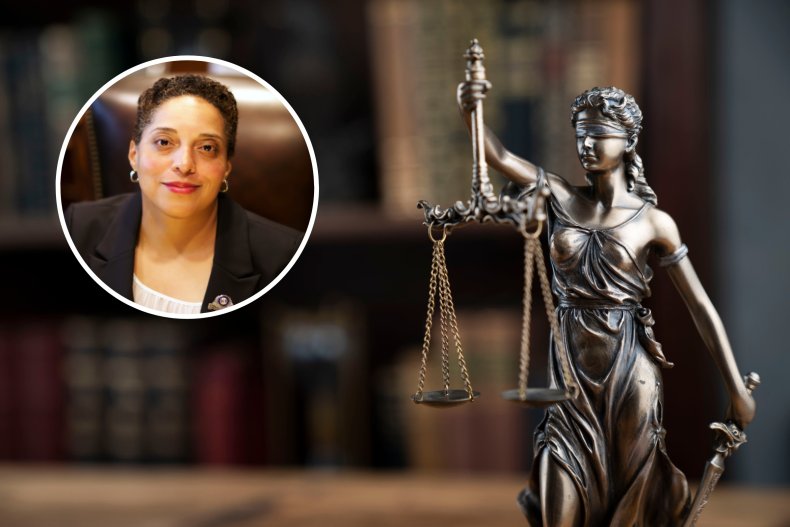 Gardner said in a Wednesday statement obtained by Newsweek that her office was not to blame for Riley's release. She said that "judges have the sole authority to determine the bond conditions of a defendant" while claiming that her office had "asked on several occasions for higher bonds" in Riley's case but was denied.
After Bailey's 24-hour resignation demand deadline expired, the attorney general announced that he was taking legal action to forcibly remove Gardner from office.
"We gave Circuit Attorney Gardner the chance to do the right thing and resign, she has refused to do so, and my office filed a quo warranto at 12:01 PM to remove her from office immediately," Bailey said in a statement on Thursday.
In a press conference on Thursday afternoon, Gardner called Edmondson's injuries an "unimaginable tragedy" while refusing to resign and describing criticism from Bailey and others as a "political stunt" that had resulted in her office being bombarded with "hate." She also said that her office had asked for Riley's bond to be revoked on "three separate occasions."
"My office cannot force a judge to revoke bond for a defendant," Gardner said, KTVI reported. "It is particularly frustrating that the willful ignorance has empowered the ongoing harassment of the hardworking men and women in my office."
A spokesperson for Missouri's 22nd Judicial Circuit said that Gardner's office had not filed any motions to revoke Riley's bond during the past two years, according to KSDK.
Republican Missouri State Representative Ben Baker also demanded in a tweet that the "woke" prosecutor resign. He previously called for Gardner's resignation after she took legal action against Mark and Patricia McCloskey, the couple known for waving guns at Black Lives Matter protesters during a St. Louis demonstration in 2020.
"I was the first elected official to my knowledge to publicly call for Kim Gardner's resignation...more than two years ago July 13th, 2020," Baker tweeted on Thursday morning. "Woke prosecutors have no place in our system of Justice. Blood is on her hands and it's now much worse than then."
Newsweek has reached out to Gardner's office for additional comment.
The "woke" culture has landed in the headlines plenty as of late.
In January, Republican Representative Jim Banks of Indiana vowed to start an "anti-woke caucus" to fight what he calls a "woke agenda" in Congress.
About the same time, Florida Governor Ron DeSantis bills himself as a foe to "woke ideology," but new analysis suggests that some of his state's swing voters are perplexed by what "woke" means.
One teacher wrote that she abandoned being "woke" for her students' sake.