Mark McCloskey, Who Aimed Gun at BLM Protest, Faces Heavy Defeat in Primary
Mark McCloskey, the pro-Trump candidate who gained notoriety after he and his wife pointed guns at Black Lives Matter protesters outside their home, was trounced Tuesday in Missouri's Republican primary for the Senate.
Missouri Attorney General Eric Schmitt easily won the race. With most of the results in, he had more votes than his nearest two competitors—U.S. Representative Vicky Hartzler and scandal-ridden former Missouri Governor Eric Greitens—combined.
McCloskey, meanwhile, trailed in fifth place with just 3 percent of the vote.
In November, Schmitt will be opposed by beer heiress Trudy Busch Valentine, who defeated Marine veteran Lucas Kunce and nine others in the Democratic primary.
McCloskey had joined the crowded field of 21 Republicans running for GOP Senator Roy Blunt's seat after Blunt announced last year that he would not seek a third term.
All the candidates were Donald Trump supporters and 2020 election deniers. But in a final push for votes ahead of Tuesday's primary, McCloskey touted himself as the only "genuine MAGA" candidate after the former president endorsed "Eric" in the race, despite three candidates in the race having that name.
"Apparently Donald Trump's endorsed all three of them," McCloskey said in a video posted on Twitter. "Well, my name is Mark McCloskey, and I can tell you one thing, there's one genuine MAGA, America first, strong border, law and order, real American patriot in this race, and that's me."
Newsweek contacted McCloskey's campaign for comment about the primary's results.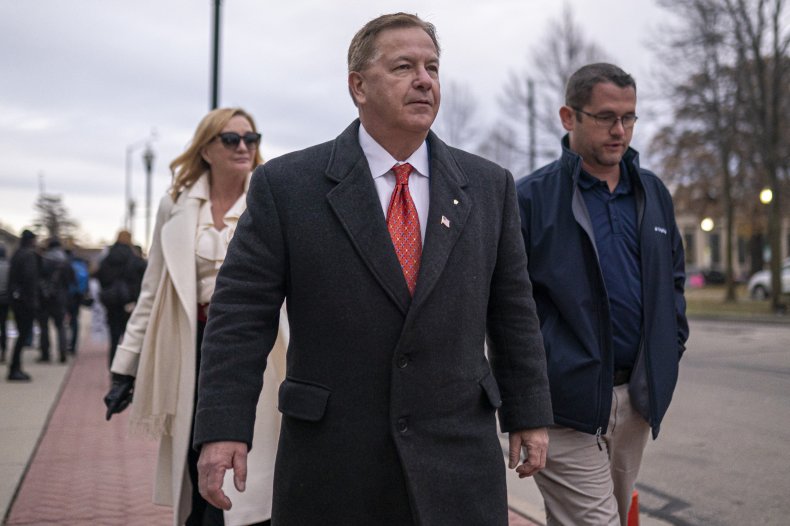 McCloskey and his wife, Patricia, gained national attention after they waved guns at protesters near their St. Louis home on June 28, 2020.
McCloskey emerged from his house with an AR-15-style rifle, while his wife waved a semi-automatic pistol, when demonstrators walked on their private street during protests prompted by the police killing of George Floyd in Minneapolis. No shots were fired, and no one was hurt.
The couple were praised by Trump and other conservatives, and they spoke during the opening night speech at the 2020 Republican Convention.
The pair, both lawyers, have said they had felt threatened by the protesters, who were passing their home on their way to demonstrate in front of the mayor's house nearby. But special prosecutor Richard Callahan said his investigation determined the protesters were peaceful.
Both pleaded guilty to misdemeanors for the incident and were fined. Missouri's Republican governor, Mike Parson, pardoned them last year.
In February, the Missouri Supreme Court put the couple on probation but allowed them to continue practicing law for another year. They must also provide 100 hours of free legal service.