A woman has been arrested for allegedly spitting on a corpse at a funeral home in Tyler, Texas.
Fifty-one-year-old Laurie Lynn Hinds walked into the funeral home last November, according to an arrest affidavit obtained by local station KLTV. She went straight up to the person's casket and spit on their corpse.
The affidavit also cited a witness who said that Hinds had "animosity" toward the family of the deceased.
Hinds was arrested and charged with state-jail felony abuse of a corpse on June 5. She posted a $2,500 bond the next day.
In Texas law, "abuse of a corpse" is committed by anyone who "disinters, disturbs, damages, dissects" or "carries away" a human corpse. Concealing, trafficking or transmitting the corpse out of state and treating it "in an offensive manner" are also included under the offense.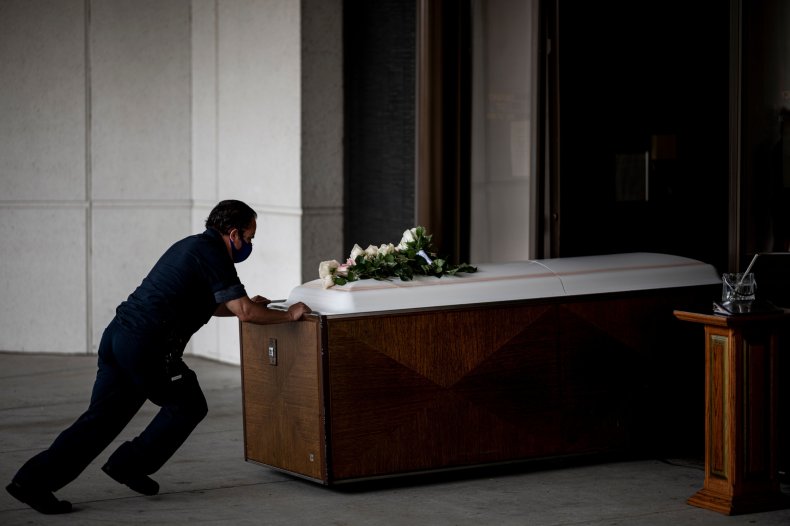 In 2017, state lawmakers approved harsher penalties for people who abuse a corpse. Senate Bill 524 elevated the crime from a misdemeanor to a state jail felony, punishable by six months to two years in a state jail and up to $10,000 in fines. Unlike sentences in a county jail or prison, time in a Texas state jail must be served day for day.
Among the advocates for harsher penalties were families who discovered their loved ones were left in varying stages of decay at the Johnson Family Mortuary in Fort Worth, Texas, in 2014, KXAS-TV reported.
Eight bodies were found decomposing in caskets after the funeral home owners were evicted for not paying rent. Owner Dondre Johnson was convicted of abuse of corpse charges and felony theft after prosecutors said he took money for cremation services and did not deliver the promised remains.
Stories about people abusing corpses often capture national attention.
In 2021, a New Hampshire woman was arrested on the charge after allegedly hiding her mother's dead body as part of a scheme to fraudulently collect Social Security checks.
That same year, an English hospital worker was arrested for allegedly sexually abusing nearly 100 corpses, including those of women and children, who laid in the morgues of hospitals where he performed electrical maintenance.
A funeral director from Pennsylvania pled guilty to 16 counts of abuse of a corpse in 2018 after taking pictures with dead bodies to "gross out" her friends. She was sentenced to 10 years of probation, 250 hours of community service and permanently banned from working in the funeral business.
Newsweek reached out to the Smith County Sheriff's Office for more information.