Woman Gets a Puppy and a Kitten at the Same Time and They 'Love Each Other'
A puppy and a kitten that were adopted at the same time have melted hearts all over the internet after a video of them showing love to each other went viral on social media.
In the video, shared on TikTok by their owner on Monday, under the username Sherrbournee, Dobby and Pumpkin can be seen gently playing with each other on the couch, and even sharing the same bowl of water.
The heartwarming clip comes with a caption that says: "When you get a puppy and a kitten at the same time." Followed by: "They love each other." And in the comments, the owner later added: "Can't believe I'm a mom of 4 now."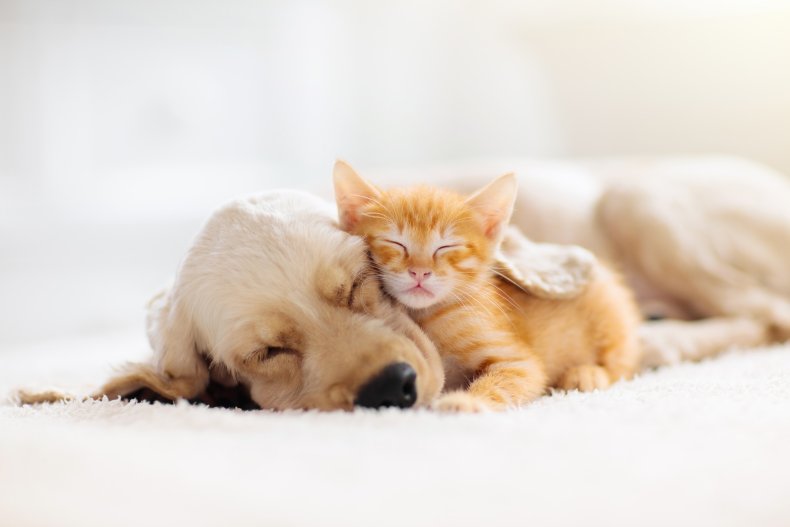 According to the American Kennel Club (AKC), despite the popular belief that cats and dogs don't get along, if properly socialized, they can actually live in harmony!
Some dog breeds are more likely to get along with cats than others, these include toy breeds, which are known to be affectionate and sociable. Breeds that are not hunters by nature also make a great match for a cat.
Among the most friendly breeds to have around a cat are basset hounds, beagles, bulldogs, cavalier king Charles spaniels, collies, golden retrievers, Labrador retrievers, papillons and pugs, according to the AKC.
The video quickly went viral, attracting animal lovers from across the platform, and it has received over 813,800 views and 81,700 likes so far.
One user, small kat, commented: "Honestly this is a power move cuz they can terrorize each other with their teeth rather than our ankles." And Chaseburger said: "My puppy and kitten bully each other and jump onto each other."
ReadingsByJennyLin wrote: "Oh my goodness, I love this! Two floofs!" And Laura Violet added: "How does it feel to be living my dream?"
Another user, hriehl73, commented: "So in love with these two!! Can you post more of them. They make everyone's day Happy." And Sue said: "Overload of cuteness!!"
Anna Montana wrote: "I would get nothing done. SO adorable." And amynix92 said: "Best buddies forever." Janice Fraser added: "Puppy and kitten = lifelong entertainment."
Josy-Ann L'Espérance joked: "I have three cats and 2 dogs. And if I say no to the cats doing something my dogs bully them." And Nele added: "An orange one? Hope [you're] ready for the chaos hahaha."
Newsweek reached out to Sherrbournee for comment. We could not verify the details of the case.
Do you have funny and adorable videos or pictures of your pet you want to share? Send them to life@newsweek.com with some details about your best friend and they could appear in our Pet of the Week lineup.