Woman Allegedly Pepper-Sprays Maskless Mother, Child Over COVID Fears
Police in Seattle arrested a 32-year-old woman on Monday, alleging she pepper-sprayed a mother and her child in an elevator at Pike Place Market.
Officers responded to a report of an assault at the market at around 4:30 p.m., according to a news release from the Seattle Police Department.
They arrived at Pike Place and located the woman, identified as Czarina Slape, pushing a stroller that contained a bottle of bleach and carrying a can of pepper spray.
Officers took Slape into custody without further incident, police said. Medics from the Seattle Fire Department treated the mother and child at the scene.
According to a probable cause statement, the victim told officers that she and her 7-year-old son had been in an elevator with the suspect when she heard the woman mumbling, swearing and screaming to herself.
She told police that she had asked the suspect if everything was OK. The suspect replied: "If you talk to me again, I'm going to mace you."
The suspect pulled out a can of pepper spray and discharged it at the woman and her child, the victim told police, adding that she started hitting Slape to get her to stop firing the pepper spray.
Slape told officers that she had sprayed the victims because she is "in a high-risk category" and concerned about contracting the Delta variant of COVID-19, the complaint said.
Slape also said that the victims were not wearing masks in the elevator. She also alleged that the mother had been "yelling at her" and "lunging back and forth," and that she took out the pepper spray and "accidentally" pepper-sprayed the woman and her child.
Slape told police that the mother struck her multiple times after being pepper-sprayed, but that she was "defending herself" because of the ongoing pandemic.
She was booked into the King County Jail on suspicion of third-degree assault and third-degree assault of a child.
On Tuesday, the King County Prosecuting Attorney's Office asked a judge to hold Slape in jail on $5,000 and argued that her actions make her a danger to the public, a spokeswoman told Newsweek. The judge set bail at $1,000 and agreed that there was probable cause for the charges.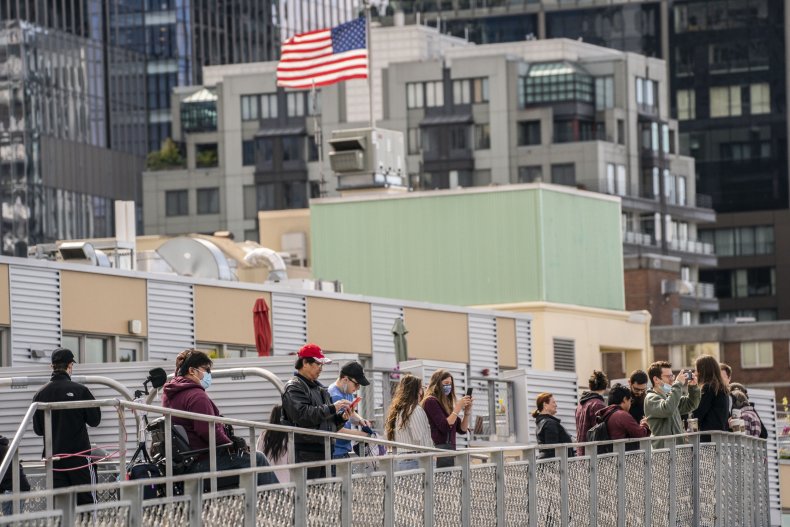 The incident comes as the U.S. is seeing a surge in coronavirus infections fueled by the more infectious Delta variant.
Health officials have said the variant is responsible for over 80 percent of new infections in the country, particularly in areas with lower vaccination rates.
On Tuesday, the U.S. Centers for Disease Control and Prevention (CDC) revised its guidance on masks, recommending that Americans wear masks indoors in places where the virus is rapidly spreading, even if they are fully vaccinated.
According to data from the CDC, 46.9 percent of counties are considered areas of "high transmission," while 17 percent are considered areas with a "substantial" risk of transmission.
Citing new information about the Delta variant's ability to spread among the vaccinated, the CDC also recommended indoor masks for all teachers, staff, students and visitors at schools nationwide, regardless of their vaccination status.
Update 7/28, 10.45 a.m.: This article has been updated with additional information from the King County Prosecuting Attorney's Office.