Woman Alleges Goodwill Exploits Disabled Staff With $1 Wage, Used Underwear
A disability aid worker has alleged that disabled Goodwill employees endure inhumane conditions for paltry cents on the hour.
In a viral video from September 2, the woman identified only as Janice said she formerly worked with disabled people at an assisted living facility. Her footage has been viewed over 800,000 times.
"They pay their staff, which is typically adults with special needs, mostly under $1 an hour," she said of Goodwill.
"I ran a boys' home and a girls' home," Janice continued. "Most of those individuals worked at Goodwill. One person was prone to having 'accidents,' and instead of letting the person go home, they would give them a 'choice.'"
The "choice" offered to the employee who struggled with incontinence was between her soiled underwear and a used pair of underwear from Goodwill, Janice alleged.
In a follow-up video, she said the woman chose to wear her own soiled underwear and continued working for under $1 an hour.
"Mind you, that wasn't a #1, it was a #2," Janice said. "So when she came home, she was not even properly cleaned from that. That is not worth $1 an hour or under. That's not worth $100 an hour to work that way, in my opinion."
"These adults deserve to have dignity and grace as well," she said.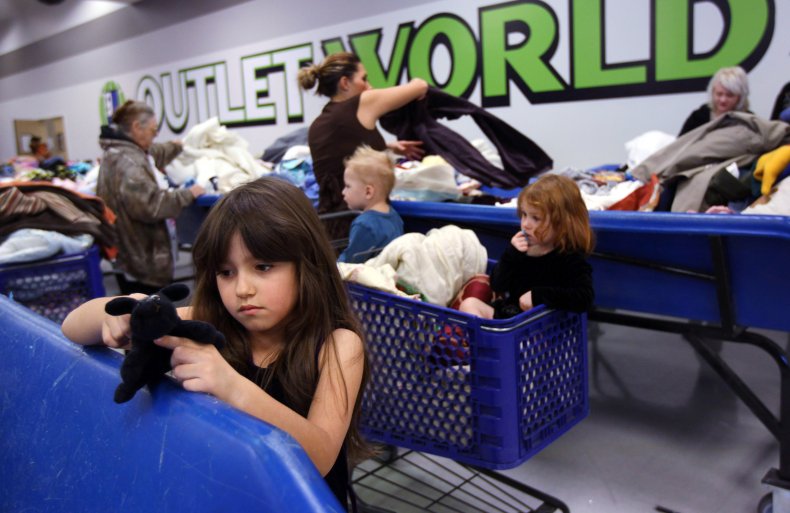 A Goodwill spokesperson told Newsweek, "The safety, privacy and well-being of our employees is at the forefront of everything we do. When anyone shops at a local Goodwill store, they are helping someone in their community receive help with career navigation, skills training, job placement and other community-based services to ensure they are stable both at home and in the workplace."
Goodwill's treatment of disabled employees has come under fire in previous years. In 2013, a watchdog report found that a majority of Goodwill stores in the U.S. paid disabled people less than the federal minimum wage, all while spending tens of millions per year on executive compensation and travel-related expenses.
Years later, in 2019, an Illinois branch of Goodwill was criticized for its plans to fire disabled workers—which it blamed on the state's rising minimum wage.
It is entirely legal for companies to pay "subminimum wages"—which can be as low as cents on the hour—to workers with disabilities. Section 14(c) of the Fair Labor Standards Act (FLSA) authorizes employers to pay these workers below federal minimum wage "for the job being performed," with the supposed aim of maintaining employment opportunities for the disabled.
Since 1938, thousands of workshops have been certified under Section 14(c) to employ subminimum wage workers. There are still over 1,500 such workshops employing over 100,000 disabled people, according to a 2020 report from the U.S. Commission on Civil Rights.
As of April 2022, 19 Goodwills across the U.S. report holding a certificate for this practice.
Newsweek reached out to Janice for comment.
Updated 09/15/2022, 6:08 p.m. ET: This story has been updated with comments from a Goodwill spokesperson.