A female passenger beat up a bus driver in Germany this week after being asked to abide by the law and wear a face mask when on public transport, police said.
The passenger got on the bus on Tuesday night in the city of Darmstadt, near Frankfurt. She was accompanied by three men and a child. None of the group were wearing face coverings, Hesse Police told Newsweek.
The driver attempted to enforce the regulations; in Germany it is illegal to go on public transport or in shops without a face mask on. After the request, "they ignored all announcements and insulted the driver," said a police representative to Newsweek.
Before they left the vehicle, the female member of the group went into the driver's area and hit her a number of times, before the group ran from the scene. The driver was injured and had to end her duty.
The perpetrator was between 20 to 30-years-old, and around 5'2 to 5'5 with long black hair and ruby-colored clothes, said police.
"The currently increasing disrespect and violence against security forces, but also against fire departments, rescue and relief services and other employees in the public service must be stopped," said Darmstadt mayor Jochen Partsch after the incident, reported Wed24 News.
"The people to whom this violence is committed are representative of all of us, and they are doing their job to protect us all," said the mayor.
Police are asking other passengers and members of the public to come forward if they witnessed the assault in Darmstadt on Tuesday.
This is one of many mask-related altercations transport officials and public-facing workers around the world have endured. Staff have been vilified and assaulted for trying to improve their safety and reduce the risk of spreading coronavirus during the global pandemic. In the U.S. face mask confrontations are currently a weekly occurrence.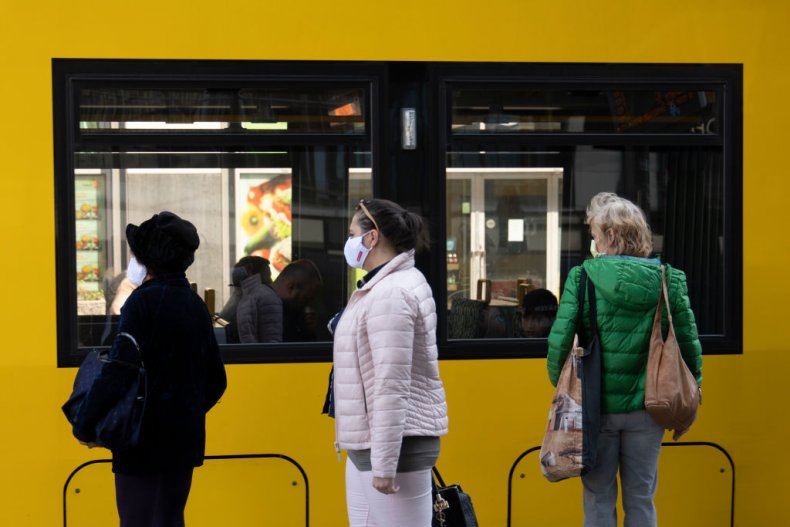 In early July, French bus driver Philippe Monguillot was beaten to death after asking passengers to wear face coverings. On Sunday, police began a search for a man who allegedly fired his gun in a New Orleans grocery store after being asked to wear a mask. In Rhode Island, in mid-July, a man was accused of hitting a 63-year-old with a car after a heated argument over wearing face coverings.
Also in mid-July, a man allegedly pulled out a gun in a Florida Walmart, after an argument about face masks. Meanwhile, in Louisiana, a man was arrested for allegedly striking an officer with a car after being asked to put on a face covering.
World Health Organization (WHO) Director-General Dr. Tedros Adhanom Ghebreyesus said in early June: "In light of evolving evidence, the WHO advises that governments should encourage the general public to wear masks where there is widespread transmission and physical distancing is difficult, such as on public transport, in shops or in other confined or crowded environments."
This story has been updated with a quote from Hesse Police.