Woman Backed After Buying Wedding Dress for Stranger But Not Daughter
Commenters supported a woman who refused to pay for her daughter's wedding dress but bought a stranger's dress before being uninvited from the wedding.
The anonymous woman, known only as u/Certain-Structure699, posted about the incident to Reddit's popular "Am I The A**hole" forum where it garnered nearly 7,600 upvotes and 1,700 comments, many calling the bride "spoiled" for not being happy with her parents fronting the above-average cost.
Data collected by The Knot found that the average wedding in 2021 cost $28,000, not including the price of the engagement ring. In the post, the bride's mother said they expect the bill to be close to $50,000.
In the post titled "AITA For Paying for another bride's wedding dress but not my daughter's?" the woman explained that both she and her husband grew up in poverty and worked hard to become financially secure as adults.
The woman said she raised her children to work hard and not be spoiled, which included used cars, part-time jobs, and not covering the cost of wedding dresses or tuxedos.
She explained that her youngest daughter Michaela is engaged and was told her parents would cover everything for the wedding except for her wedding dress.
Michaela invited both parents to watch her try on dresses and was able to find one she loved that was within her budget. But while at the dress store, the woman said she complimented another bride on a dress she was trying on.
The woman and the girl's mother began talking and she learned the family was low-income and that she and the groom's parents had taken out loans to pay for the wedding. She also explained that the bride was plus-sized and had been to six different stores but none had many options in her size.
The bride fell in love with the dress but was told the consultant misread the tag and that the dress was actually more than $1,000 out of budget, not including alterations. The bride said she would try to find something online.
"I grew up poor and I was also a chubby kid. I was bullied and I was very unhappy," the post read. "I always wanted more and in this bride I saw myself and I didn't want her to have to settle for a dress that fit versus a dress she loved."
The woman explained that while her daughter was changing in the back, she approached the bride and offered to pay the difference on the dress.
"It was very emotional, we all held each other and cried, she accepted," the post read. "I very happily paid the difference on her dress. Her mother, herself and I are now friends on Facebook and my husband and I have been invited to the wedding, which we will gladly attend."
But when her daughter Michaela found out, she "threw a fit" saying her mother showed how she felt about the wedding and that if she "cared at all" she would have paid for her dress also.
"She's now not speaking to me or to her father (who didn't even have a hand in this, which is unfair). She has now uninvited us from the wedding," the post read. "We're so hurt and confused. Was I an asshole?"
Commenters flocked to the comments section, with majority showing support for the mother and calling out Michaela for her behavior.
"NTA. If Michaela has uninvited you to the wedding, she has obviously uninvited your dollars too," one commenter wrote which received nearly 14,000 upvotes.
"Your daughter is spoiled rotten. Sorry," one user wrote. "Tell her if you're uninvited then you'll request refunds on everything (you likely can). You paid for someone to have their dream dress because they wouldn't be able to otherwise, and your daughter is mad that you're ONLY shelling out how many thousands for her?"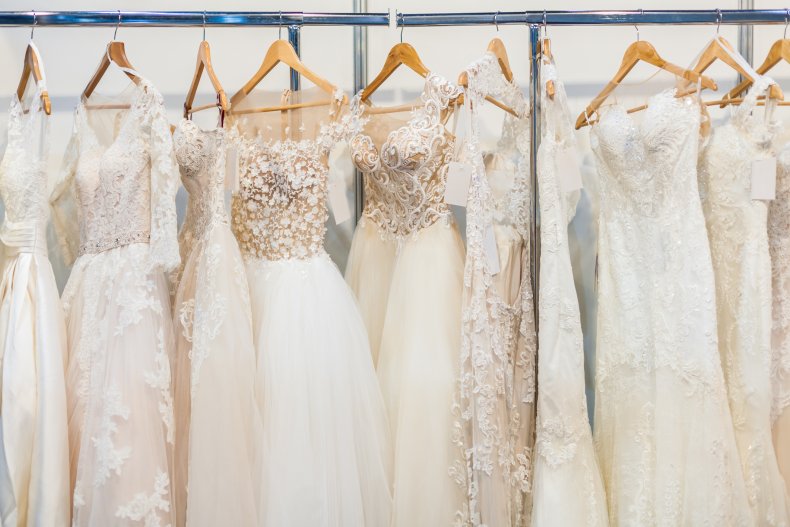 The mother replied that so far, she and her husband had spent $26,000 on the wedding but are expecting the final bill to be closer to $50,000. Many told the woman to email her daughter the full bill and request she and her fiancé take care of it.
"You're paying for your daughter's entire wedding except the dress. You are doing far, far more for her than your kind act to a stranger," one user suggested. "Tell your daughter that you will not be paying for any wedding that you're not invited to."
"My parent's gave us $400 towards our $1500 wedding and I was so thankful," another user wrote. "This girl needs a reality check."
Newsweek reached out to u/Certain-Structure699 but did not receive comment in time for publication.