Woman Caught on Video Jumping Off of Disney World Ride to Steal Cucumber
Viral footage of a woman appearing to step off of a ride at Epcot to steal food on display sparked outrage from many dedicated Disney World fans and parkgoers.
The original video was posted to TikTok under the username @marthalorena, but both the post and the account have been deleted from the platform. However, the video was downloaded and uploaded to Instagram on Sunday by online personality @alex64gaming, also known as Alex.
The video starts as a woman wearing a pair of Minnie ears steps off of Epcot's Living with the Land attraction, a slow-moving boat ride known for its greenhouse tour focused on how new technology can make agriculture more sustainable and eco-friendly.
"Girl, I'm going to jail," one person is heard saying. "They're going to prison!"
Another woman on the ride at the Florida amusement park is heard repeatedly shouting, "Martha!"
The woman grabs what was identified as a cucumber off of the genetically modified plant and attempts to get back on the boat. She falls while trying to board the ride again, which prompts another rider to step off onto the attraction to help her. She hops on and jumps across several seats to get back with her group, as another woman on the ride is visibly shaken by her actions.
Alex told Newsweek that he decided to post the video to his account after viewing the video on TikTok.
"I'm very passionate about Disney parks. I really wish they would give me a free park pass. I kind of did them a favor lol," he joked.
Since posting, the video has been viewed nearly 60,000 times and drawn thousands of angry Disney fans to the comments, many of whom remarked that breaking the rules like this could result in a lifetime ban from the parks.
"Tell me you want to get banned from Disney World without telling me you want to get banned from Disney World," one viewer wrote. "Imagine wanting a cucumber so bad you're willing to get banned from Disney World," another added.
"So she paid hundreds of dollars for her Disney World experience only to get banned forever for taking a cucumber lol," one person surmised.
Even Alex himself told Newsweek that he believes a lifetime punishment should be in order for this parkgoer.
"I think they should be permanently banned this is absolutely unacceptable," he said. "I really hope she is held accountable."
Several who saw the video on Twitter also weighed in on the matter, including Mark Avis, who claimed to have been on the boat behind the disruptive guest.
"I had the luxury of sitting behind these morons. They actually jumped off the boat 4 different times during the ride," he claimed. To corroborate the allegation, he added a video that appeared to show the moment the woman hopped back on the ride, as seen in Alex's repost.
"And we know they were watching [because] at one point, they all felt the need to reach over and grab the sand...Including holding the small child's legs so she could too," he added in a subsequent Twitter thread. "The 'voice of god' reminded everyone to keep their hands and arms inside the boat."
When another Twitter user asked about security's response to the incident, Avis claimed that he saw no park officials take action.
"We were expecting [security]. Nobody there when we exited the attraction," he claimed. "They walked into Soarin' [afterward]. My hope is that it happened at some point. Didn't see any security 'waiting' in The Land pavilion."
Avis also hypothesized that the woman and her party had been drinking in Epcot prior to the ride, noting that the video was taken "towards the end of the night," around 8:30 p.m.
Several viewers made jokes in Alex's comments section about the possibility that the woman was intoxicated.
"When drinking around the world gets [too] expensive BUT you are really hungry..." one commenter joked. "Someone had a little too much [to drink] around the world...Walt's looking down just shaking his head saying 'this is exactly why I didn't want alcohol in the parks,'" another added.
Alex told Newsweek that he "honestly didn't expect" for the video to have resonated with so many Disney fans, and joked that "maybe [posting the video could] put in a good word with Disney World for me." He also hopes that "this video should teach young people a lesson" about following Disney park rules.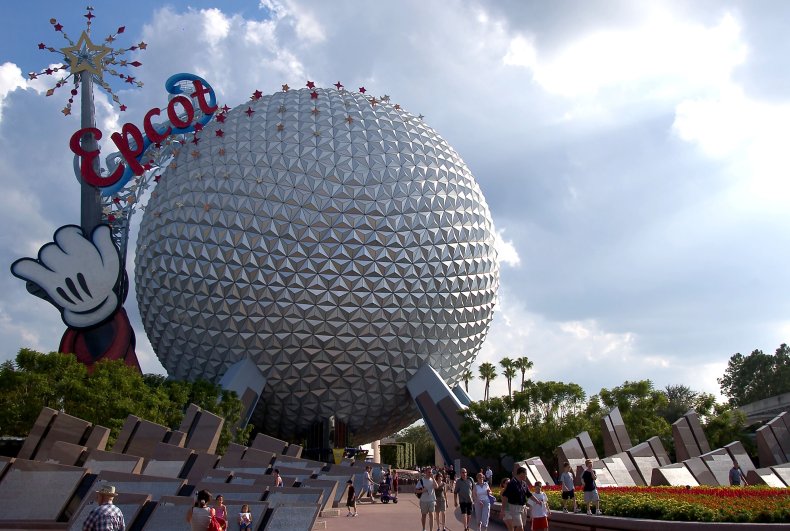 Newsweek reached out to Avis and Disney World for comment on the situation, but neither responded in time for publication.
Recenty, one TikToker claimed that a Disney fan page on Facebook has been a hotspot for "drama" in recent weeks. Another TikToker also went viral for his incredible Mary Poppins-inspired look that even impressed cast members working at the park.