Woman Praised for Correcting Ex-Husband's New Wife: 'Assert Her Dominance'
A woman has been praised for correcting her ex-husband's new wife after she questioned why the pair ever got divorced.
The 48-year-old revealed she and her ex, Jim, 49, were married for two decades, and share three children together, a 22-year-old daughter, and two sons aged 18 and 20.
She shared more about their backstory on Reddit under Appropriate-Truth815, revealing they split five years ago, but still had a good relationship, having a monthly dinner with just the five of them.
She explained both she and Jim had since remarried, as she wed a mutual friend, David, 50, while he married a woman named Cara, 34, who gave birth to their first child last year.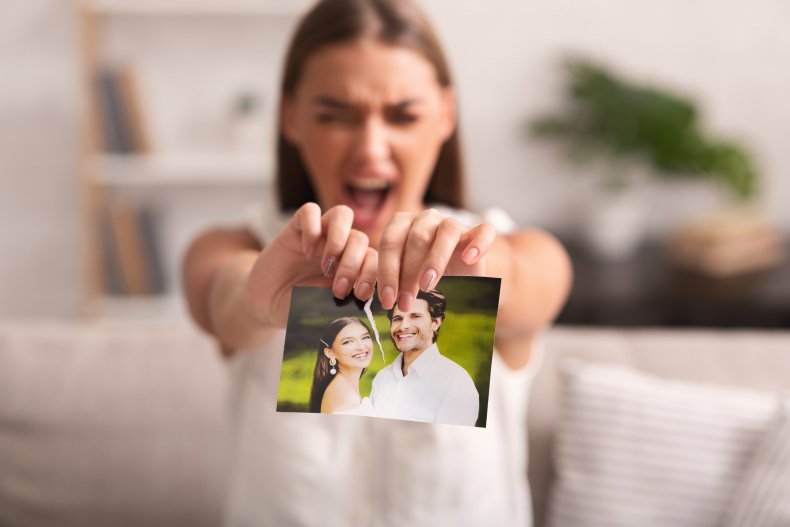 Appropriate-Truth815 stressed there was no cheating in the relationship, and it broke down due to her career being "derailed" after their daughter was diagnosed with cancer, and she was the primary care-giver.
She wrote: "We divorced because Jim was a bad husband and not a great dad when we were together. Jim worked long hours to build a wonderful career while I had to neglect my career to be there for our children.
"He didn't truly understand until it was too late. He provided for us and still does provide for our kids. I am grateful for everything he did but admit that I resented him during our marriage because I had to watch his career take off while mine (same career) stalled."
But the two women butted heads at a recent dinner at her former mother-in-laws, saying: "Cara was going on and on about what a wonderful husband and father Jim is to her and their daughter. I don't care because I know my ex has more time now than he did when our children were younger.
"I didn't really say anything until Cara looked directly at me and asked in front of the entire family why I ever gave Jim up. She also made a comment about me being too busy falling in love with my husband's best friend.
"I simply looked back at her and said 'you know, Cara, he wasn't always a great husband and is only so wonderful now because I was willing to make a ton of sacrifices so he could have a successful career, but don't worry you are very welcome for that.'
"Almost everyone laughed, including Jim, but Cara was p***ed and text me later that night to tell me how hurt she was that I insulted her and her husband at Easter dinner and said I shouldn't have even been there."
She claims she ignored it, but Cara then messaged her bringing up the issue again, as she continued: "The conversation eventually turned to me explaining that my marriage to Jim and her marriage are very different and while I am happy that they are happy and have a great life, she doesn't get to rewrite history or comment on the type of husband Jim was to me.
"I reminded her that Jim and I have spent many years working through our crap and while she may think she is funny, she just comes off as insecure."
She claims she spoke to Jim about Cara's behavior, and he agreed with how she handled the situation.
Appropriate-Truth815 says he stressed to Cara she was "an extension of our family and not a 'new' family," adding: "He laughed at my comment because it was completely true and said that the money he spent on therapy to figure that out was well worth it.
"He also said that even though his wife is younger, he thinks that her perception has more to do with the fact that this is her first marriage and it can be hard for her to relate.
"He did tell me that they spoke about it that night and he basically said the same thing I said the next day and that she sort of understands but, again, it is difficult for her because she wasn't there for it and he thinks she is a little insecure about how good of a relationship he and I have now.
"He did tell her that we worked really hard on that relationship and it took many fights, therapy, and years to get to that place."
The post, which can be read here, has amassed more than 12,000 upvotes since being posted on Monday, as people backed her standing her ground.
In the comments she revealed more about the cancer diagnosis and how it affected their family, saying: "My child's cancer diagnosis and my ex's refusal to even consider being the one to take on a more active parental role at that time derailed my career."
Commenting on the situation, Here_for_tea_ wrote: "Exactly. Even if she had been right (which she wasn't), it's incredibly tacky to comment."
TheRockMan31 said: "Right? It felt like a power move, like she tried to assert her dominance as the better wife."
Fit_Menu8933 thought: "She has to convince herself OP was inferior to her somehow, she's very insecure."
Shrutiiiiiii added: "NTA. She's reaping the benefits of the sacrifices you made. She has no right to make comments about a marriage that she didn't witness."
The graph below, provided by Statista, shows the most expensive divorces in history.
The divorcees in the Reddit post are just two of a number of people in their second marriages. While not revealing where they're based, in the U.S, statistics from Bowling Green State University in 2019 revealed the second marriage rate was roughly 25.1 remarriages per 1,000 men and women "eligible to remarry."
They said: "This estimate represents a 50 percent decrease from the 1990 remarriage rate and a 25 percent decrease from the 2008 remarriage rate."
They noted the rate was higher for men, at 35.1, than women, at 19.4, while men are also older on average when they tie the knot again.
"In 2019, the median age at remarriage was 48 for men and 44 for women," BGSU said.
Newsweek reached out to Appropriate-Truth815 for comment.
If you have a similar family dilemma, let us know via life@newsweek.com. We can ask experts for advice, and your story could be featured on Newsweek.