Woman Dined And Dashed At Sonic Restaurant, Tells Server "This One's On God"
On Monday, a woman rode her bike to the local Sonic Drive-In, placed an order, and when she was asked to pay, allegedly told the server, "this one's on God."
Delila Hernandez, 30, of Las Cruces, New Mexico, is accused of stealing a meal from a Sonic. After telling the server God would pay the bill, the server told her "That's not how this works," and withheld the food. But Hernandez allegedly threatened the server, and he gave her the food out of fear of being hurt.
After she left, the server called the police. Hernandez was found eating in a nearby park.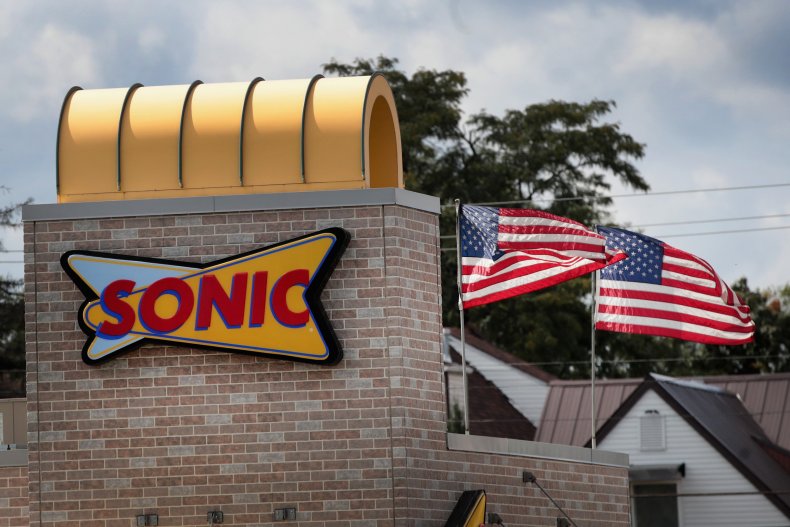 According to court documents, Hernandez said she knew taking the food was wrong. She claimed she hesitated to eat, but ate anyway because she was "starving."
Though she was arrested and charged with felony robbery, Roxanne Garcia-McElmell, the public information officer for the District Attorney's Office, told the Las Cruces Sun-News that Hernandez was unlikely to face the full charges. Instead, Hernandez will likely be charged with a petty misdemeanor — which means she'd have to pay for her meal, possibly with a small fine attached. Garcia-McElmell says it's also possible all charges could be dropped.
Eating without paying the bill at a restaurant is often known as "dining and dashing." Though in this case, Hernandez said she committed the crime because she was "starving," not all dine-and-dashers are.
For example, last year, a British man thought to be a serial dine-and-dasher was accused of running off after eating at the Ritz-Carlton in Washington, D.C. The man, Nicholas James Cooper, ate an expensive meal of grilled octopus and rack of lamb. He followed the meal with a $156 bottle of cabernet sauvignon and a $1,200 shot of Irish whiskey before ducking the bill.
Cooper was believed to have done similar stunts in D.C. for two weeks before the Ritz-Carlton incident. Though those incidents — where he was accused of stealing $68.20 worth of drinks from the Willard InterContinental Hotel and an Old Ebbit Grill meal worth $67.91 — were relatively small potatoes compared with the Ritz-Carlton bill Cooper avoided paying, which totaled $2,220.40.
In another incident last year, 10 black Washington University students were falsely accused of dining-and-dashing at an IHOP in Clayton, Missouri. Police were called on the group, and even when the students showed police their receipts, the officers still forced them to walk back into the restaurant.
The IHOP employees had indeed called the police on an unpaid bill, but confirmed to the officers that the black students were not who they believed had skipped out on the check.
The Clayton Police Department issued an official apology.