Woman Dubbed 'Biggest A**hole Ever' For Comment About Stillborn Baby
A 24-year-old woman is being slammed after she was kicked out for making an "insensitive" comment in regard to a family member's loss.
The now-viral Reddit post, titled, "AITA for kicking my sister out of our family dinner after she made a 'practical observation,'" has been upvoted 18,900 times since it was shared on June 3. Redditor @crispsandfries shared the post to the subreddit "Am I the A**hole," and it has been turning heads ever since.
According to the United States Department of Agriculture, the cost of raising a child for couples with a middle-income amount to $233,610 for a baby born in 2015, or $284,570 if projected inflation rates are accounted for. This is for a family of two kids and equates to $12,980 a year per child. The amount factors in food, shelter, and other necessities needed to raise a child to 17 years of age. College isn't included in the figure.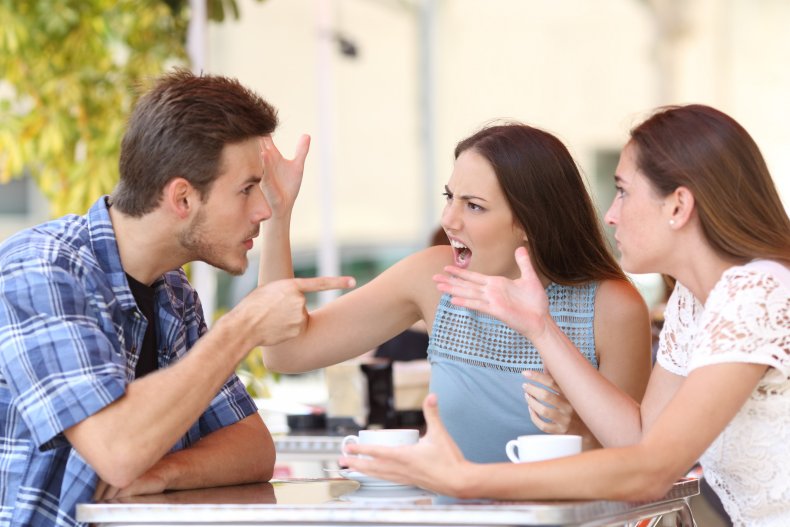 The original poster (OP) revealed her brother Fred and his wife Sarah aren't "very financially stable," and it was surprising for her sister Katie and the OP when the couple announced they were pregnant. But Katie and her sister kept it to themselves.
"A few months ago, Katie planned a family trip," the OP relayed. "[My] brother and SIL [sister-in-law] decided to opt-out as they were cutting costs for the baby. At this, mom and dad decided to cancel the trip altogether and have another one later, since mom's health wasn't too great either."
This "irked" Katie since she was "looking forward" to the trip, and she made "unsubtle remarks" that Fred and Katie shouldn't be having kids "if they don't have money." The OP revealed that comment "very clearly upset" both her brother and sister-in-law.
The OP continued: "Unfortunately, due to several complications, the baby was stillborn. It has been a month, and my brother and SIL are understandably still devastated. Especially my SIL's mental health is not very well as of now."
Yesterday, the OP had a family dinner at her home that included her sister, brother, her sister-in-law, and their parents. Before dinner, Sarah went to the bathroom, and the OP's husband asked Fred if she was doing OK.
But before Fred could say anything, Katie chimed in saying, "Well, though the loss is very sad, think of this as a good thing. At least you don't have to worry about money anymore. As I said, you shouldn't be bringing kids into this world unless you are sure you can provide for them."
Fred became red in the face, saying they would've been able to "provide" for their kid. They might not have money for "extra luxuries," but the couple would do "everything for their child." Fred was "almost crying" as well as "purple with anger."
The OP "dragged" Katie to the kitchen demanding what brought her to say something that was "so insensitive." Her sister was defensive, saying that she made "a very practical observation and that she was 100 percent correct." She also added that it was better to see straight than to be "clouded by emotions."
The OP continued: "By that time, Sarah had come out of the bathroom and was shocked to see Fred in tears. She kept on getting hysterical and asking what was wrong. I knew that Katie's presence would ruin things further, and I asked her to get out. She looked incredibly hurt and angry but went out anyway."
The siblings' parents were late and, therefore, didn't see what went down. But when they got home and discovered what happened, they were reportedly "shocked and upset" at their daughter as well. However, their mother thought that maybe the OP shouldn't have kicked her out like that.
She concluded the post by stating that Katie "ought to have enough maturity to know what to say." She also added that Fred and Sarah "have enough money to meet the baby's needs. They just don't have enough money to go on trips."
Redditor Reactions
Over 1,900 comments poured in over the viral post, and people are praising the OP for kicking her sister out, and they also have a lot of criticism for Katie's remarks as well.
A user, who doesn't think the OP is at fault, doesn't think what Katie said was a "practical observation," adding, "Her comments are callous and cruel and nothing more. You did everything right by evicting them from the situation, and I commend you for being a gracious host."
Another user reasoned what Katie said was "incredibly hurtful," adding, "Even if it were true that's not something you ever ever ever say to a grieving parent. You don't say 'look at the bright side' to a grieving parent."
One Redditor hopes Katie learns "tact in the future." They also admitted they "hate self-righteous bullies," saying, "That woman really just implied that the stillborn death of the man's much-anticipated child was a secret silver lining because he was too poor... And heard nothing wrong with what was coming out of her own fool mouth. Dreadful person."
While another user called Katie's remakes "a horrendous thing to say," adding that they hope she comes to learn how "lacking in humanity that kind of 'practicality'" was to say. "About a stranger it would be awful, but about family to their face?" they asked. "The lack of compassion and empathy is startling."
People didn't mince words with their thoughts on the matter. One such user said there aren't any words to "describe how horrible she is. I'd cut her off permanently. Her comments are completely heartless and coming from an adult? Yikes. She's the very model of how not to speak to the bereaved."
A Redditor thinks it would have been "cruel" to Fred and Sarah if Katie had stayed after her remark. "NTA [not the a**hole], good grief, your poor brother, grieving for his baby, probably trying to be strong for his wife and your sister says something as heartless and downright nasty as that," they said.
Another user called Katie a "huge a**hole," adding that she's also "an entitled one" as well. "If she wanted to go on a trip so bad she could've gone herself," they said. "Oh wait, were your parents paying for it? Maybe she shouldn't be traveling if she can't afford it. What she said was f**king monstrous."
Other comments included things like, "You are definitely NTA, your sister however, is the biggest AH [a**hole] ever," and "Your sister is a cruel person. She needs to learn to keep her mouth shut."
Redditor @crispsandfries told Newsweek: "Since there is a very prevalent misunderstanding, I'd like to clear something up. Fred and Sarah can afford basic necessities like food. They would have been able to care for the baby on their own."
This isn't the only viral moment involving families. A woman was supported for tricking her in-laws into eating her food. A man was praised for treating his son like an "outsider" after his divorce. In addition, a woman was "put on blast" after wanting her sister to name her child after her.