Woman Claims She Was Escorted off Alaska Airlines Flight Over 'Inappropriate' Outfit
A woman claims she was escorted off an Alaska Airlines flight by police over her "inappropriate" outfit, after she wore a crop top on board.
Ray Lin Howard, who posts under @FatTrophyWife on TikTok, shared a series of clips to the site as she documented the saga.
Howard, from Fairbanks, uploaded the first of a trio of videos on Saturday, which can be seen here, and has already been watched more than two million times.
"@Alaskaair Flight attendant harassed and called the airport police on me for my inappropriate outfit," she captioned the video, with the on-screen text adding: "I was escorted off the plane by police tonight, how's your night going."
Howard told Newsweek the ordeal was "humiliating," adding she was travelling with her six-year-old son and husband.
"I was shocked to be harassed after being fully clothed and covered again, and then to have the flight attendant lie to the police and say I wouldn't stay dressed was ridiculous and humiliating.
"I wore the same things on multiple other flight on the same airline earlier that day and week without issue, including just the bra and shorts," she said.
The clip shows Howard, 33, walking down a corridor before sitting in a room across from officers, as she goes into more detail about what happened, telling them: "I was harassed about my outfit."
Howard, a music artist and salon owner, told the officers she was wearing a grey crop top on the plane, when she was asked by airline staff to cover up, which she says she did.
She claims staff came over to her a second time to tell her the pink, leopard print T-shirt she had worn on top was "inappropriate," as her "stomach was showing."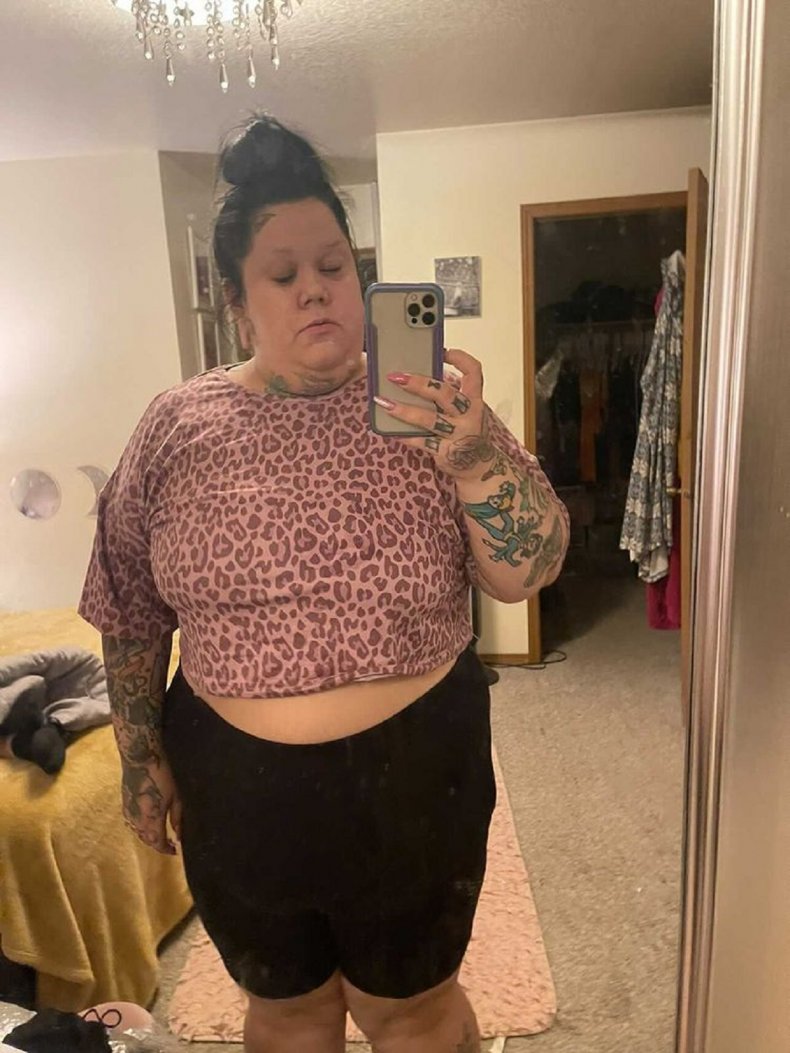 Howard says after she was approached a third time, she told a flight attendant: "If you're going to kick me off then kick me off. I've done what you've asked me to do, I want you to leave me alone."
The officer in the video can be heard in the background confirming to Howard she's "not in any criminal trouble," as she asks if she can leave the airport.
"I wore an outfit, that's what happened," she sums up.
In a follow-up video she shared her full outfit, showing she was wearing black shorts on her lower half.
In the original video Howard says she checked the dress code and estimates she didn't fall foul of it. Alaska Airlines' website states its dress code is "casual," but confirms final say over what meets that requirement rests with the staff.
It says: "The dress code on both Alaska and Horizon is casual, and the requirement is simply a neat and well-groomed appearance. Clothing that is soiled or tattered, and bare feet are never acceptable.
"You are expected to use good judgment, but customer service agents will have the final authority to refuse travel for inappropriate attire or appearance."
She added: "They need a clear dress code that is enforced across the board, not when they need it to work for then. I don't see myself using Alaska anymore, which is hard being a resident and them being one of my few options but I have to stand my ground or no change will happen with these policies and policing of outfits..."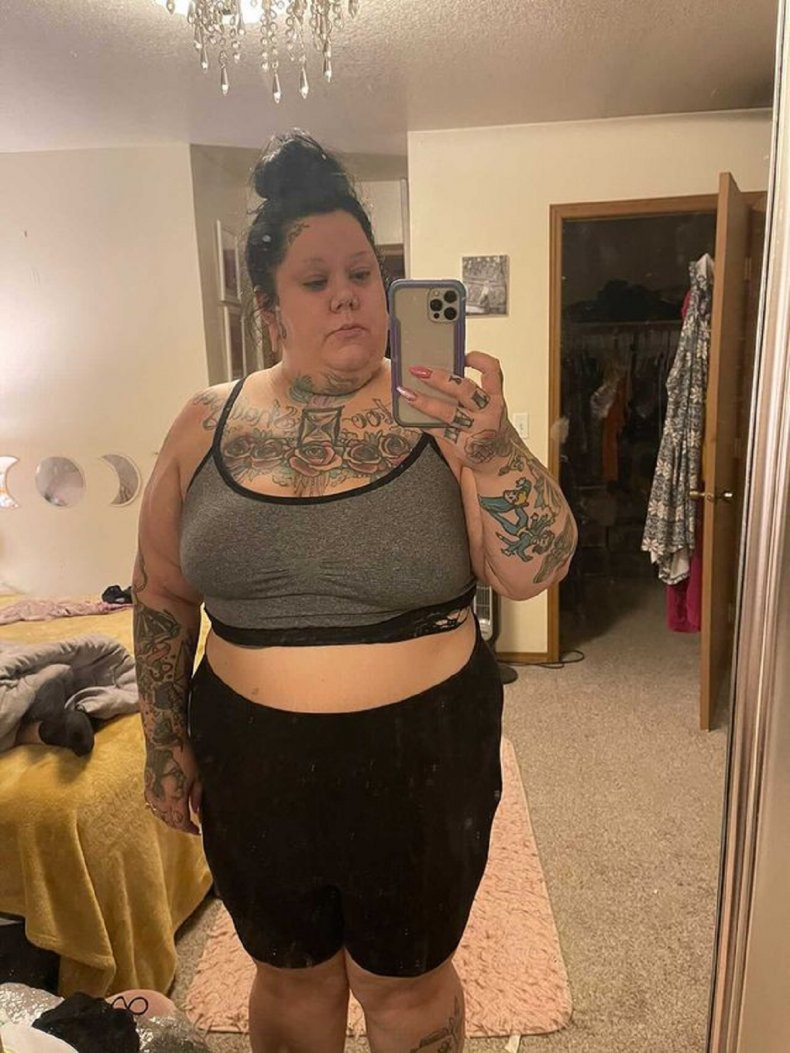 Howard claims questions were raised about her outfit roughly two hours after the plane had taken off, from Seattle to Fairbanks, on Friday.
As it was warm on the aircraft, Howard says she took off her pink T-shirt, and switched seats after passengers were given the green light to do so as the flight was fairly empty.
Howard told Newsweek she changed as she "got hot," adding: "My outfit wasn't an issue until we spread out and I was in an aisle seat."
In a statement, Alaska Airlines said: "We're in contact with the guest who was on Alaska Airlines Flight 223 Friday evening. We're committed to finding out what happened and taking the appropriate actions. It's our goal to provide caring service to all of our guests. When we don't live up to that goal, we do everything we can to make it right," Komo News reported.
Howard says she's planning on making a full complaint, but confirmed the airline refunded their three tickets, and offered her a discount code "for the inconvenience."
Newsweek reached out to Alaska Airlines for comment.