A woman who didn't exercise for a year claims she "nearly died" after attending an intense indoor cycling class.
Nikinakinoonoo shared a clip on TikTok on Thursday, recalling the horrific experience. She talks followers through the entire saga, playing the various parts of her boyfriend, friends and medical team.
Nikinakinoonoo, from Wales, said: "Me impressed with myself. Did [exercise bike] class for the first time ever and was able to keep up with the instructor."
She indicated her legs were aching after the class, as she continued: "One day later—must be sore muscles. Boyfriend: It's just sore muscles, I get it too after leg day."
But the pain didn't go away, and in fact it got worse, as she continued: "Three days later—severe pain, can't move legs and urine is black."
She later added that she thought her urine was "Pepsi" as it was so dark.
Nikinakinoonoo explained she decided to call a free medical helpline in the U.K. to seek advice, but felt embarrassed.
"Omg I'll look pathetic calling 111 but this pain is unbearable," she said.
She was told a doctor would call her back within six to eight hours, but she couldn't wait that long so she asked her boyfriend to drive her to the hospital.
Nikinakinoonoo explained she had "limited movement" as she made her way to the emergency room, and claims a nurse told her: "You just have sore legs go home."
Unwilling to take no for an answer, she claims she "upped her dramatic-ness" and begged them to test her urine.
She says the nurse agreed to check her blood, which is when the doctor delivered some shocking news.
Impersonating the medical professional, she said: "You have acute kidney damage and rhabdomyolysis. Your CK (creatine kinase) is 80,000, it should be 10-250. If you left it any later you'd have renal failure and need to be on dialysis for the rest of your life."
After learning how close she came to being seriously ill, she said: "Maybe I wasn't dramatic after all."
She later added she updated everyone, including her friends who initially laughed at her, telling them she "nearly died."
Her video has already amassed more than one million views. She called the experience "so scary," adding the pain was "excruciating."
Responding to comments, she explained exactly how the cycling class caused such a severe reaction.
She said: "I basically didn't exercise for like a year and then went straight into an intense workout and my body didn't like it."
She confirmed she was on the mend in multiple responses to questions: "11 I.V.s, and a tonne of painkillers, I'm much better! A week later and I'm still hobbling but hardly any pain. I'm so lucky the dr knew straight away what was wrong with me. So scary people are not educated on this! It seems quite common reading all these comments."
Rhabdomyolysis is a serious condition which is caused by a range of factors, one being "extreme muscle strain."
WebMD explains: "Rhabdomyolysis is a serious syndrome due to a direct or indirect muscle injury. It results from the death of muscle fibers and release of their contents into the bloodstream. This can lead to serious complications such as renal (kidney) failure. This means the kidneys cannot remove waste and concentrated urine. In rare cases, rhabdomyolysis can even cause death."
Numerous people commented they're going to take extra care at the gym.
Kayla Markle replied: "I'm a nurse and knew right away this was going to be rhabdo. We see it a lot! Very dangerous."
Babs Kovacs wrote: "Same thing happened to me but CrossFit was the culprit and I did end up with renal failure. So I feel you."
Patty Shaw Ramirez admitted: "Wow not me deciding that I would start aggressively running tomorrow."
While Chloe added: "Uh this happened to me years ago after I took a high fitness class while U was dehydrated. It's scary."
Newsweek reached out to Nikinakinoonoo for comment.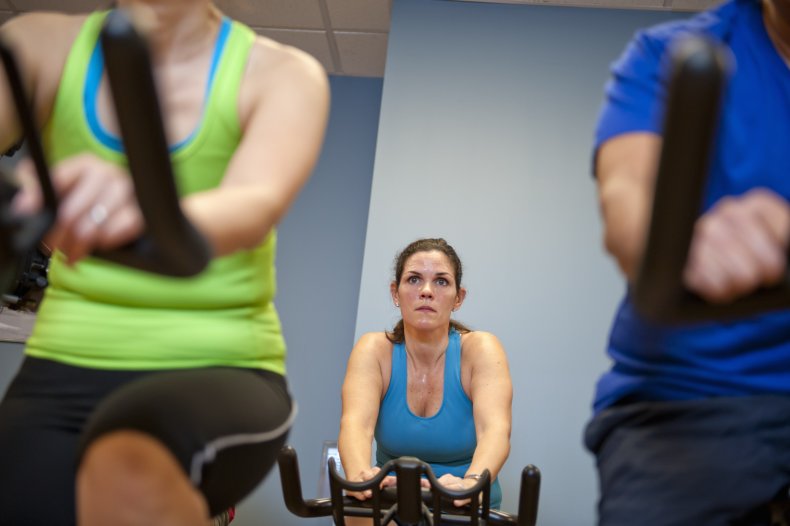 Uncommon Knowledge
Newsweek is committed to challenging conventional wisdom and finding connections in the search for common ground.
Newsweek is committed to challenging conventional wisdom and finding connections in the search for common ground.
About the writer
Rebecca Flood is Newsweek's Audience Editor (Trends) and is based in London, UK. Her focus is trends, social media and viral conversations. She has extensively covered U.K. and U.S. culture. Rebecca joined Newsweek in 2021 from The Sun, and previously worked at The Daily Express, The Daily Star, The Independent and The Mirror. Languages: English
You can get in touch with Rebecca by emailing r.flood@newsweek.com