Woman Forced to Give Up Baby 66 Years Ago Takes DNA Test, Finds Son After Years of Searching
One advantage of the advent of at-home DNA testing is that it has prompted many to locate their long-lost relatives—resulting, often, in heartwarming reunions. An 86-year-old by the name of Issy Carr of Bentham, England has spent the last several decades thinking of her son, who her parents forced her to put up for adoption in 1955. Now, however, an at-home investigation has reunited Carr with her son.
According to the Craven Herald & Pioneer, Carr found out she was pregnant at the age of 20—and her parents, Margaret and Roy Staveley, forced her to give up the baby.
"I had him at Homesteads Nursing Home, in Melling, on June 13, 1955. I loved him straight away and called him George, but Nurse Eccles, a lovely nurse, said she had been told I was not to see or hold him. He was rushed away and I never saw him again," explained Carr to the news outlet.
She added: "My mother told me I would soon forget about him but I never did and tried many times to find out where he had gone but failed. I never forgave my parents, whatever their reason was."
Over the next several years, Carr reportedly worked on her parents' farm before marrying John Makinson Carr in 1962. While they had no children together, the pair remained happily married until John's death in 1991.
As the years passed, and especially in the wake of her husband's death, Carr frequently thought of her son, reported the Craven Herald. Eventually, niece Angela Bowskill and relative Janet Staveley intervened in an effort to help her track him down.
In 2018, Carr took a DNA test—and sure enough, she was contacted by a match. The match, however, wasn't her son, but a 43-year-old woman in Perth, Australia named Kym.
As it turned out, the two women were searching for the same person: Kym had taken a DNA test in hopes of finding her father, whom she'd never met. Kym and Carr were shown to have a 99.59 percent DNA match, thus confirming their grandmother-granddaughter status.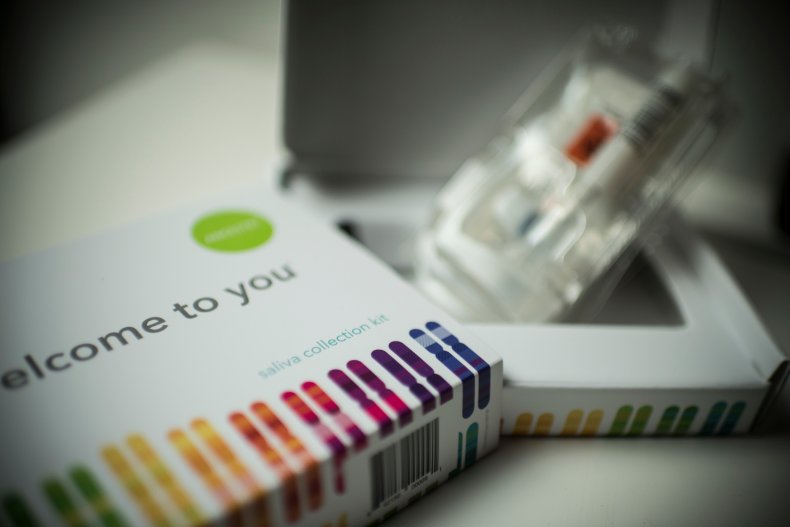 "It turned out that my son had emigrated to Australia with his family aged 15, had met someone but split up. The DNA match was with his daughter, Kym, who he had never met," said Carr.
Kym then doubled down on her search to find the missing link between them—her dad and Carr's son. Eventually, she tracked down his address and introduced herself as his daughter.
"Apparently he nearly fell through the floor," said Carr about her son, now known as Keith.
In May, the three generations shared a Zoom call together, and in June, Carr called Keith for his birthday. "On June 13 I rang him and sang happy birthday to him on the phone," she said. "I also found out we all had a lot in common and a similar sense of [humor]. Keith is the spitting image of me and his daughter is beautiful. She even has a cat named Bonnie, as I do."
"There was a huge part of my life missing and it was the not knowing that was the hardest thing to bear," she added.
The feeling has been mutual: as Kym told the Craven Herald & Pioneer, "He said he was very happy that he has a nice family now and was very happy to have found his mum."
"I have been over the moon to find my grandmother, it was so unexpected. And the joy I feel knowing I have more family in England. I can't wait to meet them all," she added. "I was so excited and nervous to meet my father but I had nothing to worry about. And helping my Grandma Issy find her son was the best feeling ever."
The rise of at-home DNA testing kits is controversial, with many critics pointing to privacy issues. According to The New York Times, some companies share the data generated by DNA testing with law enforcement, and the majority sell the data to third parties. One of their benefits, however, is seen in cases like Carr's, as the tests sometimes allow family members, otherwise unreachable, to be located.
In June, a woman met her father for the first time after finding him on 23andMe. Documented in a viral TikTok, their emotional meeting has been viewed over 7 million times.
In a more unfortunate version of this scenario, it was reported in April a woman learned that her boyfriend was actually her cousin after a DNA test yielded a match. The couple eventually split up.