Woman Issues Warning After 'Normal' Tummy Bump Turns Out to Be Potentially Deadly Cyst
A woman has issued a stark warning after revealing her "normal" tummy bump turned out to be a potentially deadly cyst.
Kayley Reese, from Richmond, Virginia, uploaded a video to TikTok, where she shared her experience with followers, urging them to see their doctor if they're worried.
Reese, who runs an online fashion boutique, stitched a clip on the site posted earlier this July by fellow user Ashventure.
Ashventure filmed herself in a floral two-piece, saying: "This is normal for me, I always have this bump, no matter what I do. I could try to suck in, but that's a lot of effort. I'm pretty sure we have organs in here. I have a uterus in here somewhere. This is normal right. It's normal for me."
The clip amassed more than 2.5 million views, as numerous people responded, claiming the bump was normal, and nothing to be ashamed of.
But Reese uploaded her own eye-opening video on Sunday, as she referenced Ashventure's clip, saying: "I feel very compelled to respond to this video, especially due to all the comments on it, saying it's completely normal. It's not always completely normal."
The 23-year-old told Newsweek that over the past year she'd noticed her stomach growing, to the point where it became uncomfortable to lie on her front.
She said: "When I first started noticing it, I figured it was weight gain. Over the year it continued to grow and protruded to the point it started to seem disproportional to my body. I own my own clothing boutique, Savvy Kay Boutique, and it started to stick out in all the clothes I modeled. Sleeping on my stomach felt like laying on a basketball. In the beginning of June I was fighting constant nausea and dizziness. I flew back to my hometown and showed my mom the lump.
"After feeling around the lump she immediately took me to the ER. They ordered me a CT scan a found a giant cyst on my left ovary. It was 21cm (8.5 inches), 7 pounds, filled with two liters of fluid. They told me they had never seen one that large on someone my age. I was scheduled for emergency surgery where they removed the cyst leaving a scar from my belly button to the top of my pelvis."
Reese explained she went into theater not knowing if her ovaries would be saved, as she recalled: "Going into surgery not knowing if you were going to have any of your ovaries was terrifying.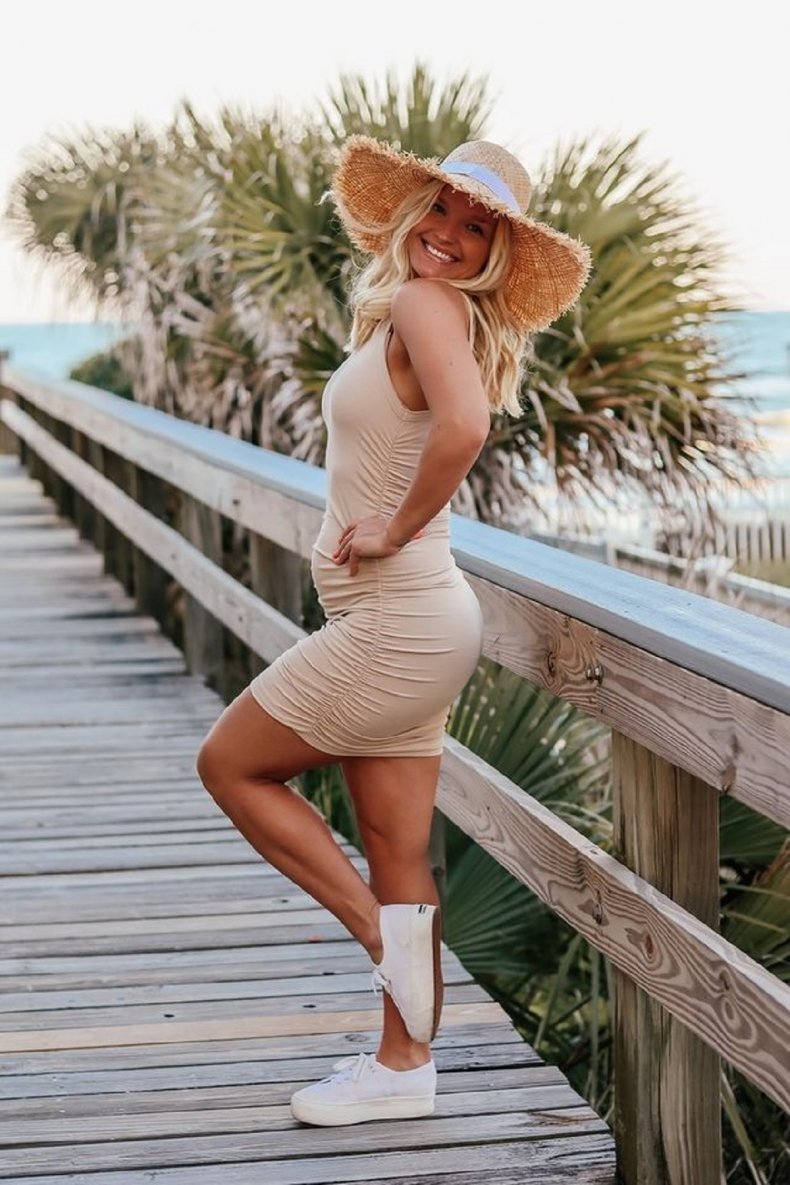 "I was extremely lucky to exit surgery with both ovaries and fallopian tube intact due to the type of cyst. My results also returned as benign. My experience has made me want to use my platform to spread awareness to all young women. If I had seen this video I know I would've gone to the doctor a long time ago.
"I had absolutely no idea this is something that could happen to me at 22. Being on the oncology floor surrounded by strong women fighting made me want to give back to ovarian cancer."
She added part of the profits from her clothing line would be donated to a different cancer foundation every month, starting with T.E.A.L, which stands for Tell Every Amazing Lady About Ovarian Cancer.
In her TikTok video, Reese shared shared before-and-after photos of her surgery, with the first snap showing a very clear bump, while Reese has a flat stomach in the second image.
She said in the clip: "I have a cute new scar. If you take one thing from this video it's go get your bumps looked at. I also thought it was normal."
Reese's video has already amassed more than 5 million views, as she captioned it: "If I can even help one person from this video! Help me tag @ashhventure and anyone else experiencing similar things!"
In the comments Reese explained more about why her bump was so worrisome, writing: "Why I got it checked out: 1) severely protruding 2) constant nausea & dizziness 3) completely hard. . . not meant to scare but to raise awareness! Mine was really hard and protruding in a disproportional way."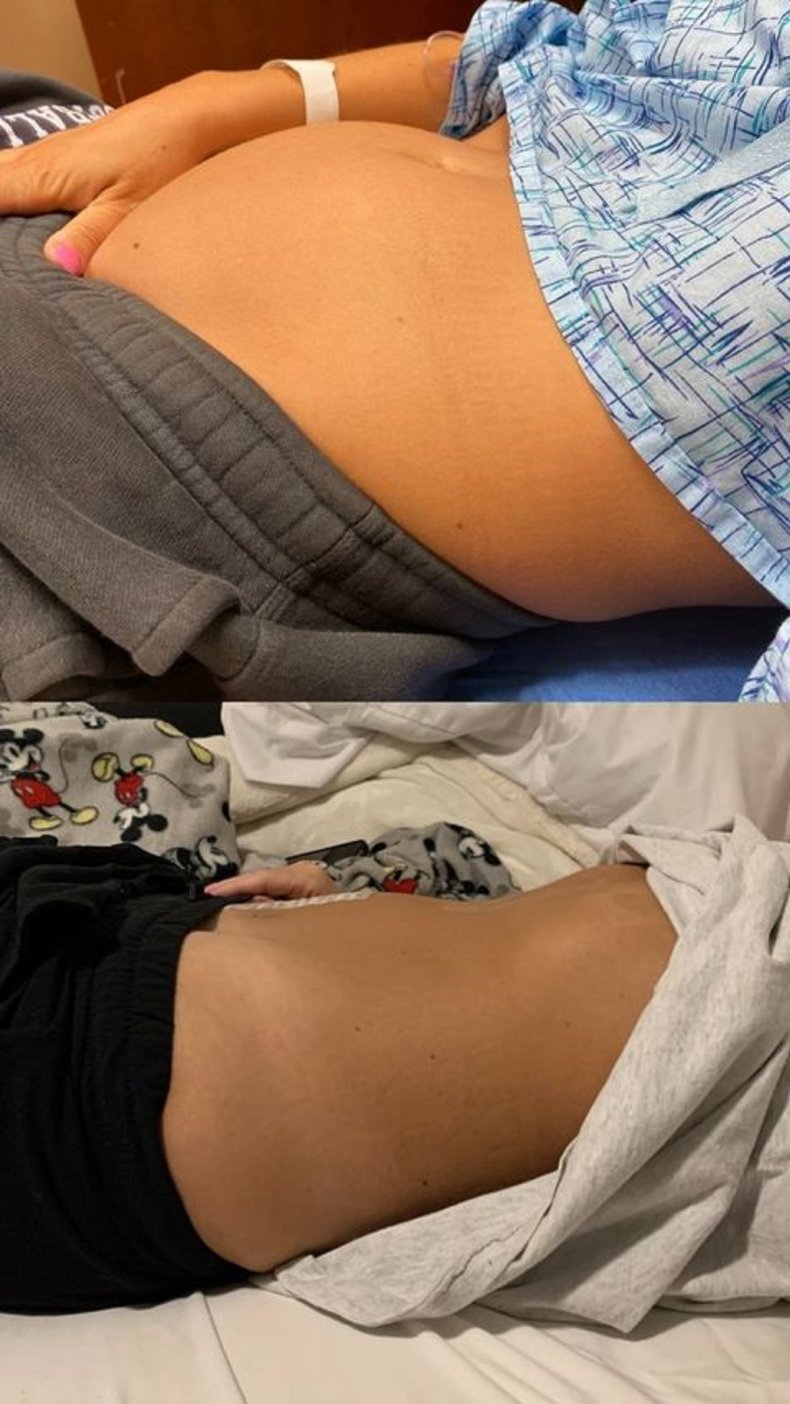 Women thanked Reese for sharing her story, as they admitted they were inspired to get their own worrying bumps checked out.
Ejah Doll wrote: "It definitely doesn't look normal at all. I will def keep watching my bump if it looks weird."
"I had an ovarian cyst larger than a softball and I had no idea it was there. It had to be surgically removed and it still wigs me out that I did not know," Anna wrote.
And Debbie Nohemy wrote: "Yes! Please ladies, get checked. I had this issue & was diagnosed with stage 4 endometriosis & a 13 centimeter ovarian cyst."
Ashley Luce shared her own story, saying: "Hi! I had the same thing happen to me and the same surgery. However, I'm 170 pounds and have a bigger stomach so always thought this was normal."
Although some people stressed there can be explanations behind bumps, which isn't just being full, as Christina said: "My bump went away when I stopped eating gluten."
Newsweek reached out to Ashventure for comment.