Woman Left Paralyzed, in Critical Condition After Chiropractor Treatment
A Georgia woman was rushed to the ICU and left paralyzed after visiting a chiropractor, her family said.
Caitlin Jensen, 28, had just graduated from Georgia Southern University in May with a master's degree in chemistry and biology, her family announced on a Go Fund Me page for medical expenses. She was feeling "excited about all the career opportunities and possibilities on her horizon" when she visited a chiropractor on June 16 in Savannah, Georgia.
Shortly after a neck adjustment, Jensen was rushed to an emergency room. Tests revealed four dissected arteries in her neck.
"This damage led to cardiac arrest and a stroke, as well as a loss of pulse for over 10 minutes," the family said.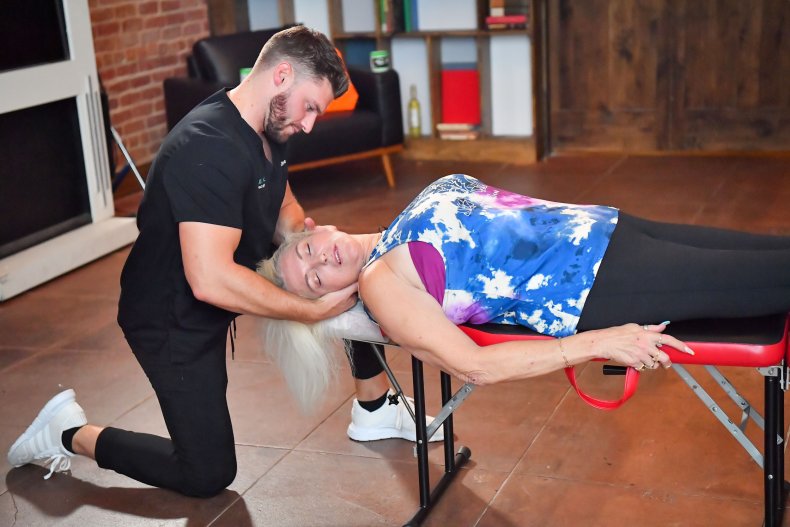 Jensen was revived and received surgery, through which doctors repaired some tears and placed a stent in one of her arteries. She remains in critical condition at the ICU of Memorial Hospital in Savannah.
The injury left most of Jensen's body paralyzed, although she has regained consciousness. She responds to family members by blinking her eyes, squeezing a hand and wiggling the toes on her left foot, according to her family.
On June 29, her mother Darlene Jensen wrote in the Go Fund Me, "She can give the tiniest of nods with her head. It would be easy to miss, but I swear—I saw her nod her head in answer to me today."
Although it is rare for a chiropractic adjustment to cause a stroke, the risk should be discussed with patients, according to Michigan Medicine neurologist Mollie McDermott. High-velocity manipulation of the neck, which chiropractors use to improve the joint's range of motion, can result in a vertebral artery dissection—which can lead to a stroke.
"Anecdotally, many stroke neurologists have seen patients present to the emergency room directly from their chiropractor's office with stroke symptoms," said Dr. McDermott in 2017.
The American Heart Association also recommends that "patients should be informed of the statistical association between [cervical artery dissections] and [cervical manipulative therapy] prior to undergoing manipulation of the cervical spine."
Horror stories about chiropractic adjustments have circulated broadly on social media. Last month, a registered nurse went viral for warning viewers about the dangers of having your back cracked, including the possibility of paralysis.
During the COVID-19 pandemic, a "small but vocal minority" of chiropractors also came under fire for fueling vaccine misinformation. According to an investigation by the Associated Press, some chiropractors touted supplements as alternatives to vaccines, wrote doctor's notes to exempt their patients from vaccine mandates, donated to anti-vaccine organizations and sold anti-vaccine ads on social media.
Newsweek reached out to Jensen's family for comment.