Woman Living in $2k Shed Thanks to Online Trend Says She Was 'Ripped Off'
A woman's account of her life in a $2,000 shed during the Texas heatwave has sparked an anguished debate about affordable housing.
Elizabeth Rishforth, posting on TikTok under the username @a_nobody_goodbye, shared a video of herself red-faced and sweating on June 23. She was living in a shed without electricity or running water in Houston, Texas, she said.
"Me and my boyfriend [used] all the savings we had to get the shed," Rishforth told Newsweek.
Housing costs are soaring for both buyers and renters nationwide. Americans looking for homes face financial challenges including incomes that haven't kept pace with housing prices, a housing construction slowdown and a limited supply of homes.
Amid this affordability crisis, videos have circulated on social media promoting alternative forms of housing. One trend saw TikTok users buying sheds at Home Depot to convert into tiny homes—an idea that caught Rishforth's eye.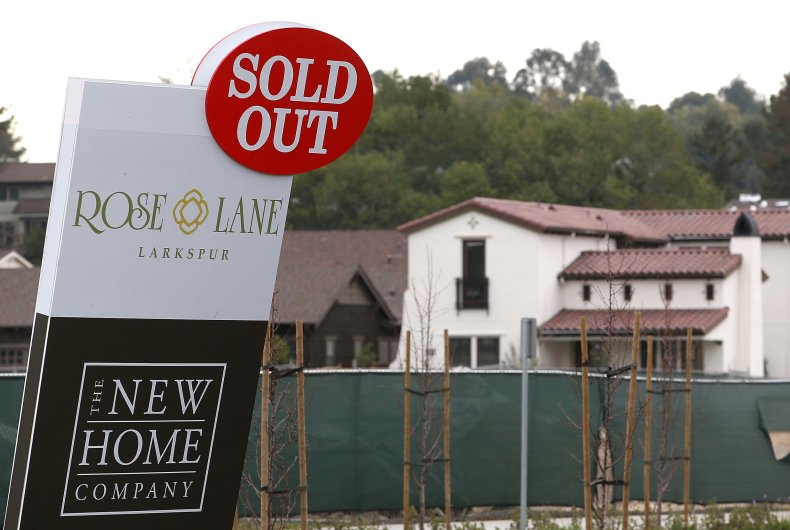 "POV: you're in a shed you spent about 2,000 dollars [on]," said text overlay on her video. "You got ripped off by the builders and you're in the Houston heat actually dying and all you can think about is how nice a shower would be."
In her comments section, a viewer suggested the viral Home Depot shed to Rishforth.
"That's what we thought it was," she replied.
Rishforth told Newsweek that she used the Thumbtack app to have the shed built, as she and her boyfriend were on a tight budget. It took contract workers nine days to build the 10-foot by 10-foot structure.
"When the shed was done it had cracks within the roof and in all the corners," she said. "Also the door didn't shut and had a huge crack."
A record-breaking heat wave has scorched Texas since June, but reached new heights in the past few days, with temperatures over 110 degrees. The Electric Reliability Council of Texas (ERCOT) asked Texans to cut back their energy use on Monday amid challenges to the state's power grid, warning of rolling blackouts.
The continued heat enhances the risk of heat exhaustion and heat stroke, particularly for homeless people, the elderly, young children and outdoor workers. Paramedics in areas such as Fort Worth responded to a dramatic surge in heat-related 911 calls over recent days, AccuWeather reported.
Rishforth's video met a divided reaction on TikTok. A portion of her audience was skeptical at her decision to buy a shed to live in, but others were sympathetic, lamenting the scarce housing options for many Americans.
"I'm sorry but did you really expect them to build the shed, run wires, HVAC pipes and plumbing for $2K???" asked a detractor.
Another added, "2K can barely buy a shell of a shed in most places...you probably didn't get ripped off...it just takes a lot more money to make a shed livable."
However, a more supportive viewer wrote, "This is just so sad. There is a housing crisis but they just keep raising the rent. Wanting to be self-sufficient is understandable [and] courageous."
Some comments even offered Rishforth shelter from the heat wave.
"Girl, I live in Houston," said one user. "Message me. It's wayyyy [too] hot out. Come get a shower and I have extra fans."
Since her video went viral, Rishforth told Newsweek that she has been able to fix the heat problem in her makeshift home.
"My wonderful dad came from South Carolina to come help fix the shed because he was very upset that we got ripped off," she said. "Now I have AC."
Update: 07/14/22 12:22 p.m. ET: This article was updated with comment from Elizabeth Rishforth.