Woman With Missing Dog Gets Scam Texts Threats To Expose Affair to Her Wife
A straight woman shared a number of texts allegedly from a scammer who first told her he knew where her missing husky was, before threatening to reveal her affair to her non-existent wife.
Posting to the Reddit forum r/mildlyinfuriating, u/wizardmommy shared seven screenshots from her phone, titling the collection "My dog went missing the other day, this person messaged me. Just a little tidbit, I'm a straight woman in a relationship with a man." Her post received over 60,000 upvotes and 5,100 comments in 11 hours.
The scammer got her number from the flyers she had posted around her neighborhood, u/wizardmommy told Newsweek.
"I have my number posted everywhere to try to find him," she said.
The missing dog is a purebred husky named Ludo, u/wizardmommy said, and is unfortunately still missing.
"He's a purebred husky so I'm afraid someone does have him (not the scammer). He is microchipped and I've alerted the microchip company. I've left my favorite shoes outside so he can get my scent. I am literally doing everything I can," she told Newsweek. "Many people have spotted a husky but none match his description."
In the first message, the unidentified texter told her that he knew who had her dog. When she asked, he said that a neighbor "brought him in couple days ago saying he got him from a dog trade for $400." When she asked for a picture, she was rebuffed.
"I can but I don't want him getting suspicious because he also told me that he knows it's a stolen dog because he bought it too cheap," he wrote.
Though the conversation went on, u/wizardmommy told Newsweek she realized pretty quickly it was a scam, due to a number of additional irrelevant details in addition to the speed with which he wanted a response.
"Lots of red flags," she said.
When she asked for the address so she could drive by, the alleged scammer told her that he asked the man what would happen if the real owner came. He said that though the neighbor didn't want to "give the dog up," the scammer was sure that if she paid him what he bought the dog for, he'd return the pup. The scammer also objected when u/wizardmommy said she'd involve the police.
"He didn't steal them. He bought them off the market," the scammer wrote.
"Bought him off a stolen market," she replied, again asking for the address, promising she'd just drive by to see if it was her dog.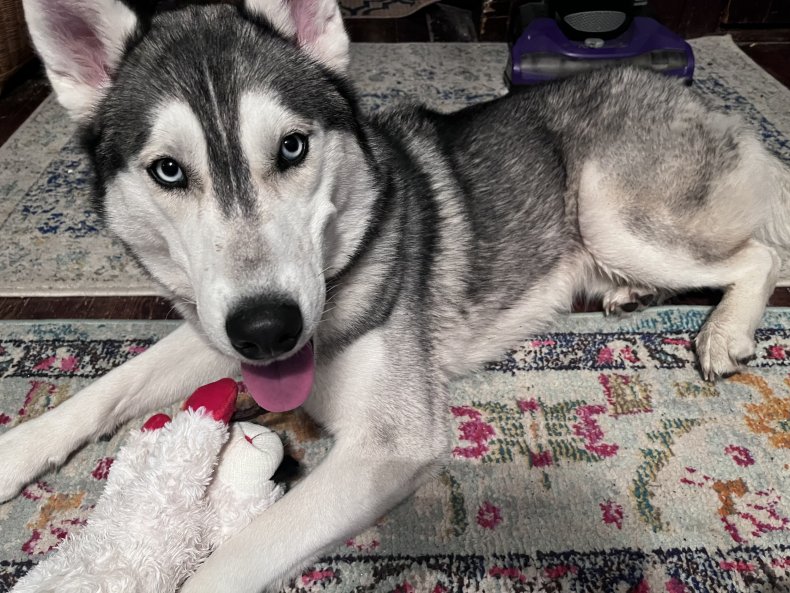 At this point, the scammer told u/wizardmommy that if she doesn't follow instructions, he'd just let the matter go, adding that he also lost a pet, but "got her back after obeying instructions." The scammer reiterated that if she won't pay for Ludo's return, don't bother coming.
She then said she'd give the police the scammer's number, which riled him, leading to an argument.
"Whereas I know about your deep down secret," the scammer wrote in the final screenshotted message posted to Reddit. "I mean your secret affair, would you want me to call your wife about it?"
She told Newsweek that when she told the police, they encouraged her to return his text in hopes of setting him up.
"Boy did that convo go on and was fun for me. Once I had a meeting location I called the police back and the female officer who returned my call had a good laugh with me about the craziness of it all," she said.
In screenshots of the later conversation provided to Newsweek, the scammer doubled down, warning u/wizardmommy she "won't be able to look her in the face if she found out about your secret."
"I won't. I can barely look at her already," she replied.
He demanded a picture of the gift card that u/wizardmommy was supposedly getting to pay for Ludo's return and keep him quiet. He also revealed that he knew u/wizardmommy's real last name, but not the name of her non-existent wife.
As the scammer gets more upset that she won't send a photo of the gift card, he starts to threaten her—telling her it's over, and he's texting her wife at the moment. At this point, u/wizardmommy tried to call the scammer.
"You hung up on me, that's not nice at all," u/wizardmommy wrote.
"Just wanted to confirm your voice and I already did that," he replied.
"What are you going to do with my voice?" she asked.
"You don't need to know. Bye," he replied.
"Are you Ursula and going to use my voice to make the Prince fall in love with you?" she asked, referring to the Disney film The Little Mermaid.
At this point, the scammer threatened to post all her information, and then tries to cut ties, telling her he didn't "need your money." When u/wizardmommy keeps texting, he admits his deceit.
"So you know I am a scammer and you still talking to me. I'm just trying to find some cash for my mom surgery," he wrote. "I'm sorry for giving you hope about what you cared about so much. I'm just trying to save my mom's life."
The incident ended, u/wizardmommy told Newsweek, when she blocked him after making a joke about oral sex.