Woman Mounts Rescue Mission in a Plane Saving 27 Puppies From 'Kill Shelter'
A woman embarked on a rescue mission in a plane to save 27 puppies from a "kill shelter" in Alabama.
Cassandra Dianna Marie was among a group of people who flew a Cessna from Enterprise to Orlando, Florida, with the unusual passengers.
Marie shared a series of clips to TikTok account @cassventures, capturing the 40-minute flight across state lines. Videos showed the cabin filled with dogs, while a few puppies dozed on her knees.
The video, shared on Thursday, was simply captioned: "Rescue flight! All puppies have been adopted."
It's been viewed more than 11 million times, as Marie answered questions in the comments and uploaded follow-up videos.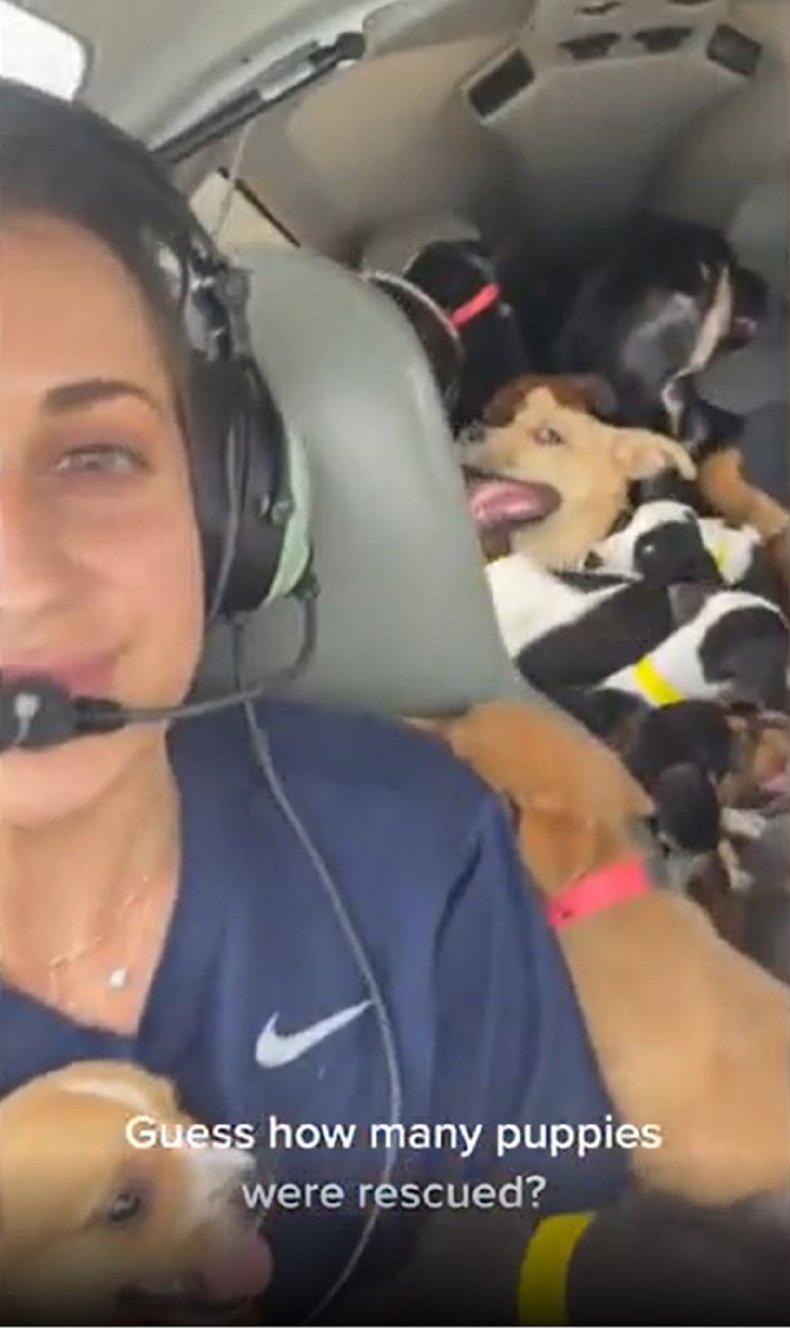 The original footage shows mutts of varying shapes and sizes snoozing, sitting on various laps, climbing over each other and looking out the window.
The numerous dogs squirm over the rescuers, who are barely visible beneath a pile of fur, as Marie revealed they measured their cargo by weight, and left anything non-essential behind.
"We went by weight. Every pound counts. We even left our waters," she said.
Explaining more about where they were being rescued from, she wrote: "An overcrowded high kill shelter in Alabama."
She confirmed all the dogs, mostly mixed breeds, have now been adopted, and the big German shepherd seen at the back was "training to become a police dog."
Marie claimed the flight went as smoothly as possible, saying: "They weren't nervous at all! Really happy to have all the attention honestly."
And she revealed: "They run around a bit before boarding so they take a little nap. The flight was short!"
Another video showed the puppies pre-flight, as the adorable mutts run and play, with Marie joking they were "ready to eat" when they disembarked.
Marie also shared the flight to her Instagram page, @cass.bergeronn, saying: "One of my favorite memories #TBT special shout-out to the most dope pilot ever @danielasorgente
"Thanks to: Save a life pet rescue, open heart rescue, pilots and paws, Abby's rescue, all of these pups went to Orlando, FL."
Marie explained she's a volunteer, as she claimed dog lovers and aspiring pet owners can track future rescues at Alabama Puppy Rescue Flights.
For those worrying about the dogs' health, she confirmed: "We were only at 7,000 feet. Not bad on the ears at all."
Although that wasn't the only body part they had to worry about, as she claimed the pups were "cute and smelly," admitting: "My leggings were soaked in pee."
The incredible footage has amassed thousands of comments, and has since been shared to Reddit.
Amy_karamel asked: "Where can I get ticket for the next flight?"
Shot_Boysenberry_232 joked: "The pilot didn't have a puppy. Someone get this man a puppy for the love of god. Best plane ride ever though 100%."
WrongLandscape898 wrote: "That's a flight I would love to take."
"Looks like they flew to heaven and brought back some souvenirs," Pluey200 commented.
While popular TikTok page Weratedogs even commented, saying: "Wow saying this is incredible would be an understatement."
To which Marie replied: "Best day of my life."