Woman With 'No Adult Clothes' Wears Pants With Slits to Job Interview
A woman who has "no adult clothes" shared the outfit she wore to a job interview in a new video going viral on social media.
Uploaded to the video-sharing platform TikTok, a woman named Meghan Miller (@meghannmiller) has received over 48,000 likes and over 475,000 views.
"Anyone else always need to improvise when going to a professional event? I have no adult close help," Miller wrote in text on the video showing a long-sleeved floral shirt and black pants. However, when she lifted her shirt, the top of her pants had wide slits cut in a ladder design across both hips.
"It was an interview and I got the job so the pants worked," she exclaimed.
Newsweek reached out to Miller for comment.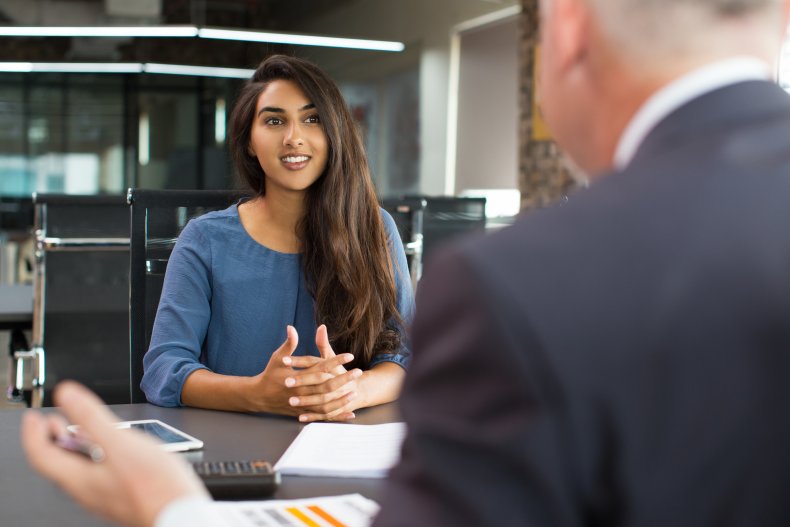 Some TikTok users took to the comment section to unveil what they wear during professional events.
"Me tucking my turtle neck crop tops in the most high waisted pants I own for work everyday," one user mentioned.
"Me trying to stretch my black crop tops out to not show any stomach at work," wrote another user.
One user said, "Me and my backless bodysuits covering it up w a cardigan."
Other commenters shared their thoughts on the video.
"I'm trying to get more adult type clothing but it's not fun," one TikToker admitted.
"Got a single outfit that I wear to interviews and funerals," another confessed.
"PLEASE I WORE THESE TO MY GRANDMOTHERS FUNERAL," a user exclaimed.
One commenter gave Miller helpful advice: "Hit up the thrift store for at least one reliable professional outfit, even if its not your style."
"I take my moms clothes for all my interviews," another commenter said.
One user admitted, "I feel like all adult clothes like suck there's no cute stuff."
"Stop I always end up wearing jeggings," added another.
Newsweek has published several articles regarding job interviews including the worst things you can do in a job interview, a job interviewer who was slammed online after sending a candidate home over her outfit and a worker who was praised for ditching a job interview after having to wait one hour.
Tips on how to dress for a job interview
Do you have an important job interview coming up and are struggling to find something to wear? Here are some tips to follow when considering your outfit choices, according to Indeed:
Do your research on what the typical dress code is for the company you're interviewing with.
Choose articles of clothing that you feel comfortable and confident in.
Don't overthink your outfits and use your best judgment.
Avoid clothing that would be deemed "too revealing."
Wear something that is accommodating to the weather on the day of the interview.
Double-check your outfit for any stains, holes and other small damages.
If you have a similar dilemma, let us know via life@newsweek.com. We can ask experts for advice, and your story could be featured on Newsweek.