Selfless Woman Pays off Overdue School Lunch Accounts: 'Makes Me Cry'
A generous woman had viewers on TikTok in tears after making a trip to a local K-5 school to pay off its pupils' outstanding meal debts.
School lunch meal debt represents a major concern in the U.S. with figures compiled by the Education Data Initiative in October 2021 showing an estimated 1.54 million students can't afford their school meals with an average meal debt per child of $170.13 annually.
The figures showed that 75.1 percent of surveyed schools had unpaid student meal debt while 43 percent of school districts polled said they had seen an increase in the number of students who couldn't afford meals.
Sarah Stusek of Virginia was determined to make a dent in those numbers. An experienced film and TV producer who runs her own company, Stusek Studios, her story is a perfect example of the positive power of social media.
"I saw a Twitter thread where someone paid off a stranger's electricity bill as their power was about to be shut off," Stusek told Newsweek. "Within this thread I saw a comment saying another great way to pay it forward is to give money to pay off overdue school lunch accounts." The tweet even offered guidance on how to go about paying it.
"If it wasn't for social media I would never have seen that and I would never have known," Stusek said. She decided to film herself paying the bill "so that others could learn about it" just like she did.
In the clip, which was shared to TikTok under the handle sarahshooots, Stusek can be seen excitedly approaching the school, before making her way inside to pay off the debt.
According to Stusek, she paid a total of $1659.70 to settle the accounts at Mount Vernon Community School in Alexandria, Virginia with staff "definitely appreciative" of her kind gesture.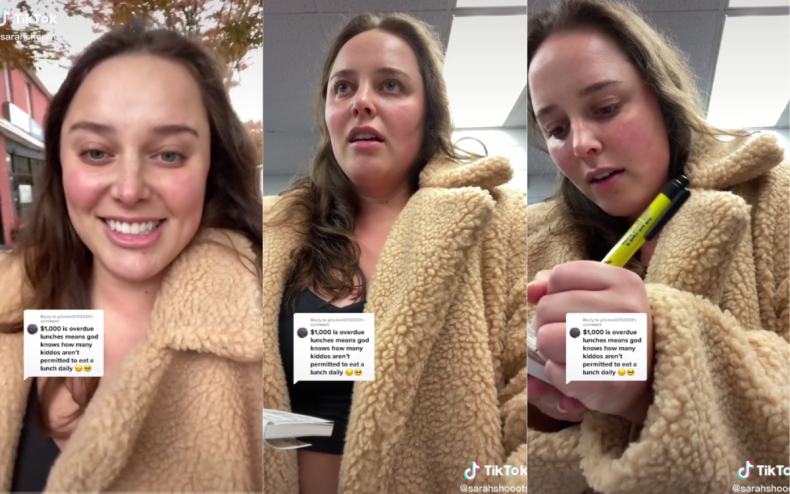 They were not alone in that sentiment either with the footage drawing a similarly positive response on social media.
Yellowsparkles2021 wrote: "As a teacher who pays down their students' fees this makes me cry. Thank you so much." Saduran0, meanwhile, added: "As a single mom, you have no idea how much this means to parents."
Elsewhere, holsmw said: "You'll never know how many kids you just saved from being hungry most of the day with catalinadrouillard writing: "Thank you for loving children that are not your own."
At the time of writing, Stusek's video has been watched over 1.8 million times. She puts its popularity down to the fact "people enjoy learning new things."
She just hopes that her actions will inspire others to do the same. "This is a crazy thing that I kind of stumbled into and I hope people can help any way they can!"
Newsweek has reached out to Mount Vernon Community School for comment.