Woman Praised for Leaving Job Interview Only Offering $16PH: 'Take Note'
One woman's reaction to finding out the salary for a managerial retail job has captured viral attention online, with viewers praising her for knowing her worth.
TikTok user kewljai posted the video on March 27, which now has more than 230,000 views and thousands of likes.
In the video, she explains that she has just left a job hiring event where she was asked what her expected salary would be.
According to data from the U.S. Bureau of Labor Statistics, average wages in the U.S. were approximately $27 per hour in March. As the great resignation continues across the country, workers are looking for better working conditions, remuneration and work-life balance than ever before.
In the video, kewljai explains: "So Family Dollar had a hiring event and they were hiring for assistant store managers and store managers. So [I] go through there, ask my typical questions like 'what's your turnover rate?,' 'what's your average weekly sales?,' the hours you expect me to work and everything was good. Until he asked me what are your salary requirements?"
The TikToker then explained that, adjusting for inflation and the pandemic while considering the amount of work that had been discussed, $21 per hour seemed like a reasonable amount.
"He said, I can't do $21," she explained: "I literally just stood up and said—OK, thank you for your time and good luck finding somebody that's going to work for that little bit of money."
In later comments, kewljai revealed that the wage that was offered was $16 per hour.
The internet overwhelmingly sided with the TikTok user, agreeing that the wage she asked for was perfectly reasonable.
"Any retail managerial role should make at least $20," said one commenter.
"And that's exactly how that should go," wrote another viewer: "Just like we're looking for a job, they're looking for an employee. You need to impress me too."
In March, the retail industry was navigating more than 880,000 open jobs. In that month, the U.S. Bureau of Labor Statistics reported that 4.5 percent of the retail sector workforce quit their job. This is compared to a walk-out rate of just 2.6 percent in the same month of 2020.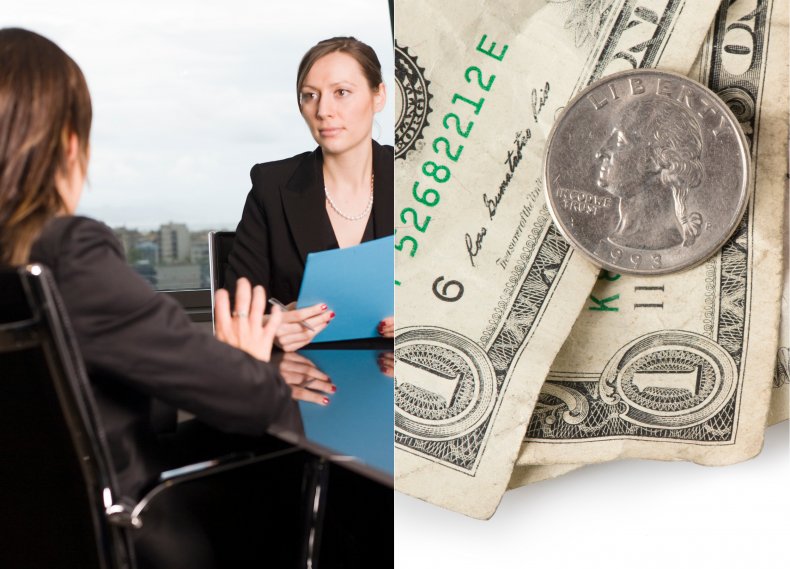 Research conducted by Willis Towers Watson found that of 1,004 U.S. companies surveyed, 32 percent had increased their salary projections in the last year, with many now budgeting an overall average increase of 3.4 percent in 2022 compared with the 3 percent increase that was budgeted in June 2021.
Agreeing with the woman's reaction, one TikTok viewer said: "This is how we change the game. If multiple people show up for interviews and walk out after the wage isn't good enough they will raise it."
"Everyone take note," wrote another commenter: "This is the script. They have to say yes eventually."
Newsweek has reached out to kewljai and Family Dollar for comment.