Woman Pronounced Dead 'Opened Her Eyes' in the Middle of Her Own Funeral
Funeral attendees recently got the shock of a lifetime when a person on the verge of being buried suddenly woke up.
Rosa Isabel Cespedes Callaca was reportedly being buried April 26 when, in the midst of a funeral procession in Peru, mourners carrying her coffin heard a strange knocking sound from inside the coffin.
It was Callaca, who was actually alive and found to be gasping for air when the coffin was placed on the ground.
"(She) opened her eyes and was sweating," Juan Segundo Cajo, the caretaker of the cemetery, described the scene. "I immediately went to my office and called the police."
Metro U.K. reported that after Callaca observed everyone at her own funeral, her family rushed her to Referential Hospital Ferrenafe for care. Doctors had difficulty finding signs of life, immediately putting her on life support until she died a few hours later.
The family essentially had to say "goodbye" twice. Some family members believe a coma may have been improperly diagnosed as a death.
"We want to know why my niece reacted yesterday, when we were taking her to be buried," an unnamed aunt of Callaca's reportedly told local media in Lambayeque. "We have the videos in which she pushes and touches the coffin."
Her initial prognosis resulted from a car crash that occurred on Chiclayo-Picsi Road in Lambayeque, on the northern coast of Peru. The crash took the life of Callaca's brother-in-law and also resulted in serious injuries to three of her nephews, who were described as being in "serious" condition.
Now, the family wants answers. Peruvian authorities have gotten involved to investigate, namely Lambayeque Regional Hospital—the hospital where she was first treated following the car accident.
Newsweek reached out to Lambayeque Regional Hospital for comment.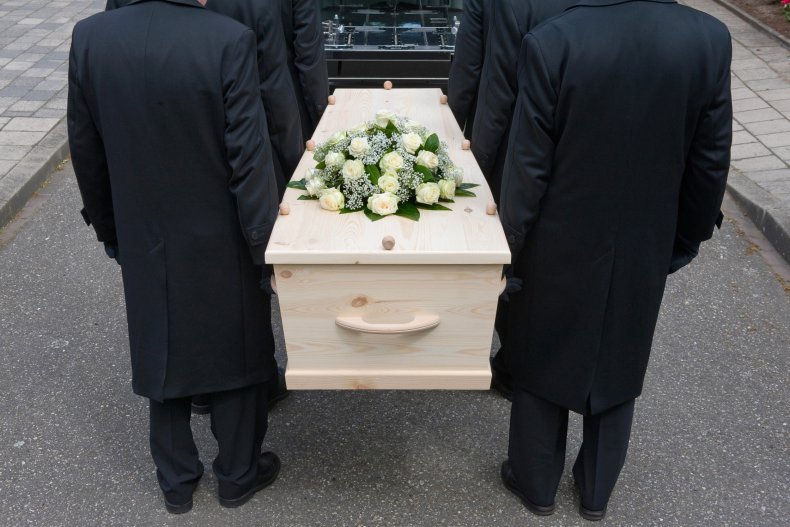 This isn't the first time someone has "woken up" after a death diagnosis.
Last year a 76-year-old Indian woman who was pronounced dead following a COVID-19 diagnosis woke up right before her cremation.
Also in 2021, an Indian man pronounced dead after being hit by a motorcycle woke up in a morgue freezer. He was found by his family the day after he awoke and was transferred to a hospital for treatment.
The Independent reported that a young man, coincidentally from Peru, who was pronounced dead in 2017 following a root canal procedure proceeded to breathe during an open-casket memorial. Like Callaca, the man was confirmed by a doctor to show signs of life before dying hours later at a hospital.
In 2020, a 20-year-old Detroiter was pronounced dead following 30 minutes of continuous attempts at revival. Timesha Beauchamp was on the verge of being embalmed when she woke up. After she died her family filed a $50 million federal lawsuit, claiming that the wrongful initial death diagnosis may have led to her death.
A decade ago the British Journal of Anesthesia published the "International perspective on the diagnosis of death," calling death "a result of the irreversible loss" of the capacity for both consciousness and breath.
"Using either somatic, circulatory or neurological criteria to diagnose death, the medical practitioner can be sure that, in 2012, he or she is maintaining an exemplary standard by using criteria that are international, ethically substantial, and supported by sound scientific and physiological rationale," the study said.