Woman Ranting on Zoom Call Before Realizing Her Mic is On Viewed Nearly 1 Million Times
A woman's viral video in which her new co-workers hear her work-related rant has served as an important reminder to always make sure your computer microphone is off before talking out of turn during a video conference.
Alexandra Ceberio, better known as @alllyvert on TikTok, shared her embarrassing work snafu last week. Initially intended to make her close friends laugh, the video has since been viewed nearly 800,000 times and liked by over 146,000 shocked viewers.
Ceberio shared with Newsweek that she initially began recording her "outfit check," in which she, like others online, share where she purchased each piece of her ensemble for her friends on Snapchat.
"So I was doing a fit check every day for my first week of my new job for my friends," she said. "I always make funny videos trying to make them laugh. I was on a break so I decided to record."
Ceberio starts her video ranting about how most of her co-workers did not turn on their camera for the video meeting. "My work from home fit today, some f*****g bulls**t, because I got ready, and everybody has their cameras off," she says.
She then rattles off the details of her work outfit for the day. "So I got this frizzy-a** gym hair from yesterday," she begins.
However, before she can share where she got her top from, a male co-worker interjects with some embarrassing news: "Hey guys, I can hear, so just so you're aware."
Ceberio's face falls as the realization that her work colleagues heard her rant sets in. She freezes for a moment, before mouthing to the camera, "He can hear me." She covers her mouth and quickly ends the video.
"I literally went blank. I was thinking in my head, 'What did I just say?'" she told Newsweek. "I sent it out on [Snapchat] before I re-watched it."
Ceberio shared with Buzzfeed News that for her new job in Long Island, she was taking part in a series of trainings held remotely on Zoom. During a break between sessions, she picked up her phone to record, without realizing her microphone was still on.
"It was my second day of training," she said to Newsweek. "No one too important was on the call but [I don't know] if anyone on my team or my boss has seen it yet. They're pretty young so I wouldn't be surprised."
Ceberio also told Buzzfeed News that she then proceeded to mute her microphone and did her best to "change my voice for the rest of the call.
"I did not speak unless I was spoken to," she added.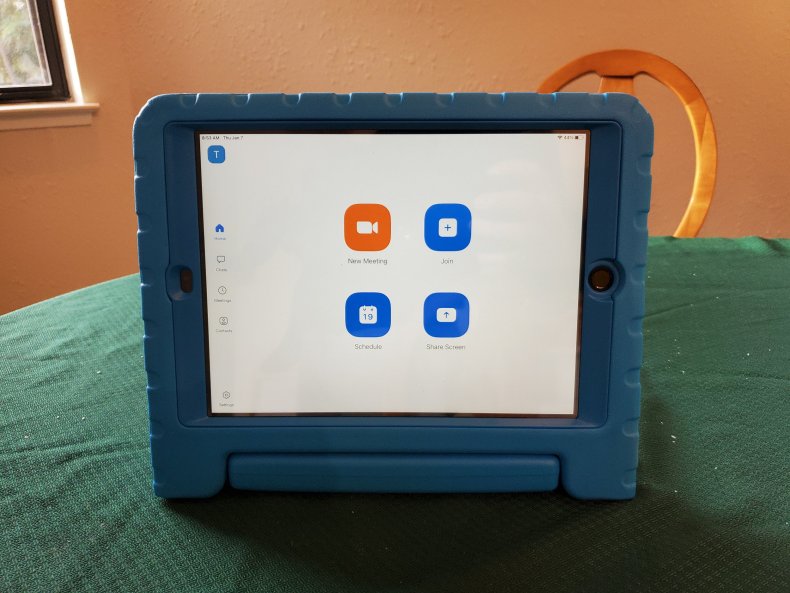 Ceberio is not alone in her video call faux pas. In May, a New York Spanish teacher shocked students when she was caught performing a sexual act on a Zoom lesson, not realizing her camera was still on. In October 2020, respected journalist Jeffrey Toobin was suspended from The New Yorker and placed on leave from his legal analyst role at CNN after colleagues reported him for exposing his genitals during a Zoom video chat.
While Ceberio's incident was much tamer than other Zoom offenses caught on camera, her friends still "could not believe [she] had done that." TikTok also viewers fled to the comments to express their horror at the situation. Many agreed that accidentally leaving the computer microphone on during an important work meeting was their "biggest fear in the world."
"I had to pause I felt your panic," one viewer shared. "Why did I get second hand anxiety," another added.
One person even joked that, despite it only being Ceberio's second day of work, this incident would mark her "last day of work."
Ceberio did report to Buzzfeed News that, so far, no one at her job has brought up the incident or the viral video.
In a follow-up video posted on Monday, she jokes about the situation—and made sure to check that her microphone and camera were turned off for the recording.
She also lets viewers know that, though she was interrupted last time when she tried sharing details about her blouse, she confirms it was from H&M. "And I also have it in black," she adds.
Overall, Ceberio was shocked at the amount of attention her video received, and has one piece of advice for others who find themselves in a similar situation where they speak or do something without realizing that everyone else on the video call can see or hear them.
"At that point just own it!" she told Newsweek. "Something so embarrassing just happened and you can't go back, so just move on. Gotta laugh at yourself sometimes."
Also on TikTok, a woman was left red-faced after falling off a chair during a Zoom meeting with her CEO, leaving her colleagues struggling to contain their amusement.
Updated 07/20/2021 at 5:15 p.m. ET: This story has been updated to include statements Ceberio made to Newsweek.