Woman Refusing To Host Brother Over Christmas Backed: 'Not Your Child'
A mom-of-one has been backed over plans to celebrate Christmas without her brother this year.
The festive season may traditionally be a time for family but for some the annual catch-up with parents, siblings and other relatives can be a source of frustration.
Someone confident and successful at work or with friends can suddenly find themselves feeling like their 8-year-old selves again within the wider family unit.
Strategic relationship consultant and licensed family therapist Stephanie Mintz told Newsweek: "A family has its working dynamics, where everyone has their set role, that was established since they were a child. There might be a child who is perfect, one who is the problem child, and one who is the jokester."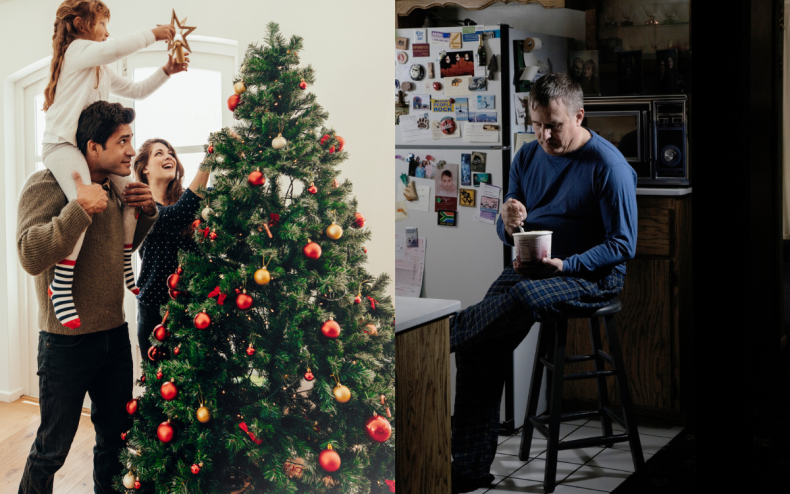 According to Mintz these roles serve as a kind of "comfort zone" for the family, as "everyone knows what to expect from each person" during these family get-togethers. "It is uncomfortable when one person changes, so everyone, subconsciously, forces them back to the way that feels comfortable for this system. This is the concept of homeostasis," she said.
"As adults, we learn, grow and change and it can feel great. We want our family to see the new version, but that doesn't always happen. This can be one of many reasons we don't want to visit family during the holidays."
That desire to break away is being keenly felt by one woman who took to Mumsnet writing under the handle Poolhill to express her apprehension about seeing her brother Charles for Christmas after hosting him for each of the last "three years."
"Charles has fallen out with my parents and is no longer speaking to dad so can't go 'home,'" she wrote. "We have another sister who also lives locally and has a husband and kids, but Charles would probably be pretty annoyed if I suggested he join our other sister for Christmas, as he isn't as close to her."
Describing her sibling as "quite stubborn," the mom said Charles was refusing to make amends with their parents, meaning he was likely to expect an invite to their house this year.
However, she would rather "spend the morning in pajamas, cook dinner the way we want it without having to accommodate Charles' fussiness" and "cuddle up on the sofa once the toddler is in bed."
Her partner also wants it to be "just us" but is leaving the decision to her. "I know if I hint that we want to spend Christmas this way Charles will be very upset, and probably spend the day alone out of pride," she wrote.
"I love Charles dearly and we are close, and don't want him to be alone on Christmas. But equally, I feel like this is becoming a pattern now and that we're going to end up hosting him for the next 10 years."
While she appeared apprehensive about confronting her sibling on the matter, many on social media felt she was justified in wanting to spend Christmas with her family.
"He's your brother not your child, you are not responsible for him," FairlyLiz wrote with Endless Magpies warning: "Put your foot down now. My late mom ended up having my bachelor uncle to stay every Christmas for... 49 years."
Gizlotsmum suggested: "Maybe host this year but tell him you won't be doing it next year as you want a Christmas with just your husband and toddler?" Meanwhile, EscapeRoomToTheSun commented: "Lie and say you're going elsewhere."
When it comes to opting against spending time with family at Christmas, Mintz said having a "productive conversation" with the affected family members is crucial.
Failure to do so will see the same family dynamics and issues persist during family gatherings like Christmas which can potentially spill over into "arguments, resentments and possibly saying things you can't take back."
On the flip side, opting to have a quiet festive season without properly discussing it with family can also create another "difficult situation" with resentment and anger left to boil away. Communication is crucial.
Newsweek could not verify the details of the case.
If you have a similar family dilemma, let us know via life@newsweek.com. We can ask experts for advice, and your story could be featured on Newsweek.