Woman Reportedly Struck With 8-Foot Alligator's Tail
Officials removed and relocated an eight-foot alligator that reportedly struck a woman with its tail while on her porch in Humble, Texas, on Monday.
A spokesperson from Constable Mark Herman's office told Newsweek that by the time officials arrived, the woman—identified by KHOU 11 as Tami Tanner—had been struck in her leg.
The spokesperson said she was transported to the hospital for minor injuries, noting that it was an uncommon occurrence.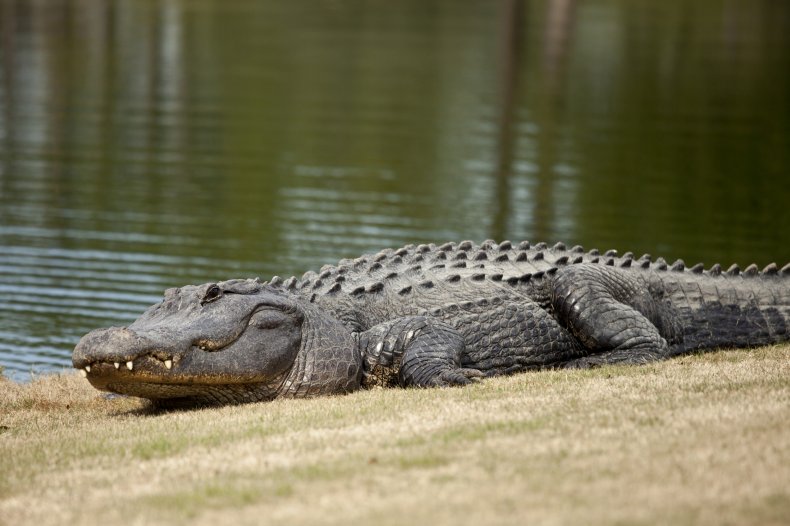 According to the Texas Parks And Wildlife Department, most people who live close to alligators have not experienced a conflict with the reptiles, though there are instances in which officials need to step in.
If an individual sees an alligator that is not approaching people or posing a threat, they are advised to wait a few days before contacting the agency.
"In spring and summer, alligators are moving to breed and find [a] new habitat," the agency stated. "Most of the alligators moving around are smaller ones that have been pushed out of their normal habitat by larger alligators."
It also stated that alligators are fearful of humans and typically retreat, but they will defend themselves if they feel threatened. When an individual is too close to an alligator, it will hiss as a warning.
Tanner told the outlet that she heard the alligator hissing, but as she turned to run, she was struck on her knee.
Police and officials from the Texas Parks and Wildlife Department worked together to wrangle the alligator and relocate it.
Jonathan Warner, the parks and wildlife's alligator program leader told Newsweek that there are two fairly large bayous in that particular area. He theorized that the alligator came out of one of the bayous.
"We're going into mating season," Warner said. "This was likely a male that went on a walk looking for a mate."
He continued and said this incident likely was not an attack, but the result of the alligator being in the wrong place at the wrong time and displaying some defensive behavior.
The agency follows a protocol when responding to alligators in suburban areas. This particular alligator, Warner said, will live out its days in a permitted Texas facility.
Newsweek reached out to Tami Tanner for comment.
Another alligator was spotted in a residential area, this time in an apartment complex in Florida. Sara Stubben recorded a video that showed the alligator sauntering on a walkway late at night.
An 11-foot alligator was found to have held up traffic on a Florida road. Officers directed cars around the alligator before it was removed from the area.
One gator was filmed just outside the front door of a house in Florida. Officials arrived and removed the alligator.