Woman Runs Through Nearly 50 Red Lights in Ex-Boyfriend's Car in Breakup Revenge
In a breakup revenge plot, a woman and her male accomplice were arrested for allegedly speeding through nearly 50 red lights in the woman's ex-boyfriend's car in retaliation for him beginning a relationship with another woman.
According to The Global Times, law enforcement officers in the Zhejiang Province in China detained a woman identified only as Lou and her male accomplice known only as Zhu on suspicions of speeding and causing trouble on the road over the weekend.
When taken into custody, Zhu reportedly told officials that he and Lou obtained the car from a man with the surname Chen, who initially rented the Audi in his name from a man named Qian, who was Lou's former boyfriend. Zhu claimed that he and Lou then took the keys from Chen and used the car in a weekend marathon of traffic offenses, with the goal of incurring several hefty fines for Qian when the car was returned.
Although it was not immediately clear when police stopped the duo, the outlet reported that they had racked up 50 traffic offenses total—49 counts of driving through a red traffic light and one count of exceeding the legal speed limit on the road.
The South China Morning Post reported that, according to Zhu, the act was motivated by a bitter breakup between Lou and Qian. Lou was allegedly so enraged that her former boyfriend left her for another woman that she enlisted Zhu in her plot. Zhu claimed he went along with the plan because he was promised a date with Lou if they were successful.
Similarly, last week a British man was convicted of killing two sisters because he believed it would increase his odds of winning the Mega Millions Super Jackpot lottery. Local authorities also discovered that Hussein had even offered his blood to "demon Queen Byleth" in an effort to make a girl at his school fall in love with him prior to his violent crime.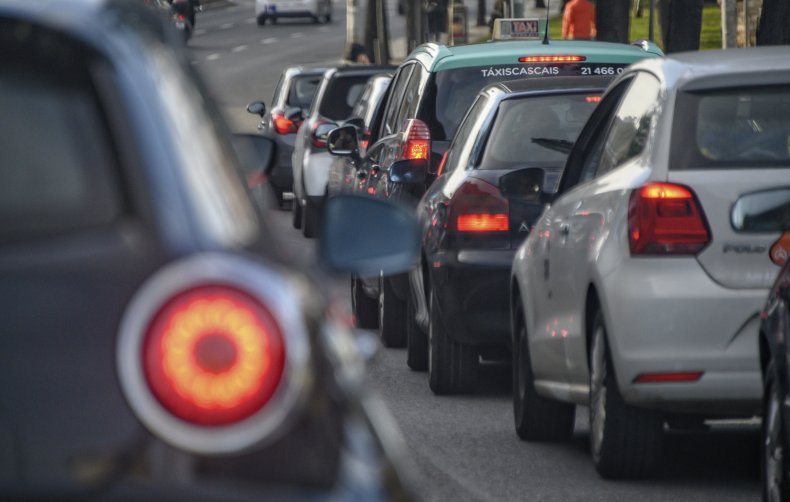 The Post also reported that Lou and Zhu were detained for speeding, and reportedly went through 49 red lights total. It was not immediately clear if Qian would be responsible for any fines the duo incurred.
Lou's plot is the latest in a series of viral attempts of scorned lovers trying to cause a former partner to suffer. In a viral TikTok uploaded in June, one woman admitted to using her ex-boyfriend's email to sign him up for spam-related mailing lists since 2016. Another TikToker posted about her odd break-up experience via text, in which her former partner showers her with compliments before deeming her "not my type."