Woman Says 25 Percent Rent Hike Will Leave Her Homeless, Sparking Outrage
A Maryland woman said in a viral video that her landlord asked her to choose between rent hikes of 25 percent and 38 percent, sparking online outrage.
Rents have been shooting up across the United States. In March, the median monthly asking rent was 17 percent higher than a year before, according to real estate firm Redfin. Many parts of the country saw rents increase over 30 percent, with hikes of 40 percent in Portland, Oregon, and 38 percent in Austin, Texas.
Meanwhile, monthly mortgage payments have climbed 34 percent from a year ago, largely due to rising interest rates, Redfin has reported. Soaring mortgage rates and record-high home prices have pushed many potential homebuyers out of the market, driving demand for rentals and, in turn, rent hikes.
In a TikTok video posted May 5, Camille Rose said she lives in a Maryland townhouse community with her partner and children. Their current monthly rent was $2,600, she said—already high for their budget, but to be expected for the area.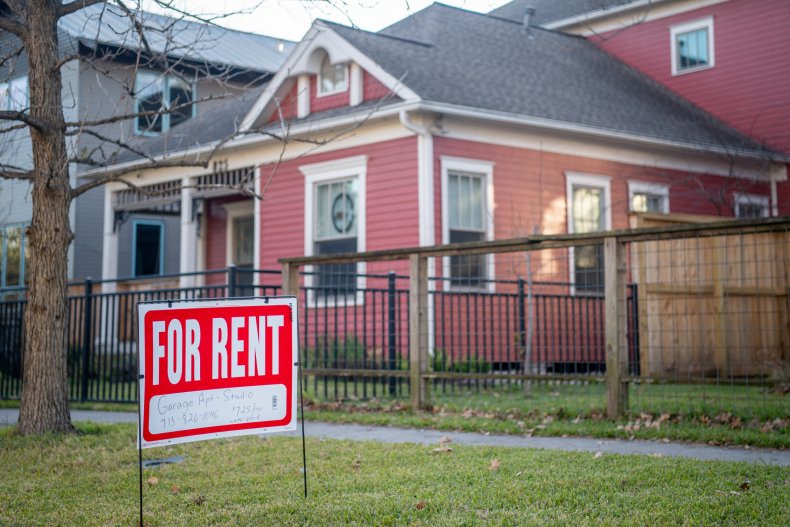 "We've sucked it up because our kids are going to a great school and it's convenient," she said in the clip, which has amassed 1.4 million views.
She revealed her landlord's lease renewal letter, which offered a 12-month renewal of $3,250 per month or $3,650 for a month-to-month lease.
"Friends, if math is not your specialty, they just gave a choice between a 25 percent increase and a 38 percent increase," Rose said.
She added that the leasing company gave the family less than a month to decide on renewing or moving elsewhere, but had not responded to persistent requests for negotiation over the past week. Twelve other residents in the community had also complained, Rose said.
"Most of us have about two weeks to figure out somewhere else to live before we end up homeless because none of us can afford these changes," the renter concluded. "This is disgusting."
Rose told Newsweek that since her video went viral, the family had negotiated their rent hike down to 12 percent—an increase that would still keep them "paycheck to paycheck," but at least allow them to stay in their home.
Still, a formal lease with the new rate was promised by May 21, and Rose said her family had yet to receive it.
"We're still quite nervous the company may change their minds again and we'll have even less time to find a housing solution," she said.
Moving is hardly an option for the family, Rose added. Her partner will soon be undergoing a radical mastectomy for breast cancer prevention, making Rose a full-time caregiver. They also have a special needs child receiving essential services in their school district.
The renter's audience shared her outrage, along with their own stories of unaffordable housing.
"Yup I got a choice between 15% increase or a 48% increase," commented one viewer. "Unreal. Solidarity."
Another said, "Mine was 36%. I'm moving out."
"Everything increasing except my paycheck," commented another.
Other renters recently went viral for sharing their rent increases in Austin and New York City. Meanwhile, a home sold for over $800,000 in Virginia last month despite the caveat of a basement squatter.