An Airbnb guest's claim that she found hidden cameras strewn throughout a rental property has been disputed by the company.
Although police have closed their investigation after saying they found no cameras hidden at the Airbnb in Philadelphia, Pennsylvania, the woman's viral story stirred privacy concerns online.
"Be cautious booking Airbnbs," Twitter user @foxytaughtyou said on June 12 in a post with over 300,000 likes.
"My friend [and] I recently stayed at [an Airbnb] in Philadelphia with over 10 hidden cameras all over the house," she went on. "Including the showers and bedrooms. Some were disguised as sprinkler systems but [had] a camera lens."
The guest attached two photos of the sprinklers, which she claimed displayed camera lenses when exposed to a "flash test."
Cybersecurity educator Marcus Hutchins recommends seeking out electronics in areas that might be ideally positioned for spying in an Airbnb and shining a bright light on any suspicious devices. When a flashlight hits a camera lens, it gives off a blue-ish reflection.
"We noticed these 'sprinklers' CAMERAS were placed in spots to get a perfect view of people," the guest added together with a video of a device positioned on the wall across from a bed.
"Luckily it was a girls trip so I wasn't having intercourse...but I was naked and had to change in this room," she said.
As soon as they found the alleged cameras, the guests alerted Airbnb, which moved them to a different property. They also filed a report with local police.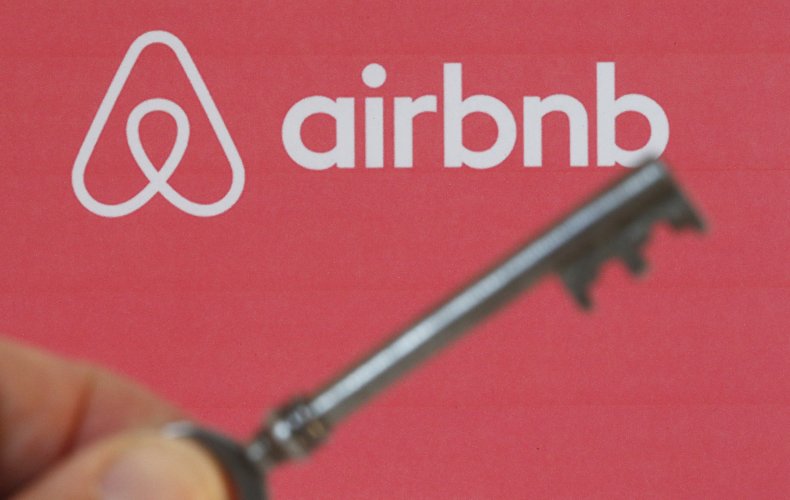 Airbnb told Newsweek in a statement that after investigating the allegation together with police, they did not find any hidden cameras.
"We have thoroughly looked into this allegation as we do for all safety reports," said a spokesperson.
"We spoke directly with the lead detective from the Philadelphia Police Department who responded to the complaint and investigated the property. He confirmed that he did not find any hidden or undisclosed cameras and that the fire sprinklers had regular sprinklerheads. The detective also confirmed that they plan to close this case."
The guest is still being provided with a full refund, the company said.
Although the woman's complaint was dismissed, it reignited online fears about undisclosed surveillance at rentals. Airbnb has found itself in hot water for hidden cameras before.
Another guest went viral in February for allegedly uncovering a hidden camera in her host's bathroom, apparently disguised in a charger port.
In 2019, a couple sued a San Diego Airbnb owner after allegedly finding two cameras hidden inside small holes in the bathroom and a third in the bedroom ceiling, according to NBC 7 San Diego.
And in 2017, a viral tweet exposed an Airbnb host's "motion detector," which was actually a camera connected to the web for remote viewing.
Newsweek reached out to @foxytaughtyou for comment.
Updated 06/15/2022, 3:34 p.m. ET: This story has been updated with comments from an Airbnb spokesperson and additional information.