Wife's Response to Husband in Bed With Another Woman Divides Opinion
A woman has described a difficult situation on Reddit concerning her efforts to reconcile with her husband following their separation after a woman sent her a photograph of the two of them in bed together.
In the post, which has nearly 10,000 likes, the woman, who calls herself Latter-Tone3739 explained that although she has been separated from her husband for a while, she would like them to get back together.
SUBSCRIBE TO THE PARTING SHOT WITH H. ALAN SCOTT
ON APPLE PODCASTS OR SPOTIFY
"I don't want a divorce as I have hope we can reconcile," she said. "I know he wants me back but I am struggling to forgive him completely and trust him."
Latter-Tone3739 explained that the separation has been largely amicable and he sends her money and has bought her a new car and jewelry.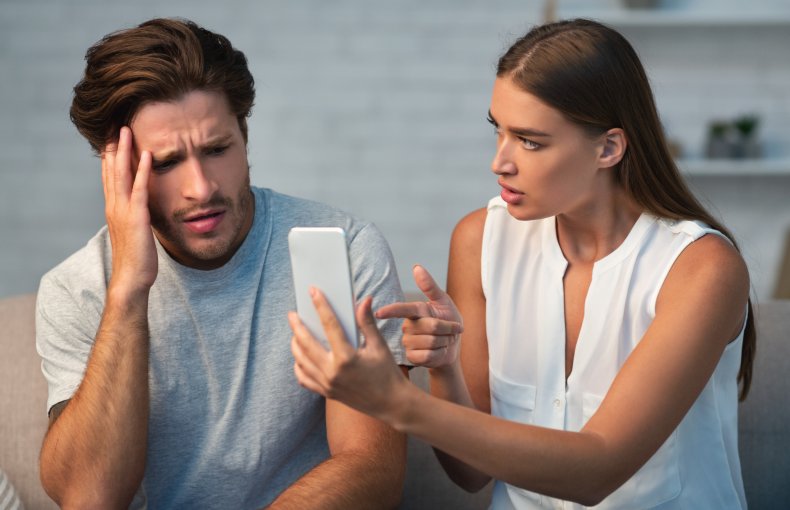 "He still tells me he loves me when I bring him our son," she said. "I want peace but I try to be distant from him to protect my heart."
According to the Pew Research Center, almost 71 percent of Americans think that people have less interpersonal confidence in one another today than 20 years ago. This not only feeds into how we see politicians, celebrities and professionals, but also how we see those closest to us, and a lack of trust in a relationship can be one of the biggest reasons why they break down.
The original poster then described an upsetting situation where she was sent a text message from a woman apparently showing her in bed with her husband.
"I don't know how this woman got my number but she sent me a photo in bed holding his arm. I know it is him because I recognize his tattoos and watch."
While she said she was not oblivious to the fact that her husband was seeing other people, she explained that, "I don't want to be disrespected."
The top comment, with over 6,000 likes, left by user Silvangelz, recommends forwarding a screenshot of the message and gauging the husband's reaction.
"If he apologizes that's great. But if he blusters or says something like 'it's not what you think it is' he's lying," said Silvangelz. "What else will he lie about? Who else will he lie about?"
In an edit, the original poster described how she sent the image to her husband and described a subsequent telephone conversation.
"I basically told him that I'm not upset and I don't feel threatened but I don't want this kind of behavior in my life," she said.
"He said that he won't tolerate anyone disrespecting me and he will handle it. He apologized and said he's going to start focusing just on us."
Online New York-based therapy company Talkspace suggests that although trust issues can be damaging to a relationship, there are ways to work through them.
"Communication is essential in any relationship," a blog post on the Talkspace website says. "When trust issues come into play, being able to establish healthy communication skills with your partner is one way you can work on building trust.
"If your partner knows and understands what your boundaries are (because you've been able to adequately express them), they're able to respect them. This can help you learn to trust more."
While many users commented that they were impressed with Latter-Tone3739's maturity, others took a harder line.
Redditor Splunkzop wrote, "Reply back to her and ask if she has any symptoms yet," while Dachshundmom5 said, "Nah. Seems this guy is playing all sides and OP [original poster] is willing to fall for it."
Newsweek has reached out for comment.
Has an infidelity broken your trust in your partner? Let us know via life@newsweek.com. We can ask experts for advice, and your story could be featured on Newsweek.