Woman Shares How Her Goose 'Husband' Takes Care of Her in Adorable Video
A heartwarming video of a goose caring for his human "wife" is raising the bar for male partners everywhere.
The viral clip was shared by TikTok user @shirley2322, who goes by her first name, Shirley. It has garnered 1.7 million views in one week. Shirley's profile shows that she lives in Scotland with a variety of farm animals—but her favorite seems to be Glen the goose.
Glen believes that Shirley is his "wife," the owner explained in her video, as the goose gave her a peck on the mouth. As a good goose husband, he performs a special ritual to make her comfortable.
"He got to work straight away as always, building me a comfortable bed," Shirley said in text overlay, while the gander picked up sticks with his beak and formed them into a pile.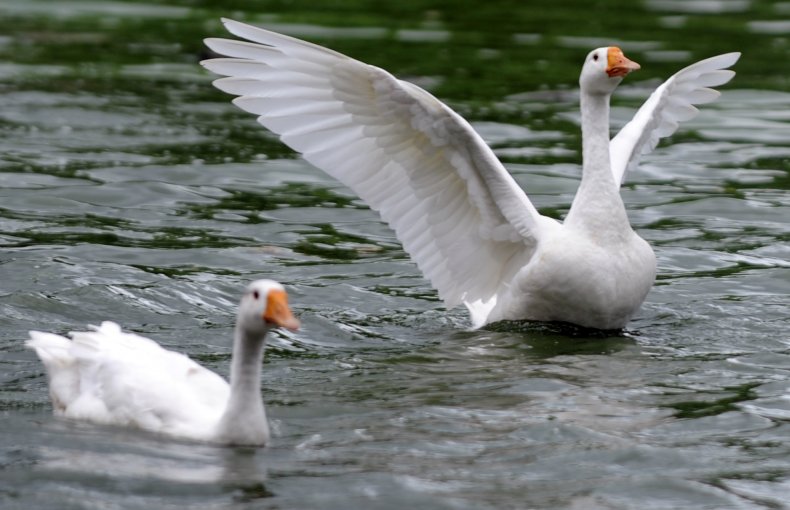 "He carefully picks out what he thinks will be the nicest twigs and stones for his giant wife's butt," the owner went on. "Goose dads are excellent parents and protectors."
She added, "It takes insane amounts of trust to earn this gesture."
Upon finishing the nest, Glen looked up at her proudly, while Shirley murmured, "Thank you sweetheart, it's already very beautiful. Oh, you're so nice!"
To her viewers, she said in text overlay, "I'm not sure how to tell him I can't lay eggs. But I'll sit here and appreciate it just the same."
In conclusion, Shirley joked that women should expect Glen's level of care from their human male partners. "Ladies, if he wanted to, he would," she said.
Viewers fell in love with the romantic goose.
"What if he was your soulmate in a past life but only he knows," suggested one comment.
"He understands not everyone can lay eggs, and he loves you just the same," another gushed. "A king."
Several users proposed that Shirley should buy a goose egg and pretend to lay it just to make Glen happy. Meanwhile, others joked that Glen had raised the bar for men.
"Some of you guys need to be taking notes from Glen the Goose," one viewer said.
"I need me a goose husband," added another.
Glen is an Embden goose, Shirley explained in a different post. The Embden comes from Germany and is one of the oldest domesticated breeds. GEH, a German association for the conservation of historic and endangered domestic animals, has listed the Embden goose as "seriously endangered."
Newsweek reached out to Shirley for comment.