A post has gone viral on Reddit after a woman shared an interaction that occurred between her and her little sister.
Redditor u/Lopsided_Plastic_81 wrote about the incident on the subreddit "Am I The A*s**le" in a post that has been voted on over 13,000 times.
Commenters were quick to call the woman "jealous" as her comments appeared to some as the result of a crush on her sister's husband.
The Redditor explains that her sister's husband, Lance, is a friend of hers and was considered the "cool guy" of her friend group.
"... handsome, [mysterious], smart, quiet. I don't know how he ended up with my sister, she's the total opposite, loud, funny, outgoing. She's beautiful tho, really beautiful, and when they got together everyone said how good they looked," she wrote.
The trope of a friend falling in love with a friend's sibling is one most everyone has seen in pop culture before. Though beyond the fact that the Redditor's sister married her friend, the assumption commenters are making is that that is not the full issue—what's more bothersome to the woman is that she has a crush on him.
An article from Psychology Today says that oftentimes when a friend realizes they have romantic feelings for a friend, the person might pause over fear of compromising the relationship.
"This is a particularly valid concern for friends who are compatible personality-wise but are seriously mismatched in terms of values, goals, or even geography—factors that have the potential to significantly reduce the chances of long-term relational success."
The Redditor, though, denied this claim, writing at the bottom of her post, "IM NOT IN LOVE WITH HIM."
She explains that her sister seems to be "really" in love with the man despite their apparent differences. She goes on to say that she finds her sister to have more material interests.
"My sister is pretty much only into her looks (And I didn't think Lance cared for that before), she's always on Snapchat or Instagram, I thought that after getting married she would dress more appropriate since she used to use crop tops, blouses, dresses and shirts that showed her cleavage, short skirts or tight jean, but she says that Lance likes her just fine," the Redditor wrote.
The Redditor says her sister doesn't work, nor did she finish school.
Everything came to a head at the sisters' father's birthday party recently when the Redditor says she commented on her sister's clothing choices after the woman complained that her husband was being quiet.
"... I told her that if she didn't dress like that he might take her more seriously," she wrote.
The Redditor said that after the exchange, her sister spent the rest of the party sitting quietly, though she did not think much of it.
"... but a few days ago Lance texted me and said that he would appreciate if I didn't comment on her[sic] wife's way of dressing again," the Redditor wrote.
Commenters indeed pinned the blame on the Redditor, saying her comment, as well as the way she described her sister's relationship, appeared to be the product of jealousy.
"... The jealousy was dripping from that post. I mean, dang, I'm kind of jealous of her myself, I want the hot guy friend and look good and be funny and outgoing and not have to work, too!!" one commenter wrote.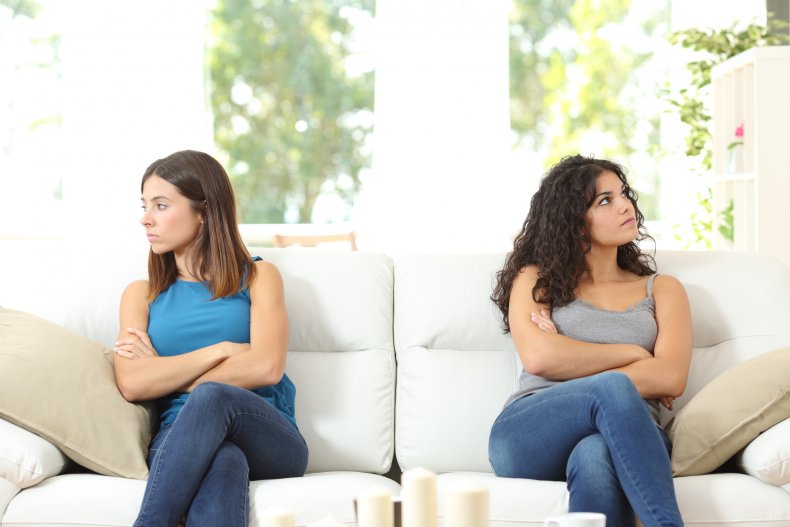 "So when are you going to admit to your crush on your BIL?? Also the way you talk about your sister is appalling. She is young and married not a nun. She doesn't need to wear ankle length skirts and turtle necks," wrote another.
One commenter even went as far as to say the Redditor was "slut-shaming" her own sister.
The Redditor responded to numerous commenters, many of which called her out. One person wrote that while she agrees with the Redditor in that the relationship sounds like it might not last given the couple's differences, it's not the Redditor's business.
"It might sound hard to believe, but I do love my sister and yes, she's too superficial," the Redditor responded to the comment. I just wished she didn't mold her life around men or validation, she's socially smart and I'm sure she could make a career out of that."
Newsweek contacted u/Lopsided_Plastic_81 for comment but she did not respond in time for publication.