Wife Slammed for Visiting Husband's Female Colleague's House: 'Stalking'
A woman has been slammed for "stalking" her husband's female colleague after she found a series of text exchanges between the two.
The mother of two has been married to her husband for 16 years but recently noticed her partner had become more evasive at home and had deleted messaging apps from their shared iPad.
After "snooping" on his phone, the mom, thought to be from the U.K., discovered messages from a female colleague— but her husband insisted nothing had happened between the two, despite his colleague being "very interested."
The wife decided to send a confrontational text to the colleague asking about the "mental affair" and threatening to tell her husband, later revealing she had walked past the woman's home the previous evening.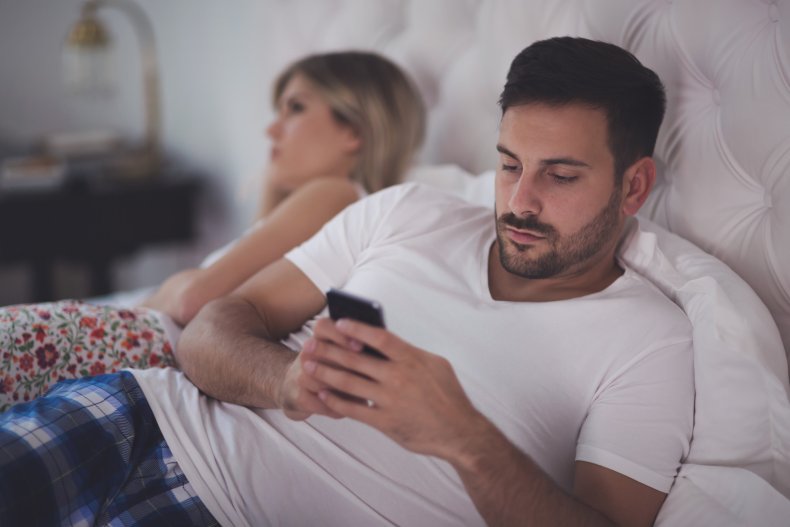 A 2019 study in the Journal of Sexual and Relationship Therapy states that women are more upset by their partners' emotional infidelity than men, while males are more upset by sexual infidelity.
Taking to Mumsnet under the name LifeDecisions, she explained: "I decided to text 'the other woman,' TOW as she is on my phone to try and get an answer.
"One question at a time. What did she want? How long had this been going on? (with a copy of a snooped message) Did she think what she was doing was ok? Lying, being TOW? Did she need help to tell her husband?
"It took a few messages, but eventually I got a reply, she said nothing had happened between them, he was a very good friend, that it was just text messages but she realized she had crossed a line and apologized for that.
"My final message was that I didn't really believe nothing had happened based on what I had read, and the line was very much crossed."
Later that day she found her husband was furious with her and accused her of "harassing" his female colleague by finding out where she lived and walking past her house in the evening.
The wife explained: "He did not talk to me or look at me. I waited until after dinner—what is the problem? He looked at me and said I had to stop, stop stalking him and stop harassing TOW.
"I have to confess to also walking past her house the previous evening, no intention of knocking on her door but perhaps spooked her".
In the post, which received 132 replies and can be read here, the woman asked: "Am I off my rocker or is it normal to have more concern for a colleague who is romantically interested in you than for your wife who you have, if not physically, then mentally, cheated on?!
"Of all the options I considered, the texts I sent were quite within reason (in my opinion). Or have I behaved unreasonably? I feel like this is the point in my life where the road splits and I am not sure which path to take."
While other users were sympathetic to her situation, they felt her reaction towards the colleague was "overstepping" and accused her of "stalking" the woman by going to her home.
One wrote: "Your DH [dear husband] is in the wrong to embark on an emotional affair. You are absolutely right to be offended by the disrespect, the lies, etc BUT... your behavior by stalking her house (however you try and minimize it), and by making her rather than your husband the problem, is way out of line.
"I would explain to him that I was shocked and upset and behaved badly and that this in no way excuses his behavior. Once you've tried to claw back some of the moral high ground, take it from there.
"You're angry with the wrong person. The woman owes you nothing. Stalking is a good description of your behavior. If she phones the police, you could be in trouble. Back off. Your DH is the problem for you. Focus on him and his actions. Is your marriage actually working?," another said.
A third commented: "You are overstepping by texting and stalking now. Your issue is with your husband who is manipulating your feelings and indulging in another relationship, be it emotional or physical."