Shock As Wife Planning Trip Teaches Husband of 32 Years How To Wash Clothes
A video on TikTok of a wife teaching her husband how to use the washing machine for the first time has received mixed reviews from the internet.
The video, which can be seen here, was posted by the couple's daughter, Alex Filz, known as @alexxfillion, and shows how her mother can be seen talking her father through the process, with the overlay: "My mom teaching my dad how to do his own laundry cause she's leaving him alone for three weeks for the first time in 32 years."
A caption on the video reads: "Her biggest concern whilst traveling with me to set up my new life abroad is how my father will survive alone."
The video has been viewed over 1.5 million times, and while some users, like @steffanmorus understood the situation to be a positive one, writing: "It's a give and take situation. She does the laundry and he probably cuts the grass," others criticized the father's lack of ability to do basic household chores.
"I taught my son to wash clothes at 7 years old. He is 22 now and it's been years since I washed his clothes. I don't understand this," one user said. While another wrote: "Not acceptable for an adult in the house."
Newsweek reached out to the family for comment.
Gender Roles
The Office of the United Nations High Commissioner for Human Rights (OHCHR) identifies gender stereotyping as: "A generalized view or preconception about attributes or characteristics, or the roles that are or ought to be possessed by, or performed by, women and men.
"A gender stereotype is harmful when it limits women's and men's capacity to develop their personal abilities, pursue their professional careers and/or make choices about their lives."
According to the OHCHR, whether overt "women are irrational," or benign and seemingly complimentary like "women are nurturing," these stereotypes breed inequalities and attitudes.
Gender stereotypes can be incredibly harmful when it results in a violation or violations of human rights, and the OHCHR offers the examples of: "Not criminalizing marital rape, perceiving that women are the sexual property of men; and failing to investigate, prosecute and sentence sexual violence against women, believing that victims of sexual violence agreed to sexual acts, as they were not dressing and behaving 'modestly.'"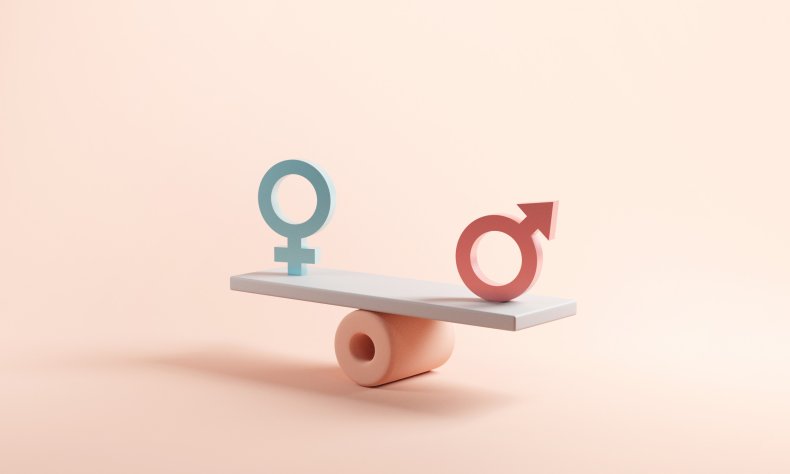 Backlash
After the negative responses on the video, Alex then posted a follow up video, which can be seen here, addressing the issue. The video was entitled "Reply to @h.j.c.ch.b" who commented: "Sad. Very sad."
In the video, Alex explained: "Ok this really blew up so I think I need to add some context here. My mom is a stay at home mom. For the past 30 years, she's been at home and she does the laundry the cooking the cleaning, but my dad's been working like 18 hour days for as long as I can remember, and he still does all the yard work around the house, he will, you know fix things around the house and whatever, he washes the cars.
"I mean they stick to traditional gender roles, which might not seem very feminist or anything like that but at the end of the day they split things up pretty equally. Let's go see my mom and see what she thinks. Mother do you think that it's unfair that you do all the laundry, do you care?"
In response, Alex's mother replied laughing: "I don't care," right before the father jumps in the shot and jovially yells: "I do!"
Users commenting on this video were slightly more supportive, with one writing: "That's awesome...it obviously works for them people today can't accept those ways...that's what's sad."
Another user wrote: "Traditional gender roles work for many couples. We're one of them. I'd rather do ten loads of laundry than do anything yard-related."
However, one user didn't relent, writing: "It's still so sad. Thank god we live in 2022, not 1950. She could have had a life pursuing her own dreams," to which another pointed out: "You think she wouldn't have to do laundry if she was 'pursuing her dreams?' And she's going on a three-week vacation she's prob ok."
It is widely accepted by most experts and sections of society that gender is a social construct, and an outdated one that has had a harmful effect on both men and women, and the tropes of the limitations are ready to be dismantled.
It's impossible to tell from this video whether the mother wakes up every day and regrets her life as a housewife, however, with the daughter going off to start her "new life abroad," it does not seem like a household that upholds dangerous gender stereotypes.
If you have a similar family dilemma, let us know via life@newsweek.com. We can ask experts for advice, and your story could be featured on Newsweek.