Woman Hilariously Stuck in Latex Outfit Compared to Ross' Fail in 'Friends'
A woman who ended up hilariously stuck in a latex outfit has been compared to Ross' epic leather-pants fail in Friends.
Entrepreneur The Bunny Barbie shared a clip on TikTok on Wednesday, after putting on the white two-piece backfired terribly.
The mom, who grew up in Albany, New York, initially shared a clip with her son earlier that same day, where she is dressed in casual wear.
"Going from hanging out with him all day, mommy mode, to latex queen," she said.
The ensemble features a bralette with matching jacket and skirt, and Bunny wore it as she headed out for cocktails with her friend, Tana Mongeau.
But when she returned home she realized she couldn't actually take off her outfit, after the zipper broke and the latex stuck to her skin.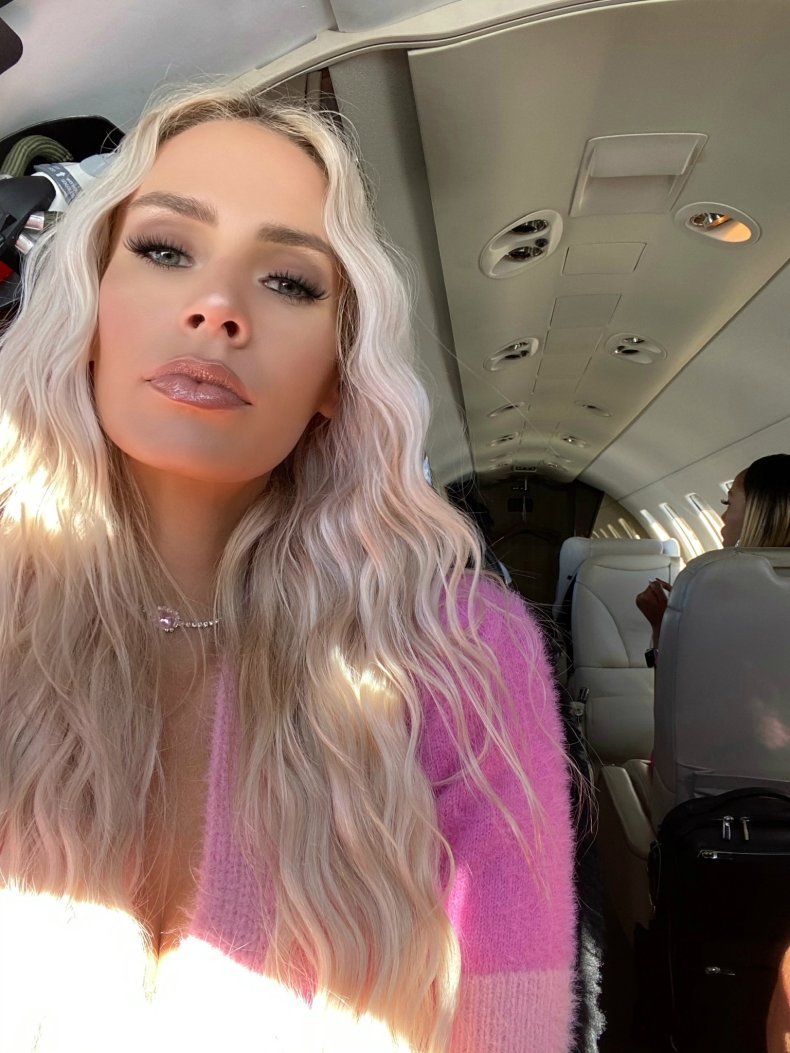 The Beverly Hills resident shared a trio of clips as she battled to get the jacket off, after catching the zipper in the waistband of the skirt.
"If you're wondering what it's like to wear latex... this is it," she said, battling the fabric which makes screeching sounds throughout.
In the ensuing clips the mom fruitlessly tries to peel off the sleeves and unzip the jacket, as she says: "The moment I knew I'd f***** up. I got the zipper stuck in the skirt. It's latex and I couldn't get it off. I'm stuck."
In the most popular clip of the series, which amassed more than 6 million views, she said: "Why did I flop like a fish. I literally f****** ripped my whole thing. It's still stuck. Literally can't get it off."
Eventually she manages to aggressively rip the zipper off, and with much difficulty extricate her arms from the sleeves of the custom $200 outfit.
Speaking to Newsweek, Bunny explained the incident in the third-person, saying: "The zipper of the jacket snagged the skirt and she ended up having to rip the entire outfit to get it off. It took her about 20 minutes to get the outfit off. Bunny has since ordered a new latex dress (without zippers!!) and a matching one for Tana on their next night out on the town."
She later shared the clip of the fashion fail to Instagram, where it racked up thousands more comments, with people comparing the situation to Ross' wardrobe malfunction in Friends.
Brishae reckoned: "The anxiety I would have had trying to get this off."
While Keeley.Stout1 admitted: "I would simply panic and cut it off lol."
Alexis asked: "How did you not start crying I would've had a whole breakdown."
While Ashley wrote: "At this point I would yell for hubby or find scissors."
Jennifer Marie simply said: "My claustrophobia says NO."
Kiana joked: "Can you imagine coming home drunk and trying to get that off. I would have already grabbed the scissors."
While Maissayers added: "I'm getting Ross from Friends vibes here."
The iconic episode, called "The One With All the Resolutions," sees Ross unable to put a pair of leather pants back on while on a date.
The character, played by David Schwimmer, uses baby powder and lotion before resorting to ditching them in episode 11 of season 5, which aired in 1999.