Woman Stunned to Find Domino's Employee Working Alone: 'Doing Her So Wrong'
A woman shared her appreciation in a now-viral video for an employee she claimed was working at a Domino's restaurant alone.
TikTok user Christine Ferguson posted the video to her account @bluegrassblogger where it amassed more than 1 million views.
She kept the camera focused on herself and did not show the restaurant or the worker, though she commended the employee and others who work in fast food and retail in the text that overlaid the video.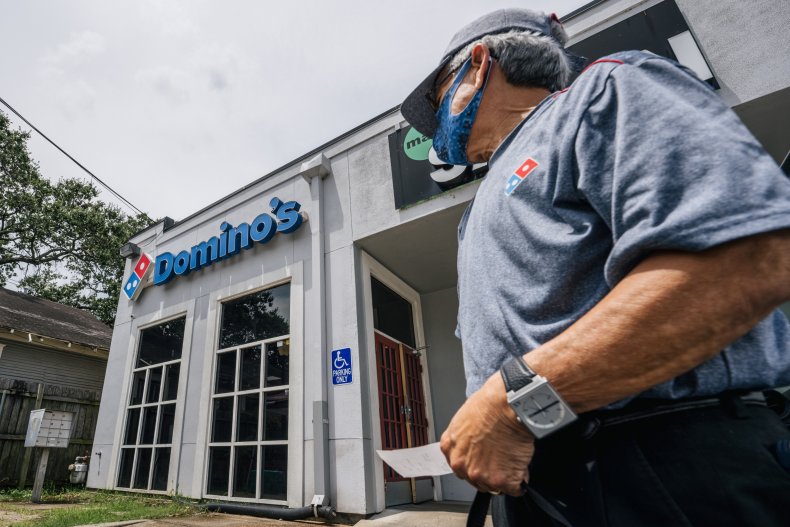 According to Nation's Restaurant News, job growth in the restaurant industry has not progressed in late 2021. The outlet said higher wages and benefits are being offered in an effort to hire and keep employees.
As of July 2021, Statista reported that some of the top reasons restaurant employees left their jobs included:
Low wages and tips
Health and safety concerns as it related to the COVID-19 pandemic
Concerns about hostility and harassment from fellow employees
This is also not the first time an employee was spotted working in a fast-food restaurant alone. A viral TikTok video showed an employee allegedly working at a busy Panda Express by himself.
"I'm watching this 20-year-old girl run this Domino's by herself," read the text over Ferguson's video. "She is making pizzas, working the register, breaking down boxes, answering the phone...all the things."
She noted that she planned to leave a $100 tip and thanked all fast food and retail employees.
Ferguson wrote to Newsweek that there has been a long wait time when ordering from Domino's recently.
More than 2,500 viewers took to the comments section to discuss their opinions about restaurant employees and the situation that Ferguson shared.
"They are doing her so wrong," a viewer wrote.
"She needs to get paid for each person's job she's doing plus hers," commented another.
One opined that customers should respect service workers more, while others thanked Ferguson's appreciation for employees in the industry.
"Seeing this while at break in the grocery store and so much gratitude for you for noticing things people do and letting them know you appreciate it," a comment read.
Ferguson shared a second video and explained that her husband ordered a pizza. About an hour after placing the order, Ferguson checked in on the order and learned that it could take up to two hours to receive.
She decided to pick up the order herself at the store.
"I see this girl, just hustling," Ferguson said. "She is running back and forth to the oven, she's putting stuff in, she's going to the station, making new pizzas, she broke down these boxes. She has to keep stuff going while she's helping the customers."
She said while it was heartwarming to see the employee working hard, she also found it heartbreaking.
"To see her handling this immense amount of pressure and killing it obviously made me proud of her, but at the same time, it was just crazy seeing the situation she was working under," Ferguson said.
She said that her first reaction upon seeing the employee working alone was a feeling of concern. She was worried about her physical safety and the working conditions of working alone.
I expected another employee to eventually emerge from the back, but they never did," Ferguson said. "I very soon realized she was all by herself."
She said she wanted to leave a generous tip for the employee, who, Ferguson said kept a positive attitude, to share with the driver that was working with her.
Although a commenter wrote that Ferguson could have just left the tip without posting about it, she said in a third video that she posted the original clip to raise awareness about service employees, the conditions that many may be working in and to commend their efforts.
Ferguson explained she did not want to film the employee without her permission or the moment that she handed her the money.
"The whole point was to foster conversation, and that's exactly what I've done successfully," she said.
A former employee of the Kentucky Restaurant Association, Ferguson said she is familiar with the struggles restauranteurs face.
"During my time at the Association, many of the restaurateurs would lament about the high turnover rate within their industry and the struggle to find 'good' employees, but they also balked at the ideas of raising the minimum wage or paying their employees more," she recalled.
Over the years, she said she came to the belief that the phrase "unskilled labor" is inaccurate.
"Just because they don't go to college or a trade school to learn their craft doesn't mean they're unskilled, which is often said in place of 'unworthy,' in my opinion," Ferguson said.
And, she said that the COVID-19 pandemic is what made many realize just how important service workers are.
However, Ferguson said much of the feedback she received was from service workers who said it is not uncommon to be understaffed.
She said she wonders whether companies choose to understaff establishments "because they know they can stretch the capabilities of workers."
Newsweek reached out to Domino's for comment.
Other videos about fast-food restaurants have previously gone viral, including one that claimed to show how McDonald's french fries are made and another that showed a verbal confrontation between a Burger King employee and an employee in the drive-thru.
Updated 07/08/2022, 3:20 p.m. ET: This story has been updated with comments from Christine Ferguson.
Updated 07/08/2022, 5:28 p.m. ET: This story has been updated with a verified video of the incident.