Woman Tells Parents She's a Stripper via PowerPoint in Video Viewed Over 2M Times
On Monday, TikToker Sami, known on the app as @mildwestsami, shared a video of her sister, Lexi, making an important announcement to their parents: she works as a stripper. This, however, wasn't your average heart-to-heart conversation. Instead, Lexi decided to share the news in one of the most iconic ways possible—by making a PowerPoint presentation. The clip, found here, has already been viewed 2.6 million times and counting, racking up almost a half-million likes.
The news comes at a time when conversations about sex work are at the forefront of national debate. Earlier this month, for example, the subscription site OnlyFans announced that it would be banning "sexually explicit content," sparking a frenzy of social media backlash.
Facing online fury and outrage—with many calling the decision a direct "attack" on sex workers—the platform, which is known almost exclusively for hosting adult content and creators, decided to reverse its stance.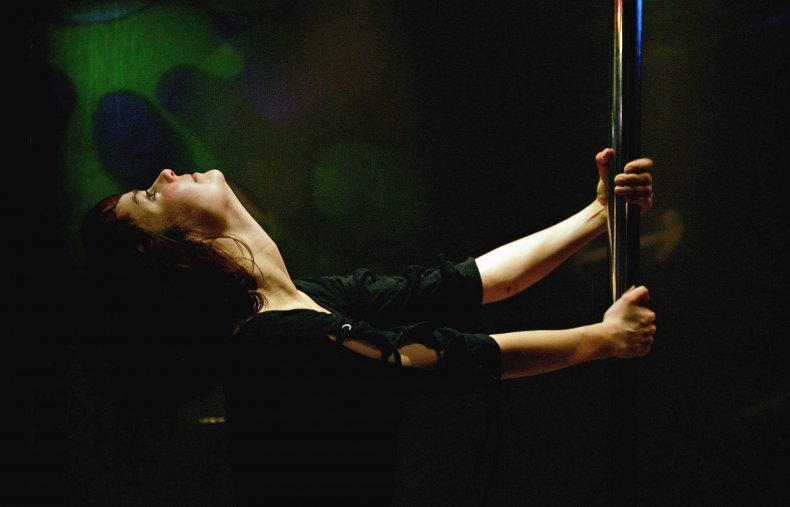 While conversations about sex work are happening on a large scale across the country, Lexi decided to tackle the topic within her own family. In the clip, she stands beside a PowerPoint presentation entitled: "Today I reveal to you a Secret." Meanwhile, her and Sami's parents sit facing the screen. "I love secrets," says their dad.
Lexi then begins her announcement: "Now, before you start worrying or getting excited, this secret pertains to my life [and] does not affect anyone. The only reason I'm sharing this is because I want the people I love and trust the most to know what's going on in my life and just be a part of my journey."
Moving onto the next slide, she continues. "What this secret does mean: I'm talented, I'm cool, I'm powerful," she says. "What this secret does not mean: I'm pregnant or in danger."
With a drumroll, Lexi clicks over to the next slide and announces, "I'm a stripper!"
"As in," she adds, "I pole dance and I love it."
The presentation, however, doesn't end there: Lexi immediately moves onto a "Frequently Asked Questions" section, where she explains that the job allows her to "express [herself] safely."
"It's a performance. The theatrics, if you will," she adds.
"I really appreciate you being forthright and sharing your life with us," says Lexi's mom in response.
According to Sami's caption on the video, their parents are "the literal best"—a statement she later confirmed in a conversation with Newsweek. "We've always known how amazing and accepting our parents are, so it's nice to see other people appreciating that as well," said Sami. "They're a great example of how to respect and interact with your adult children."
"I'm incredibly proud of my sister and how far she's come," she added, noting that "seeing her blossom with this new creative medium is amazing."
"I just hope people can come away with a slightly less stigmatized opinion of stripping and sex work in general."