'Hair Not Brushed': Woman Upset at Doctor's Notes Sparks Debate
A woman has shared her concern online after reading notes from her family doctor that she felt were "rude."
In the post on the popular discussion site Mumsnet, user Ispy9 explained that a year ago she was suffering from anxiety and depression and visited her doctor for support.
During the COVID outbreak and the immediate aftermath in the last year, the numbers of adults presenting with symptoms of anxiety or depressive disorders increased in the U.S. According to the CDC, the percentage of adults with recent symptoms increased from 36.4 percent to 41.5 percent, while those reporting an unmet need for mental health care increased to 11.7 percent.
Explaining the situation, the woman from the U.K. wrote: "This isn't really relevant anymore as I am in a much better place now than I was but I'm still quite annoyed about it. A year ago I was suffering quite badly from anxiety and depression so I went and saw my GP about it."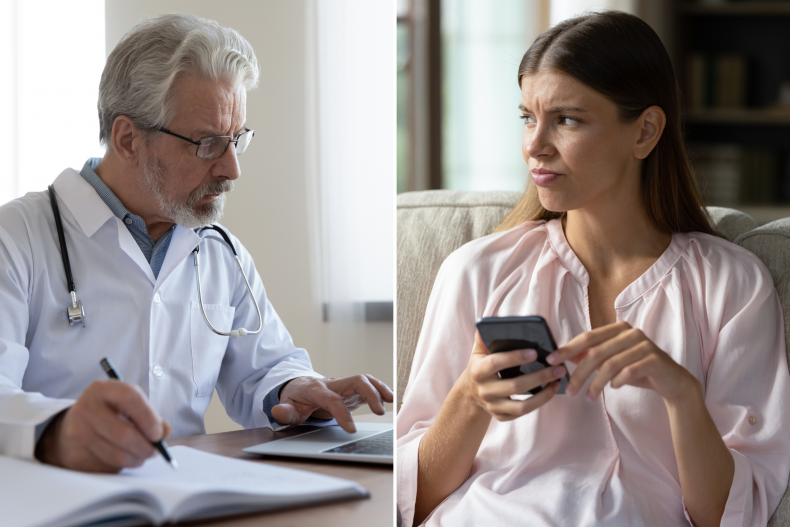 The patient had downloaded the U.K.'s National Health Service (NHS) app, which allows patients access to their medical records. But when the Mumsnet user began reading her own, she found something that upset her.
"I saw that on the appointment about my mental health my GP had written these notes: 'Examination: Not sleeping, not looking after herself. Unkempt, looking down, shoulders hunched, not wearing bra, hair not brushed.'"
After reading the notes, she asked: "Am I being unreasonable to think these comments on my file are quite rude?"
While the woman may have felt that the notes on her file were rude, the links between the ability to perform self-care and depression are well documented. In fact, research shows that depression can make keeping up with personal hygiene difficult, with examples including leaving hair unwashed, not brushing teeth, reduced handwashing, trouble showering, and wearing the same outfit for several days in a row.
Changes in self-care and lack of motivation to perform usual self-care tasks are a formal symptom of depression.
Researchers have long linked depression to dysfunction of the frontal lobes—the area of the brain responsible for executive functioning, which supports problem-solving, judgment, and reasoning.
After the Mumsnet user shared her feelings, others rushed in to share their reactions in over 140 comments.
One reply said: "I think they're just a factual record of how you appeared?" while another wrote: "They were to reflect how you presented during your period of depression and I assume were factual in which case they were rude but observations. It would go to evidence that you were depressed."
"It's just a factual observation, it's understandable it's a tough read for you," said another Mumsnet user: "Not sure the comment about the bra was called for mind you."
"So many people so ready to take offense at factual observations. Being unkempt is ONE of the classic signs of depression, it's not a judgment if it's a fact," said another commenter.
Newsweek was unable to verify the details of this case.