Woman's Hilarious Response to Job Rejection Email Lands Her an Interview
In a now-viral video on TikTok, a woman said she landed a job interview by sending a meme as her response to the initial rejection email.
The video, which was posted by SwedishSwan (@swedishswan), has amassed over 1.7 million views and has received thousands of comments while demonstrating an expert-approved career move.
Should You Respond to Rejection Emails?
According to Indeed, an employment website, responding to rejection letters could benefit one's career in the long run.
"Many hiring managers first consider applicants from a recent candidate pool" when hiring for new positions, Indeed explained. "If you've sent a thoughtful response to your rejection notification, it could help you to stand out when the employer is searching for new candidates."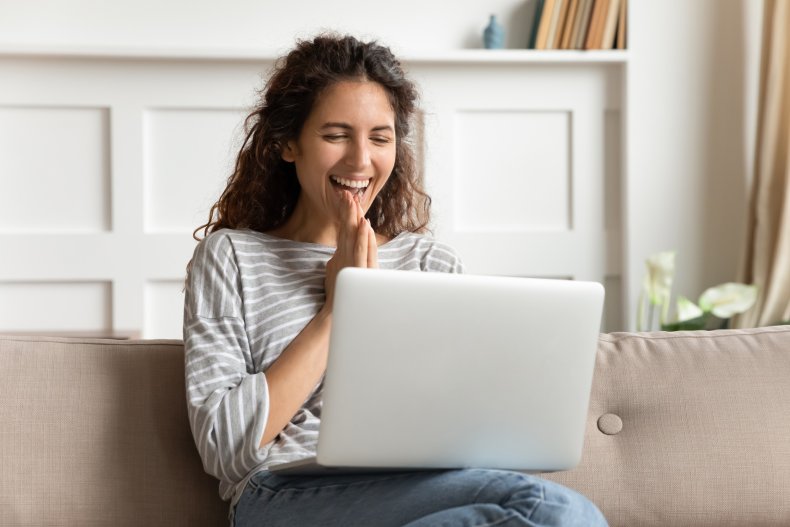 Applicants should begin their response by thanking the hiring manager for their time and consideration, Indeed advised. Then, they should express their "disappointment" with not being selected for the role and communicate their continued interest in the company.
If an applicant is feeling particularly brave, they can also ask the hiring manager for feedback.
"If you decide to inquire about the hiring manager's feedback, be sure to ask respectfully. This request shouldn't come across as a demand or an implication that you're questioning their decision," Indeed said.
Funnily enough, SwedishSwan's response didn't contain any of these components, yet she still managed to grab the hiring manager's attention.
The Video
"I got, you know, another rejection letter from a job that I applied for, and I really kinda wanted this job," SwedishSwan said at the beginning of her video. "So I took a lesson from Gen Z and I sent them this [meme]."
SwedishSwan moved aside to show viewers the meme—a painting of Pope Leo X by Fernando Botero with the phrase "y tho" written underneath the pope's face. The TikToker laughed and told viewers: "It worked. They sent me another email saying they do, in fact, want to interview me."
It's worth noting that SwedishSwan likely took the hilarious response idea from a TikToker named Samantha Jane (@samantha_jane_). The Independent reported in March that Jane went viral after revealing that her sister Hannah, a recruiter, received the meme in response to a rejection email.
Unlike SwedishSwan, however, the candidate in Jane's story didn't land an interview.
Viewers React
Viewers applauded SwedishSwan's bravery and congratulated her on her success.
"This is the success story we needed in these dark times," Chantalle Guptill said.
"I can't love this enough. You are my hero," Cassandra wrote.
"Congratulations comedy queen I hope you get it," Fleeskie commented.
Teri SL added: "I'm frigging cryingggg. That's so beautiful. Brava!!"
Newsweek has reached out to SwedishSwan for comment.
Other Viral Moments
Last week, a TikToker went viral for sharing the "worst job rejection they've ever received.
Meanwhile, a Redditor also went viral in June for sharing the "condescending" rejection email they received, asking them to "prove [the company] wrong."
And in March, a man revealed in a now-viral video that he was cc'd in an internal company email discussing why his application should be rejected.