Netflix's 'Trainwreck' Director on Limp Bizkit at Woodstock '99
Trainwreck: Woodstock '99 is the latest documentary on Netflix you do not want to miss.
The three-part series, directed by Jamie Crawford, delves into the disastrous event of Woodstock '99 which was a far cry from the peace, love, and music of Woodstock '69.
Over the weekend of Friday, July 23 to Sunday, July 25, over 400,000 people descended on the former Griffiss air-force base in Rome, New York for Woodstock '99.
Its line-up was nu-metal heavy, with acts such as Metallica, Korn, Rage Against the Machine, Limp Bizkit, Red Hot Chili Peppers, and Kid Rock taking to the stage. There was also a slice of James Brown, Jamiroquai, and Alanis Morissette.
However, the weekend soon descended into chaos, with violence breaking out, women reporting sexual assault, fires taking place, dehydration, and poor sanitation.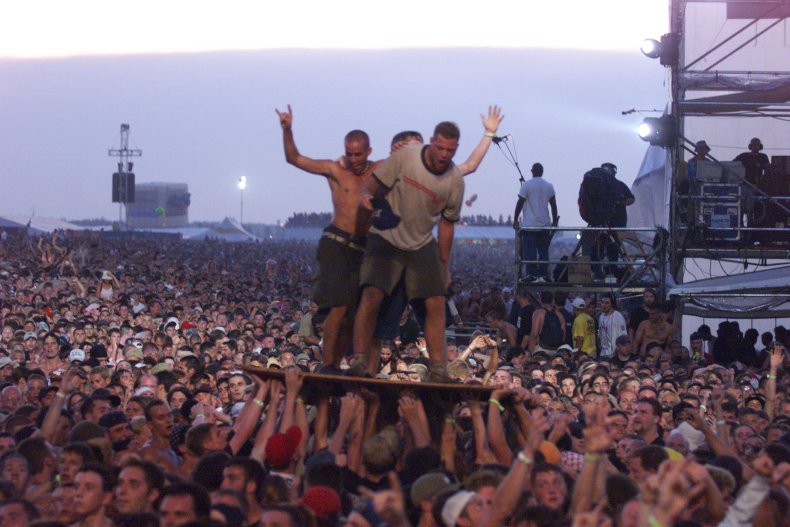 There were reports of trench mouth, a gum infection caused by a buildup of bacteria in the mouth which is often associated with trench warfare of World War I.
And, by the Sunday, there were full-blown bonfires burning on the grounds of Woodstock '99 as The Red Hot Chili Peppers played a cover of Jimi Hendrix's "Fire," in what director Crawford described to Newsweek as "hilariously representative" of Woodstock '99.
Exactly, why, what, when, where, and who is to blame for the chaos that unfolded is still unknown. The organizers, Michael Lang, John Scher, Ossie Kilkenny and their team blame the crowd. The crowd blames the organizers.
However, there were a huge host of factors at play, including poor organization fuelled by cost cuts, a lack of security, the band's metal-focused lineup, the angsty crowd of thousands in attendance, a heatwave with limited access to drinking water, high prices, and the problem of Woodstock 99's location itself at a former U.S. air base in Rome, New York City.
However, one event over the weekend has always been ingrained in the Woodstock '99 history books—the set performed by the rap-rock band, Limp Bizkit on Saturday, July 24.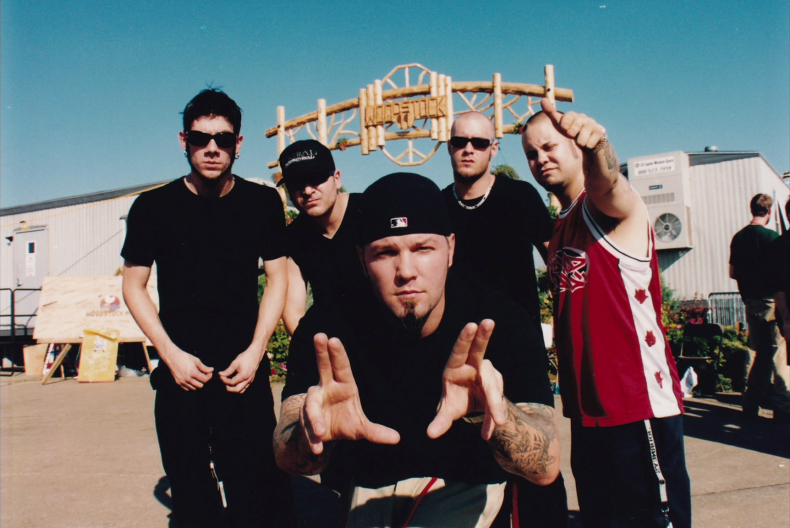 Limp Bizkit were performing ahead of Rage Against the Machine and Metallica, and their performance really got the crowd going.
Before performing their song "Break Stuff," Limp Bizkit frontman Fred Durst encouraged the crowd to "let all the negative energy out. It's time to bring some positive energy into this mother******."
However, many audience members took Durst's instructions literally and began acting crazily in the crowd. Some climbed the sound tower, others crowd-surfaced on plywood fences and aggressive mosh-pits were polluting the crowds.
As seen in Trainwreck: Woodstock '99, Durst said in an interview coming off stage following his performance "It's not our fault, that's all I can say."
However, people over the years have blamed Durst for inciting the crowd, including Woodstock '99 promoter John Schur and the media, despite the riots of Woodstock taking place the day after they performed.
Speaking to Newsweek, Crawford said the chaos of Woodstock '99 could not be put down solely to Limp Bizkit.
He said: "There was just such a wealth of story and material. It's not a simple narrative. There is no one single version of this story. It's like one of those giant medieval paintings where they are in their sort of myriad of vignettes that are happening at the same time and you need to try and tie all those together into something that represents the whole.
"I think that fundamentally, the takeaway from this story is that it was sort of a perfect cocktail of unfortunate events, missteps, and mishaps that individually might not have been problematic, but together combined to bring this thing tumbling down and leave it in a charred smoky mess, and the Limp Bizkit factor was one factor of many.
Crawford did arrange to speak with Durst of Limp Bizkit for Trainwreck: Woodstock '99 but unfortunately, things did not quite work out.
He shared: "The one person we would really have loved to have talked to, but didn't get to do in the end is Fred Durst from Limp Bizkit. There was a long dialogue with him and his team. And in the end, they were very keen, and then, in the end, they kind of backed off it.
He continued: "He's been tarred with the Woodstock '99 brush for many years, in some people's minds fairly and in other people's minds very unfairly. It would have been intriguing to ask him about it directly."
Newsweek has approached Fred Durst of Limp Bizkit for comment.
Trainwreck: Woodstock '99 is streaming on Netflix now.