Wordle can sometimes prove a tough challenge for players to figure out the 5-letter word in six tries or less.
The daily brainteaser may provide a color-coded system to assist users, but even then it's not always obvious what the answer is. That's when a hint or two might be needed, and where Newsweek comes in.
Newsweek has collated several clues to today's Wordle as well as the answer itself. Simply scroll down to see what they are.
The History of 'Wordle'
Wordle was originally created by software engineer Josh Wardle for him and his partner. He then made it available to the general public in October 2021.
Once available, the game became a global hit and reached a peak of over 45 million users a day after starting with just 90 active players.
It is now so popular it's inspired a number of other daily puzzles such as the math-based Nerdle and the music guessing game Heardle.
In January 2022, Wardle sold the game to The New York Times Company for an undisclosed seven-figure sum, and the puzzle moved over to the publication's platform in February.
The graph below, provided by Statista, shows Wordle's rise in popularity when Wardle originally owned the game.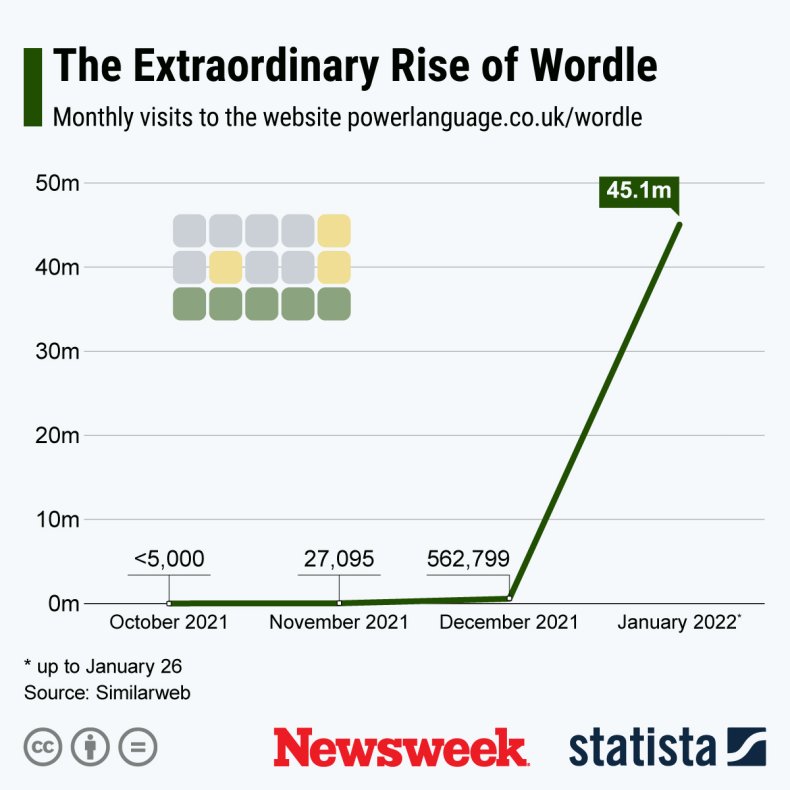 Wordle #297 Hints for Tuesday, April 12
As always, Newsweek has put together five clues that will help players come up with the correct word for today's Wordle.
Some hints are more revealing than others, this is particularly true of the later ones, so users can read them all or stop at the point where they feel most confident in what the answer could be.
If you wish to guess the word without too much assistance simply read the first few clues before trying your hand at today's Wordle.
Hint #1: "Ouija" is the best starting word for Tuesday, April 12 as it will reveal the two vowels in Wordle #297.
Hint #2: The UK, Belgium, and Monaco all have today's Wordle in common, in fact there are 12 countries around the globe with it.
Hint #3: The U.S. does not have a family like Wordle #297, though dynasties like the Kennedys and the Rockerfellers are often seen as the American equivalent.
Hint #4: Meghan Markle and Kate Middleton are considered these alongside their respective husbands Prince Harry and Prince William.
Hint #5: Merriam-Webster defines Wordle #297 as someone "of kingly ancestry" or "of, relating to, or subject to the crown."
Wordle #297 Answer for Tuesday, April 12.
The answer to Wordle on Tuesday, April 12 is "royal."
Everyday Wordle refreshes at 7 p.m. ET, at which point the next word will be made available for players to have a go at solving.
Those who need something to keep preoccupied while they wait can try out these similar word-based puzzles until Wordle has refreshed.
Correction 04.12.2022 6.45 a.m. ET: This article was updated to correct the date in the headline.