Worker Says He Quit Medical Field to Double Salary Serving Tables
Pushed to the brink by barely livable wages, an employee said he quit working in health care to make more money serving tables.
Brett Buckley of Colorado Springs, Colorado, shared his story in Reddit's "Antiwork" forum on Sunday, quickly garnering 11,000 votes. The 25-year-old titled his post, "I wasted 4 years in medical field work at minimum wage. I went back to serving tables and now make almost $30/hr. The American wage system is wrecked."
"I've only been working at the restaurant a month and I immediately became happier," Buckley told Newsweek. "Less job stress, less hours, finally have days off with the wife when I didn't before."
The employee said he began working in restaurants at 16 years old, but by age 20, he decided to pursue another career path. For the next four years, he tried jobs as a nanny, a caregiver for the elderly and disabled and a sterilization technician in a dental clinic.
"In each one of these jobs, the pay was anywhere from $12.50/hr to $16.50/hr," Buckley said on Reddit.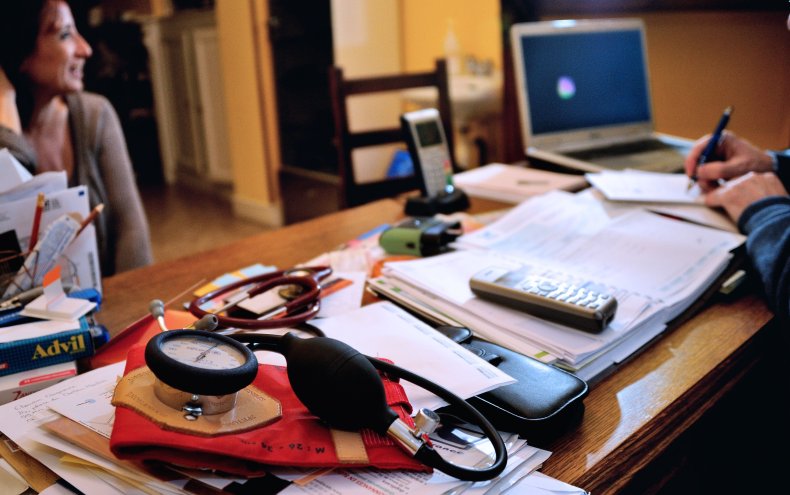 The lowest pay he earned was at a program for individuals with autism and Down syndrome, where he saw six clients for eight hours a day at minimum wage.
"At my last straw I was working full time, no days off with the wife, and no money (literally) after scraping by with what I needed for rent," he wrote.
Finally, Buckley gave up on the medical field and went back to waiting tables at a fish and oyster bar. There, he was earning nearly $30 per hour—doubling his previous salaries—while working half of his previous hours.
"Ironically enough, I work at the restaurant with an EMT and a teacher," he said. "They both switched back to restaurant work like I did because they were overworked and underpaid."
Buckley told Newsweek that his move back to food service ended up being the obvious choice.
"If I was paid adequately as a medical care provider, I would have honestly stayed," he said. "But because the food industry allows me to take care of my life and not be burnt out from caring for others with so little pay, the decision was just too easy unfortunately."
As restaurant workers have left the industry in droves, businesses have offered pay raises, signing bonuses and other benefits to salvage their staffing levels.
McDonald's raised its hourly wages by an average of 10 percent last year, while a burger restaurant in Kent, Washington, went viral for paying employees $20 per hour.
In March, a New Orleans diner advertised a listing for a line cook with pay starting at $22-25 per hour along with "nights off, free food, free booze [and] health insurance."
Still, the median hourly wage for food and beverage serving was $12.49 in May 2021, according to the Bureau of Labor Statistics.
Redditor Reactions: 'A General Trend'
Buckley's post drew a chorus of anger and disappointment on Reddit, as readers lamented the low wages awarded to medical workers who provide the country's most essential services.
"I've noticed a general trend," commented one user. "The more a job directly supports the basic needs of people, the less it's paid."
Another reader offered their own story.
"I work in health care in the south," they said. "Hospitals can't hire CNAs/PCT/ unit secretaries, monitor techs, phlebotomists, etc. [because] the wages are so low. Target pays more. Serving pays more. And this is for a large, very well funded hospital."
The low wages had a devastating effect on patients, they said.
"The care homes and rehab centers are so poorly staffed they're not accepting new patients, so patients are waiting multiple days in the hospital just waiting for somewhere to have an opening [because] they're just too sick to go back home alone," they wrote.
Update 08/01/22, 6:43 p.m. ET: This article was updated with additional information and background.